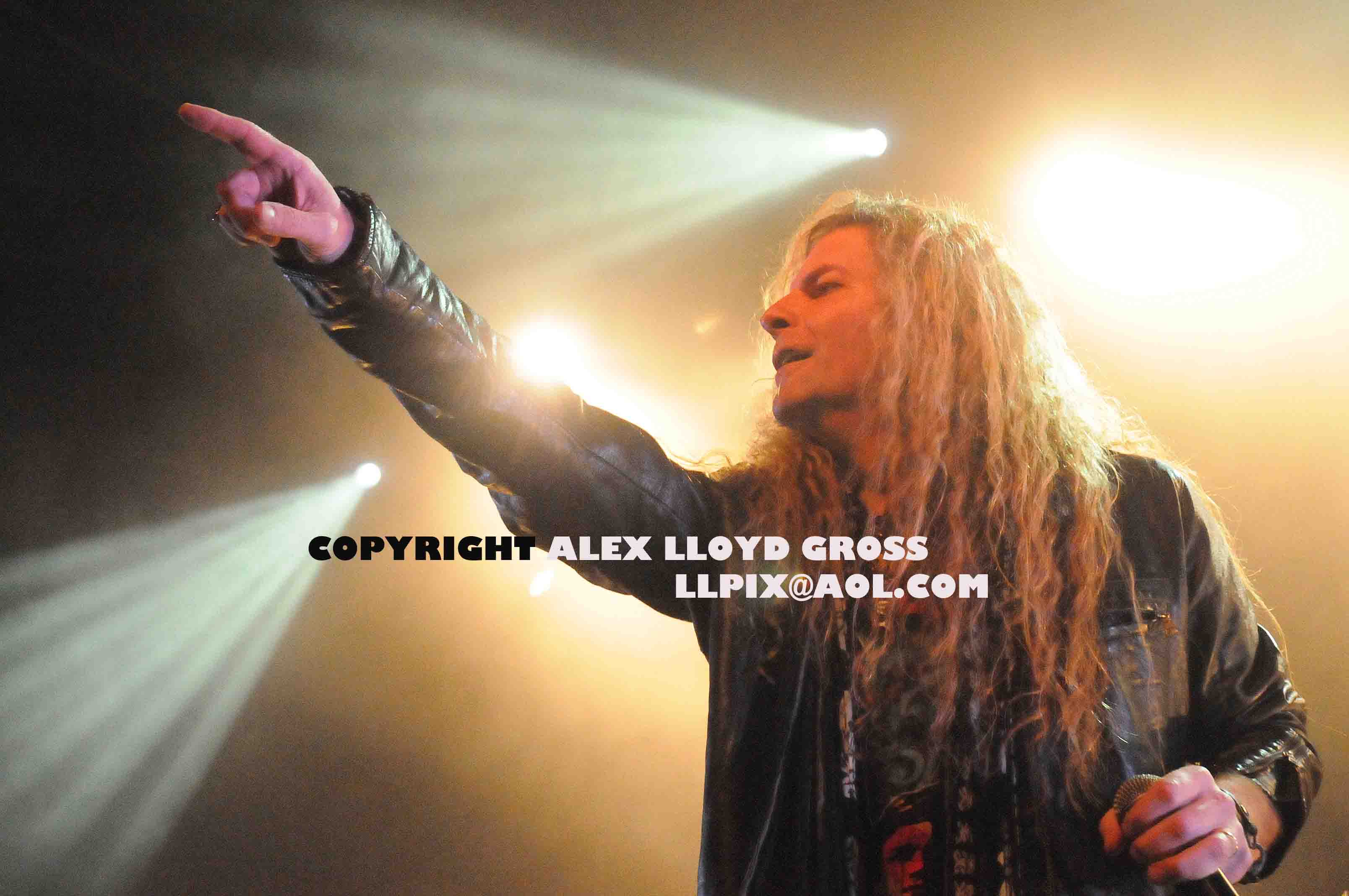 Alex Lloyd Gross
Britny Fox and Heavens Edge reunite in Philly
---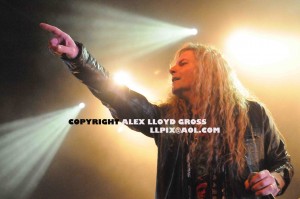 By Alex Lloyd Gross
Social media was buzzing on Saturday, November 14, 2015 as people who got tickets to the  TLA on South Street in Philadelphia for the long awaited reunion of  Britny Fox 
and Heavens Edge. The show was sold out and people who waited too long were trying anything for a pair of tickets that were going for as much as $200.00 each online.  The show would be an early one, with two opening acts going on, the show started at 6:00 PM. Local rockers Hammer Down took the stage and did a blistering set that should have been longer.  Founder Phil Michaels said "If anyone wants to know what we sound like, tell 'em it's "Crash Boom Bang', as the band launched into one of the keystone tracks from their second album. Actually, they don't sound like that, think Aerosmith, Rolling Stones with a bit of KISS thrown in and that's Hammer Down for you.
Cyanide Saints, were up next and took care of things. These guys are also local and have been playing the club scene, getting a decent following. That's one of the reasons they were asked to appear on the bill. For both opening bands, there was a crowd and the crowd was paying attention to what was happening on stage. The crowd was growing as well.  By the time their set was done, the crowd had quadrupled in size. People knew what was coming. It was time to take a trip back in the time machine to 1989 for Britny Fox.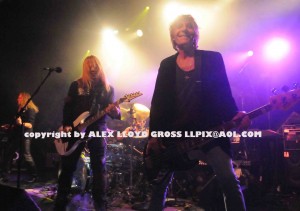 Britny Fox– Alex Lloyd Gross
This was not the original line up from 1989 but that did not matter.  This was a Saturday night special if there  ever was one. On stage slamming out classics like "Long Way to Love" and "Dream On", the band gave the sold out crowd exactly what they came for. In you face rock.  Guitar solos, pounding drums and piercing vocals. The band could not do every song they recorded but they darn sure tried. It would have been nice to hear "Stevie". Back in the day we all knew someone like her. Especially if you frequented the Empire Rock Club or the Galaxy.  This show was not only a concert, it was a reunion of sorts  of so many people that attended those clubs and got to see the Fox in those places. People remembered each other and caught up on new times. Many new Facebook friend requests were sent, something that was only a fantasy in 1989.
Shortly after 10:00 PM, it was time for  Heavens Edge to take the stage, and that is exactly what happened. Like a shotgun, the band led by Mark Evans moved just like they did 25 years ago. Evans has not changed at all.He looks the same as he did in his 20's and some bands when their  members get older, they slow down. Evans did not get that memo as he maneuvered to every angle of the stage, making sure that fans all over the concert hall got a good view and keeping those that had seats on their feet.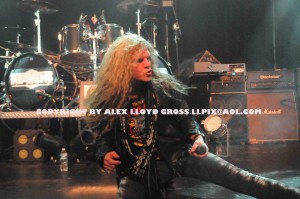 Heavens Edge- Alex Lloyd Gross

Of course, the band played the songs that made them famous like "Skin to Skin"  .  Members of both headlining bands can see seen nightly in the Philly club scene. For example, Evans now teaches music and plays in Diamond Dogs a David Bowie tribute band, as well as kick It Out, a Heart tribute band. If that were not enough he also has the Mark Evans duo. drummer  Johnny Dee from Britny Fox now drums full time for Doro and plays in a few local cover bands .One such project is called Headbangers Ball.
If you missed the show or would like to repeat it,  a certain rock festival in Maryland  will host Heavens Edge. Hopefully, the boys in Britny Fox can do that gig as well. It would be beyond awesome to have Cyanide Saints and Hammer Down  get put on that bill as well. The festival is the M-3 Festival. You read it here first.