Pa State Police
State Trooper shot in Philly, 17 year old suspect arrested
---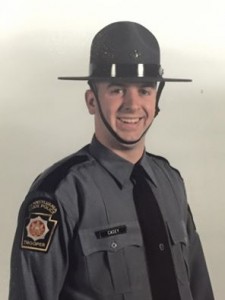 By Alex Lloyd Gross
There is no  such things as a "routine car stop" and that was proven yesterday, November  24, 2015 when State Trooper Patrick Casey found himself in a gun fight and shot when fellow troopers attempted to stop a vehicle for expired tags on Route 76 near University Ave.  According to Captain James Raykovitz of the PA State Police Trooper Casey was helping to back up another Trooper that stopped a vehicle with four males in it.  One of the males could not be positively identified and was handcuffed. and put in the back of a police car.
As that happened,  17 year old Giovanni Cotto is alleged to have ran back into the driver seat of the vehicle that he was initially driving and then drove away from the car stop, with Troopers in hot pursuit, authorities said.  Two of the other males that were in the vehicle ran from the car stop and have not been found as of the next day.  As cops tried to stop the vehicle, Cotto accelerated and is alleged to have fired a pistol at Trooper Casey.  Cotto lost control of his vehicle and slammed into the rear of a school bus that was empty, on 676 near 21st Street. The bus had dropped special needs children off at St. Katherine Day School. The bus driver was the sole occupant of the bus and was not hurt.
The car and vehicle burst into flames.  As that was happening, Cotto reportedly exited the vehicle and fired several more shots at Trooper Casey, striking him one time in the shoulder.  Cotto was arrested a short time later  and is being charged with attempted murder and related charges. Trooper Casey is expected to be released from the hospital in time to spend Thanksgiving with his family.
It is unknown if the other three males in the vehicle will be facing any charges from this incident.   The busy expressway that runs through Center City Philadelphia  was closed for several hours. Traffic was jammed along surface streets and the Schuylkill Expressway leading into the city. The State Police Cruiser  could be observed having no less than eight bullet holes in it.
Trooper Casey  received a telephone call from the governor and a personal visit from Mayor Michael Nutter and Philadelphia Police Commissioner Charles Ramsey.