Man trapped in hole in historic area of Philadelphia
---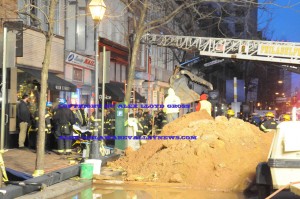 By Alex Lloyd Gross
A man working on a construction project on Market street, near 3rd Street in the Olde City section of Philadelphia is expected to survive with after  being trapped in a hole in which he was working  January 9, 2016.  The incident happened just after 3:00 P.M.  when the dirt became lose and trapped the workers feet and legs in between some rocks.
Firefighters called in a Collapse Unit and multiple other specialty pieces of apparatus.  At one point the Market Frankford  Trains were causing vibrations which hampered the rescue work. The service was suspended.  Market Street was closed between 3rd and 5th Streets.   The man was freed from the hole after  about two and a half hours.  He was alert and  speaking with his rescuers the entire time.
City inspectors were on scene to insure that all safety  procedures were being followed.