Harlem Globetrotters play basketball in Mayor's Office.
---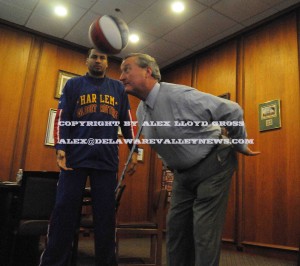 By Alex Lloyd Gross
The Harlem Globetrotters will make their annual return to the Philadelphia area   starting on Friday March 4 2016  with an appearance at the Liacouras  Center.  They will be in Trenton  for two shows the next day and Sunday at the Wells Fargo Center.  Before all of this, they paid a visit to city hall to have a bit of fun with Mayor James Kenney.   At about 2:20 PM today, February 29, 2016   Globetrotters El Gato and Hawk as well as a small contingent of media were ushered into the Mayor's Office where the shenanigans began.
Kenney  was smart and admitted he could not play ball,   that he was more of a hockey guy. So Hawk started him off slow. He showed him some moves and had Kenney mirror him. With El Gato next to him, Kenney was twisting and turning with a basketball and soon bouncing it  off his butt. Not as good as a Globetrotter but  not bad for a first timer.  Kenney introduced them to Ziara Singleton who was the PAL Mayor for the day.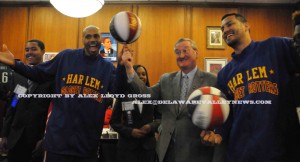 Both Globetrotters attempted to get the Mayor and just about anyone that was there to spin a basketball on their finger. From Mayor Kenney to Singleton, smiles were all around.  Even Lauren Hitt, Mayor Kenney's spokesperson got into the act with an impressive spin. Kenney's mouth dropped when he saw how long she could hold the ball on her finger.
Believe it or not, a Nerf court was set up  inside the Mayor's Office and Kenney and the two  Globetrotters tossed around a small basketball for a few minutes.  PAL , stands for Police Athletic League. It's a great way for kids to hang with cops and get taught sports and social skills instead of hanging out and causing trouble. There are different PAL centers all across the city. Today just happened to be the day that selected PAL participants got to shadow city officials in their jobs. It's never a good idea to play ball inside but Kenney IS the Mayor, so who is going to yell at him? Plus he was supervised by professionals.