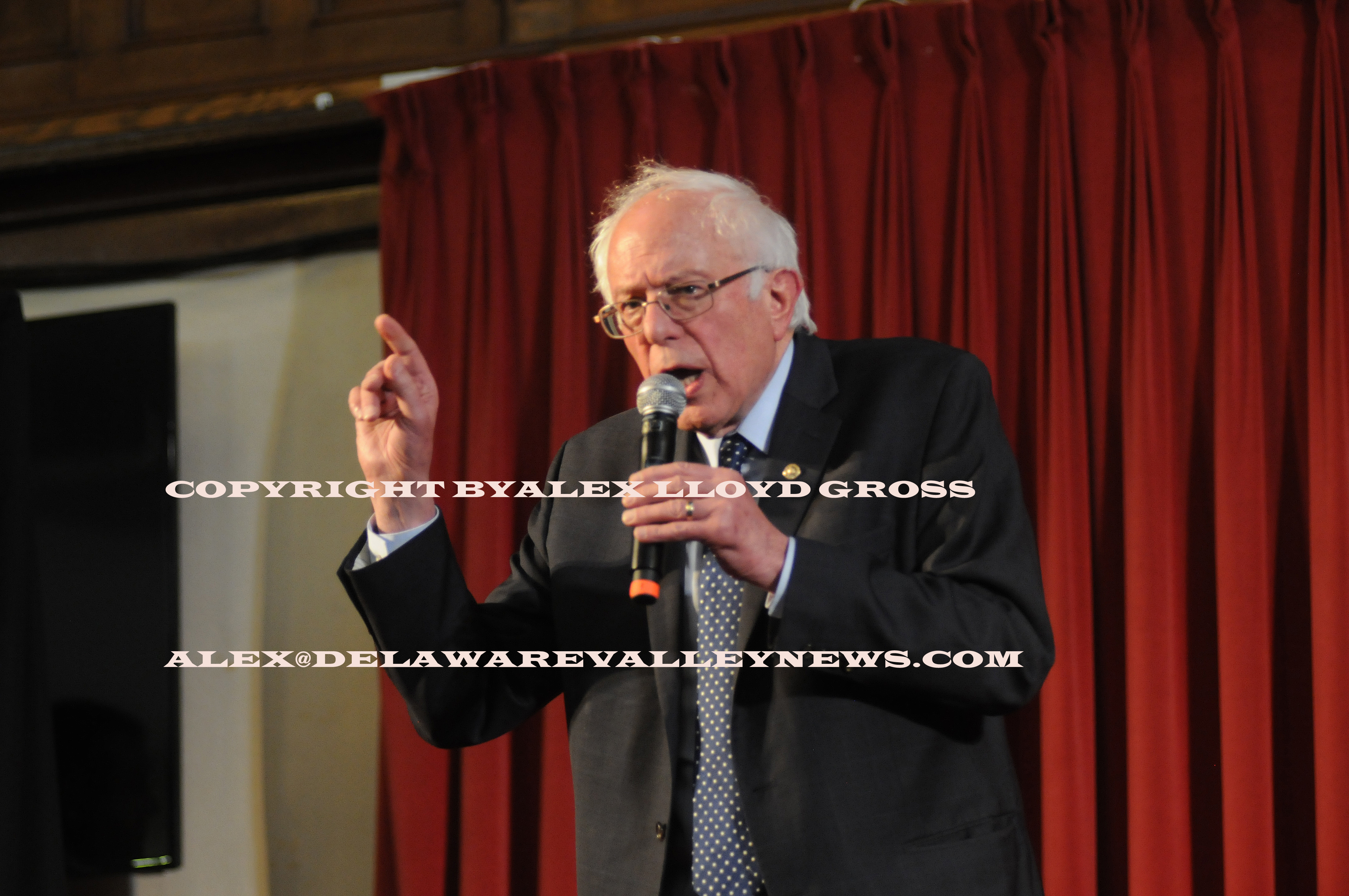 Philly feels the Bern as Sanders stops in for a visit
---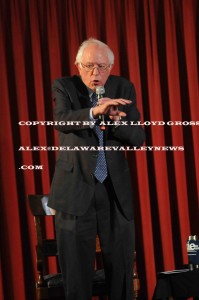 By Alex Lloyd Gross
With the Pennsylvania Primary coming fast,  candidates running for President are starting to swing  through the area. Today, April 6, 2016 Bernie Sanders made two stops on Broad Street.  The first, was for a very small intimate crowd at the Tindley Temple United Methodist Church at 750 South Broad Street.  This small event was by invitation only and drew only a few hundred people. It was kept low key and was not listed publicly. People had to be members of the Church and RSVP their intentions to attend.  By 6:00 PM  it was clear this was going to be intimate as less than 300 people were in attendance. One man managed to bring his  well behaved dog into the church..
Bernie was preaching to the choir , telling the crowd exactly what they wanted to hear.  Under a Sanders administration  the minimum wage would be raised  Then he started to talk about education as opposed to incarceration.  A family that lives in public housing  that has a family member arrested for a crime faces a tough dilemma. That family member is no longer permitted to reside with his family and is barred from public housing assistance.  The have to move or the person arrested has to move.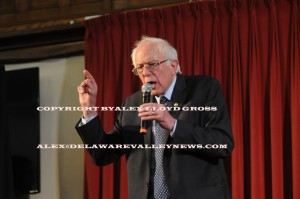 Sanders spoke about police violence against the African American community. "Police should be held to a higher standard and if someone dies at the hands of the police, that incident will be investigated by the Federal Department of Justice", Sanders said to applause. He back peddled a bit, so as not to appear anti police, saying that "There are a lot of great officers, out there". The audience was mostly African American and Sanders remarks resonated with them.
The event was done properly, with members of the audience asking questions, not  being dependent on a moderator or host. People want to interact with the candidate.  Bernie gave this crowd what they came to see and hear.  His event at the church lasted about one hour.  Sanders then left the podium and waded into the crowd for some glad handling. The people in the crowd wanted to see and hear Bernie and will vote for him. Sanders MUST convince those that are on the fence or committed to another candidate that he is the person that can work with congress and that his ideas are the best out of everyone running.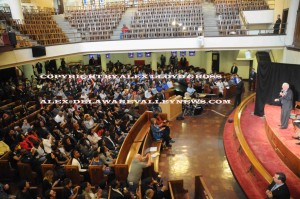 After Sanders left, he got into a small motorcade that made it's way north on Broad Street where he will have a large rally at the Liacouras Center on Temple University's campus. That event is open to the public and  an RSVP was required to attend.  Sanders will be spending the night here in town.  Tomorrow morning, he will be making remarks at the AFL-CIO convention. Hillary Clinton gave a talk there earlier today and did not have any public events.
The Primary is April 26, 2016. It is a closed primary which means only registered democrats and republicans can vote.   Only registered democrats are permitted to vote for  Sanders  Republican voters are only allowed to vote for republican candidates.  The Democratic Convention will be hosted right here in Philadelphia later this year.