Unauthorized pin camera found on Philly ATM
---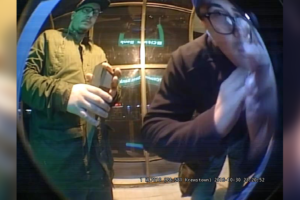 By Alex Lloyd Gross
Phila. Police are looking for help from the public in identifying two men that are accused of placing an unauthorized and illegal pin camera inside an ATM machine located on the 9300 block of Krewstown Road.  The device was discovered on November 2 2016 when a repairman was fixing a light in the ATM. He saw the camera and knew is was unauthorized. He quickly called police who launched an investigation.
They were able to recover the camera and the SIM card which could read users pin numbers  and other personal information.  There was no skimming device found on the ATM . Cops did not say how long the device had been there.  If anyone knows the location of whereabouts of the two men in the above picture, you are urged to contact the  Major Crimes Division (215) 686-3396 or 97.
This particular ATM is located outside of the bank. When using an ATM it is advisable to become familiar with the device and if you notice any abnormalities, notify the bank or location where it is hosted.