Trump to Acting Attorney General : You're Fired.
---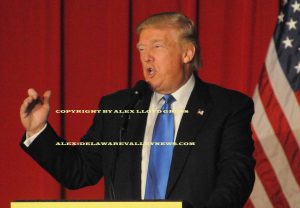 By Alex Lloyd Gross
It's never a good idea to act contrary to your boss's wishes and contravene a direct order. Acting Attorney General Sally Yates found that out the hard way today, January 30, 2017 when she was fired from her post or as Trump said "Relieved of her duties". Yates, a hold over from the Obama administration is diametrically opposed to Trump's stance and position on border security and how it should be implemented.
When Trump issued his executive order of not allowing Syrian refugees into this country for three months, until they could be vetted, Yates refused to implement some of Trump's changes.  Chaos was reported at airports across the country, including Philadelphia, where I-95 was briefly closed due to protesters on airport property.  Trump said that he appointed Dana Boente to Acting Attorney General, until Jeff Sessions could be confirmed.
Trump issued a statement to the media which reads in part "The acting Attorney General, Sally Yates, has betrayed the Department of Justice by refusing to enforce a legal order designed to protect the citizens of the United States. This order was approved as to form and legality by the Department of Justice Office of Legal Counsel."  He also called her very weak on boarders. and weak on immigration. Yates did not offer any statement  to the media. by press time.