Kimberly Dahme plays local show
---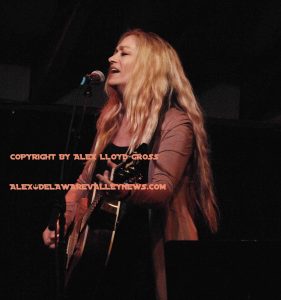 By Alex Lloyd Gross
A free show took place at Havana New Hope this past weekend featuring Kimberly Dahme.  Some people know who she is others, not so much. In short, she played with Boston during their 2004 tour and her song 'With You" was included in the Boston album Corporate America. That song was played live as were quite a few covers like "Stuck in the Middle with You" and  "Midnight Rider" from the Allman Brothers. She is a solo artist now playing her own music. That can best be described as southern rock with a bit of country.  It's good.
The show lasted about 90 minutes, starting at 9:00 PM and ending just before 11:00 PM.  She had a lot of things working against her, like a severe storm  and a late start but she still drew a small crowd that stayed until the end.  Normally, for a free show people will show up, drink a beer and leave.  The fact that people stayed around to meet with her after the show is a testament to her talent.
Her band is from Nashville. They drove in from Moon Township Pa. for this show, arriving locally just a few hours before showtime.