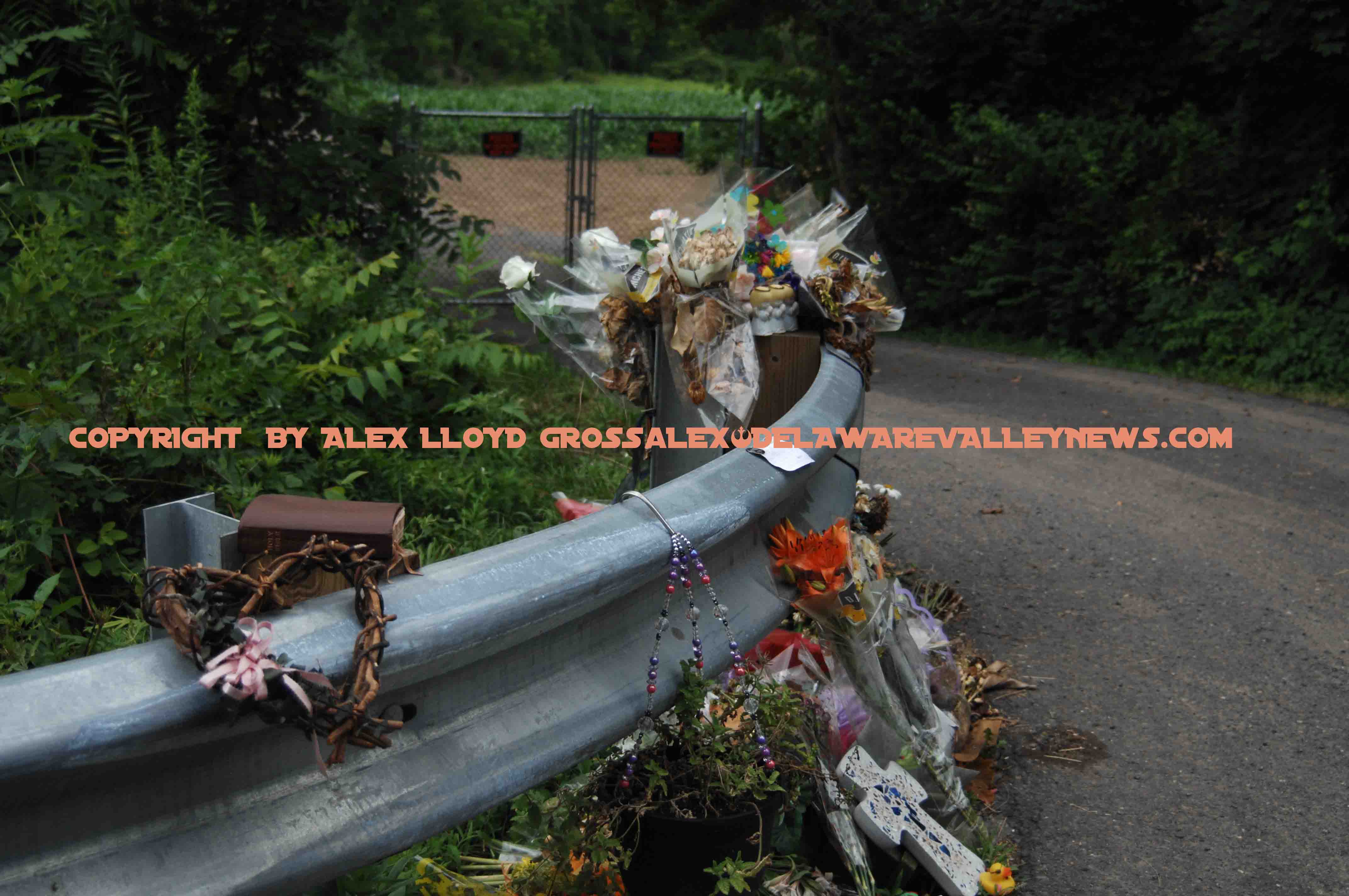 Police presence at DiNardo crime scene as tourists try to visit
---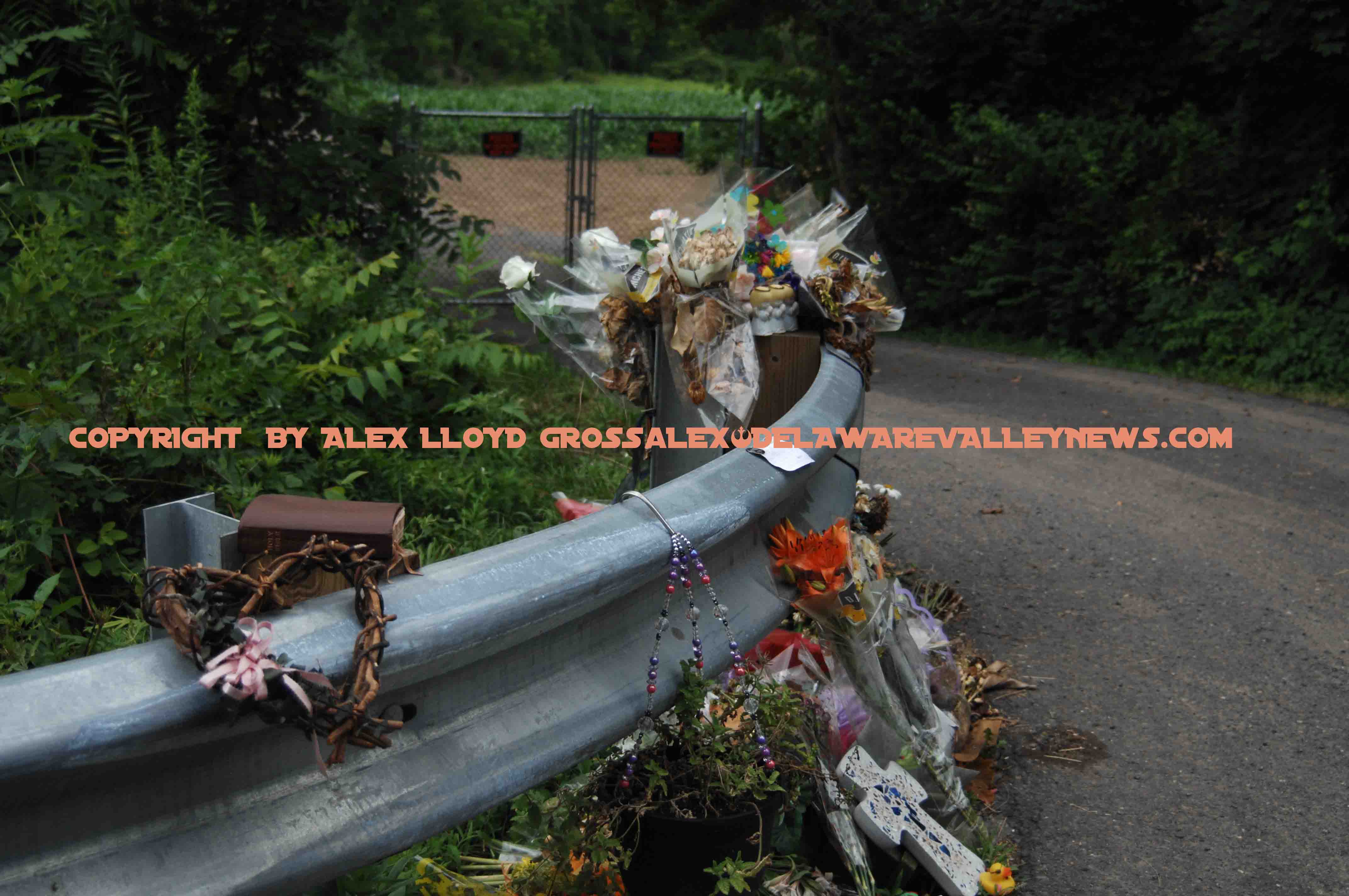 By Alex Lloyd Gross
It's been several weeks since the last police vehicle left the crime scene on Aquatong Road. The property that once had four bodies buried on it has been left a shambles by the investigation. The entire area is becoming like Barker ranch, home of Charlie Manson.  Tourists want to visit.  A police officer is detailed still  to patrol around the area but not on the property, to dissuade any vandals or curiosity seekers who come by the dozens.
On Lower York Road,where the entry to the DiNardo property is,  a growing memorial to the four young men sits outside. Flowers, a bible, some stuffed animals, all left as a remembrance to one or all of the victims.  It got so bad, that the DiNardo's installed gates to their property, that will discourage people from entering.  These gates, set back about a car length from the road, will not stop the determined. The gates are easily climbed or circumvented.  A Lock can be cut by a determined individual. All of that is illegal and can get the trespasser arrested.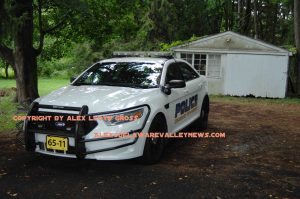 On a recent weekend, for an hour, no less than 25 cars slowed at the property. Some people pulled to the shoulder or off the road at a nearby antique store to walk back to take photos, of the gate and the long road.  Others took selfies of themselves there, presumably to post on social media. It is not cost effective or a use of manpower to detail a cop there around the clock.
Interest in this case remains high. People want to know about Cosmo, his family and Sean Kratz,  the co defendant in this case.  There are several internet groups like this one People were able to catch a glimpse into DiNardo's social media accounts by a member who videotaped a scroll of his Facebook page. Most of the posts deal with DiNardo selling shoes. Then, they go more ominous,  talking about guns  and his plan to go to taxidermy school and live in the middle east. DiNardo is a mentally ill individual , who received inpatient treatment at Lenape Valley . As such, he is not allowed to be in possession or around any firearms.  His posts about getting a laser sight on a tool  or how he "Smoked a doe" could get him criminally charged even more. His social media accounts has since been deactivated.
To be fair, not every car stops at the DiNardo property. Most do not. To date, Solebury Police have not arrested anyone for trespassing on the property.  That does not mean that no one has gone on the property without permission.  The families of Cosmo and Sean are besides themselves. Their lives are now being dissected under a microscope for the world to see, with interest expanding to  siblings and parents.