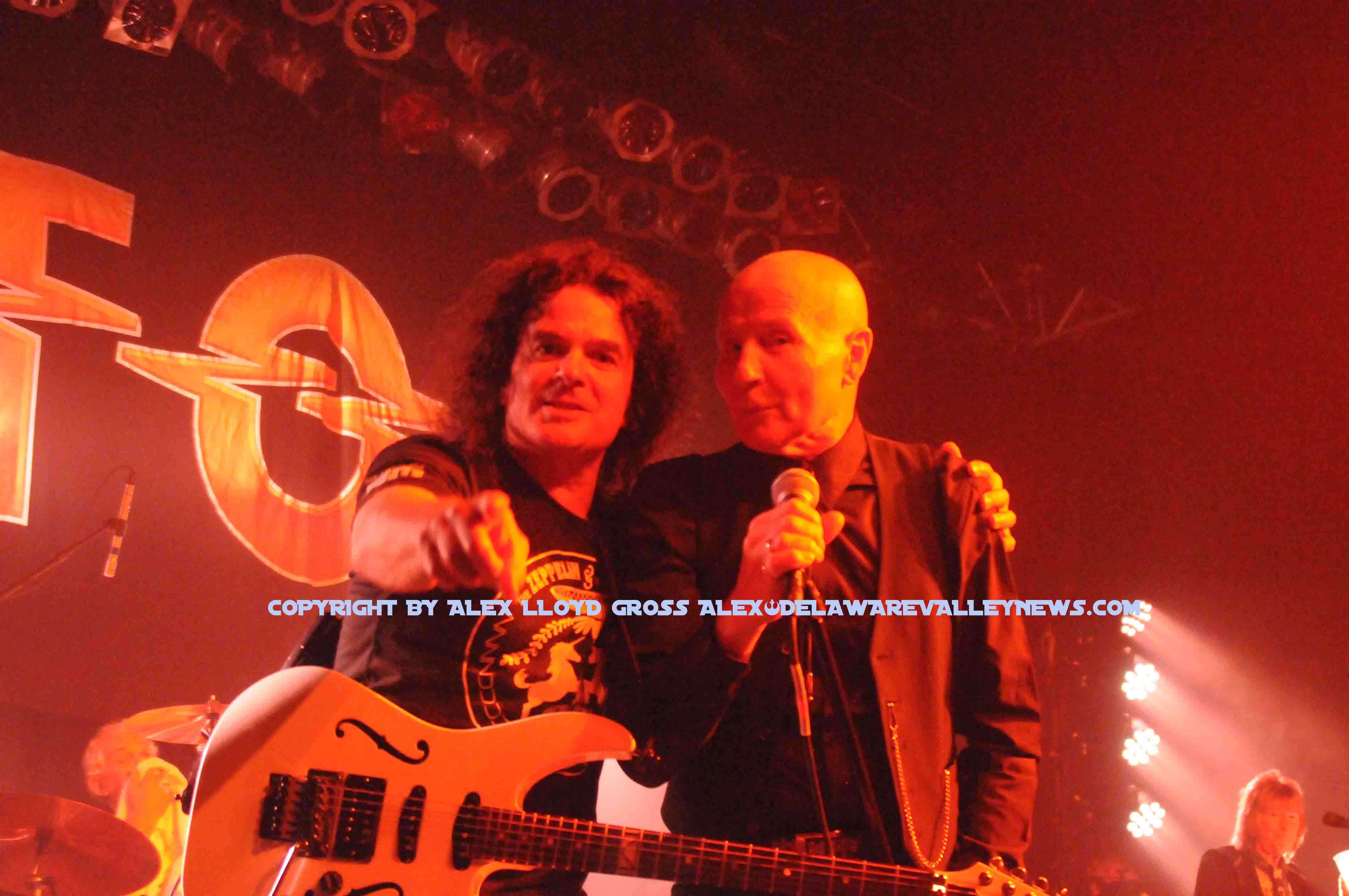 UFO lands on South Street, leaves region stunned
September 27, 2017
---
By Alex Lloyd Gross
UFO came to  Philadelphia and brought Saxon with them. Two great bands from the era when rock was king, Philly had two great rock stations and both bands were featured. While UFO was billed as the headliner, Saxon stormed the stage and almost left nothing of it for UFO to play on later. Saxon play loud. Very loud. The TLA is a smaller venue and about 350 people showed up on a week night to rock.
"Is it Friday"?  asked Biff Byford, front man for the band. "Tomorrow, you just don't go into work and you can tell your boss that a mad Englishman told you it was Friday", he said in between songs. The band had about 80 minutes to play and they had to cram as many good songs into their set as possible. Biff tore out the set list,  put it in his mouth and spit it out. "I hate set lists, what do you wanna hear"? Songs like  "Motorcycle Man" would have to wait until the next visit, as the band played "Crusader"  and "Strong Arm of the Law". When they broke out "747", that song drew the loudest applause.
When asked prior to the show about that song"It's an event that happened in NYC in the the 1960,s I think. It is about an airplane that needs to land quickly ", Byford said. Thankfully it was not drawn from a personal experience. Saxon does not play in this area often. The show earlier this year was in Penns Peak,  which is two plus hours away. That is why last nights show was special.  Byford was reminded that 37 years ago, they played the Spectrum with Rush, almost to the exact date. A fact that he brought up multiple times during the show.
Byford said that Saxon's fans are a bit different that UFO fans. Not so,  While UFO might have been around longer, their fans still get into Saxon's music and reverse is true for Saxon's fans. This was a great bill and worth the cost of admission.
Saxon are gracious to their fans and band members spent yesterday afternoon strolling around South Street, posing for photos and signing autographs when they were recognized. As fans filed out of the TLA and if they went next door, there was Biff and Doug Scarratt at the bar, knocking back a few drinks, hanging with their fans.
Up  next was UFO.  This band knew  what people wanted and they delivered it right to their ears. Songs like "Rock Bottom" and Too Hot To handle"  needed to be played and they were. However, this band had a few surprised of their own, like the opening number "We  Belong To the Night". Lead  vocalist Phil Mogg brought is wry sense of humor with him and joked with the audience from the stage.
"I went to Macy's  before the show and I got these jeans. I did not get 10% off.  That's tomorrow, in case you want to do any shopping". It would be great to see this band go a bit deeper into their catalogue and pull out  "Long Gone" or even "Letting Go".  To say they still got it  would be an understatement.  Paul Raymond, Andy Parker and Phil Mogg make up the line up that played on most of the classic records. Newer members Vinnie Moore and Rob DeLuca have been with the band for about 10 years. Moore ran all over the stage which was larger than stages at Sellersville where they previously played.
The stage was clean and no obstructions  so fans can see everything. This show was reminiscent of a show back in the 1980's. It was general admission with fans standing up against the barricade. The way a rock show should be.
Opening up the night was Jared James Nichols. He was good playing original material and af ew covers  like "Stranglehold".  People were unfamiliar with his music and he needs to announce the names of his songs.  After his set, he made his way to the merchandise table to meet fans and sign CD's