"Stupid" female steals cat shelter from Bucks County business
---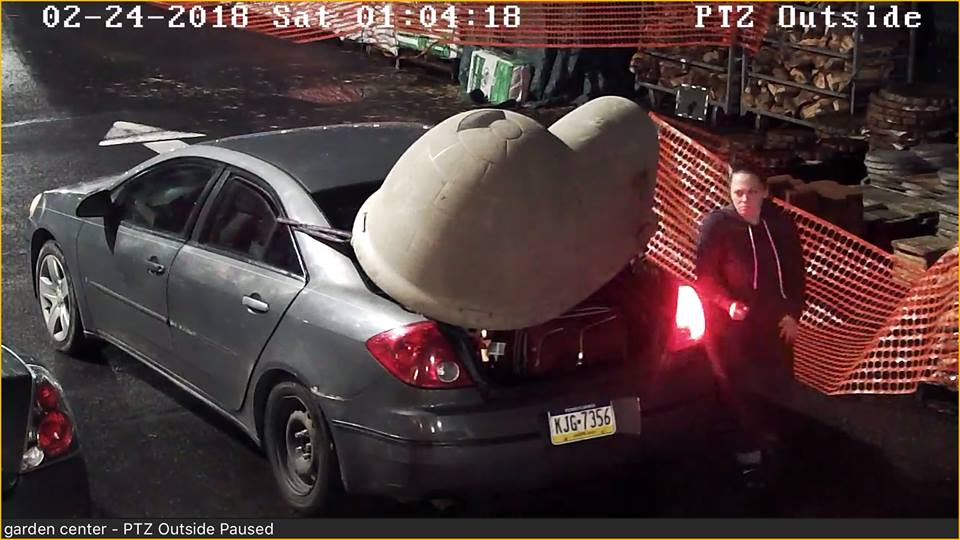 By Alex Lloyd Gross
Police in Fairless Hills ( Falls Twp.) need your help in identifying a greedy thief that stole items for sale and a shelter for homeless cats from the Fairless Hills Garden Center. The theft happened over the weekend of the 24th. This female backed up a car with a license plate that is invalid, put it on a vehicle that she should not have been driving and went to work, stealing items from the shop.
One of the first items she took was a shelter used for a colony of homeless cats. This has the region furious, with people calling her a "A Stupid Bitch". a prostitute and other names that cannot be printed on social media. Whether she is a prostitute or not is unknown, but she is far from intelligent.  Knowing that this is 2018, there are cameras everywhere. This camera caught a great photo of her that is being plastered all over the internet.  Someone knows her.
If she was smart, she will turn herself in, before someone makes the call and she is taken off the street by the police.  This female either knew that this was being used as a car shelter or did not care. She was caught on video dumping out hay that was used as bedding.  She strapped it to her illegal car then drove off.
She then came back with a male and they stole more things from the business. It will go better for her to turn herself in.  This is Bucks County and the judges here do not take too kindly to thieves in the night.  If she stays away and does not turn herself in, she  can expect harsh punishment that will include prison. If she has children, and is a single mom, they will be taken away.  People are ambivalent about the merchandise. It is the cat shelter that has raised the blood pressure of internet posters.