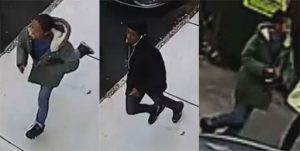 Males wanted for robbery in North Philly.
---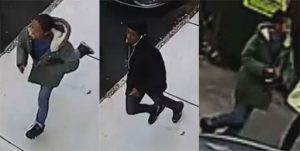 The following is a news release from Philadelphia Police  who are looking for juvenile males who think it's okay to beat and rob someone. Look at the photos and click the video link. If you know who the thieves are,  contact Philly Police. They will be happy to speak with you:
Male, was walking on the 1400 block of west Jefferson Street at Carlisle Street when a group of juvenile black males ran up behind him and suspect #2 attempted to knock his headphones off. When the victim ran on Jefferson Street, he was chased by the group who then caught up to him and began assaulting him. After the victim threw his headphones to the ground, one of the suspects picked up the headphones, and the group fled and were last seen west on Jefferson Street.
Suspect Description: Suspect #1: Black male, 10 years-of-age, 5'0″, thin build, wearing a green coat, and blue jeans. Suspect #2: Black male, 17 years-of-age, 5'10", thin build, wearing a black coat, black hat, and dark colored pants. Suspect #3: Black male. 16 years-of-age, medium build, wearing a dark colored coat, burgundy hooded sweatshirt, and dark colored pants.
To view this video and more, visit The Philadelphia Police YouTube Channel
If you see these suspects do not approach, contact 911 immediately.
To submit a tip via telephone, dial 215.686.TIPS (8477) or text a tip to PPD TIP or 773847.
All tips will be confidential.
If you have any information about this crime or these suspects, please contact: Central Detectives Division: 215-686-3093/3094 Det. Andracchio #886 DC 18-22-089088