PA Attorney General: Pennsylvania Police Chief arrested for child rape
---
By Alex Lloyd Gross
NOTE: While this incident was not in our regular coverage area, Public interest dictates that we publish this, as it is within 100 miles and many readers have relatives or know people in that area.
Pennsylvania Attorney General Josh Shapiro announced today, March 27, 2019 that Weissport Police Chief Brent Getz and another male,  Gregory Wagner, of Carbon County  and charged them both with Child Rape, indecent Involuntary Deviate Sexual Intercourse with a Child, Aggravated Indecent Assault of Child, and several related charges. The incident happened before 2012 and the victim, a female was under 12 years old at the time. She told a substitute teacher in her school that Wagner had assaulted her, and shown her pornography. No charges were filed after the Franklin Township Police did an investigation.  Wagner, was the girls uncle.
In 2015, the case was reassigned and police prepared a criminal complaint charging Wagner with various crimes. The complaint was dismissed by the Magisterial District Judge due to a paperwork error. The charges were never refiled.
In August 2018, a Franklin Township Police Officer revisited the case and asked the victim to come back in for an interview. At this time, the victim also disclosed that Brent Getz, who was Wagner's friend, had sexually assaulted her too. Getz is now the Chief of Police in Weissport, Carbon County.
The victim revealed that, consistent with her prior disclosures and examinations, from age 4-11 she was orally, vaginally, and anally raped by Wagner. She re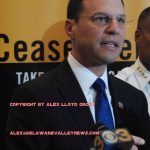 ported that Getz would also join in these assaults. Additionally, she said that Wagner often made her watch pornography with him, which she recalled depicted teenagers.
Agents executed a search warrant of Wagner's residence on March 26, 2019. They located numerous electronic devices, including his cell phone, which contained Google searches of terms which are indicative of child pornography.
Wagner was interviewed and admitted to sexually abusing the victim over the course of several years. He also admitted that Getz sexually abused the victim and that they would do so together. The victim was assaulted starting when she was four years old.