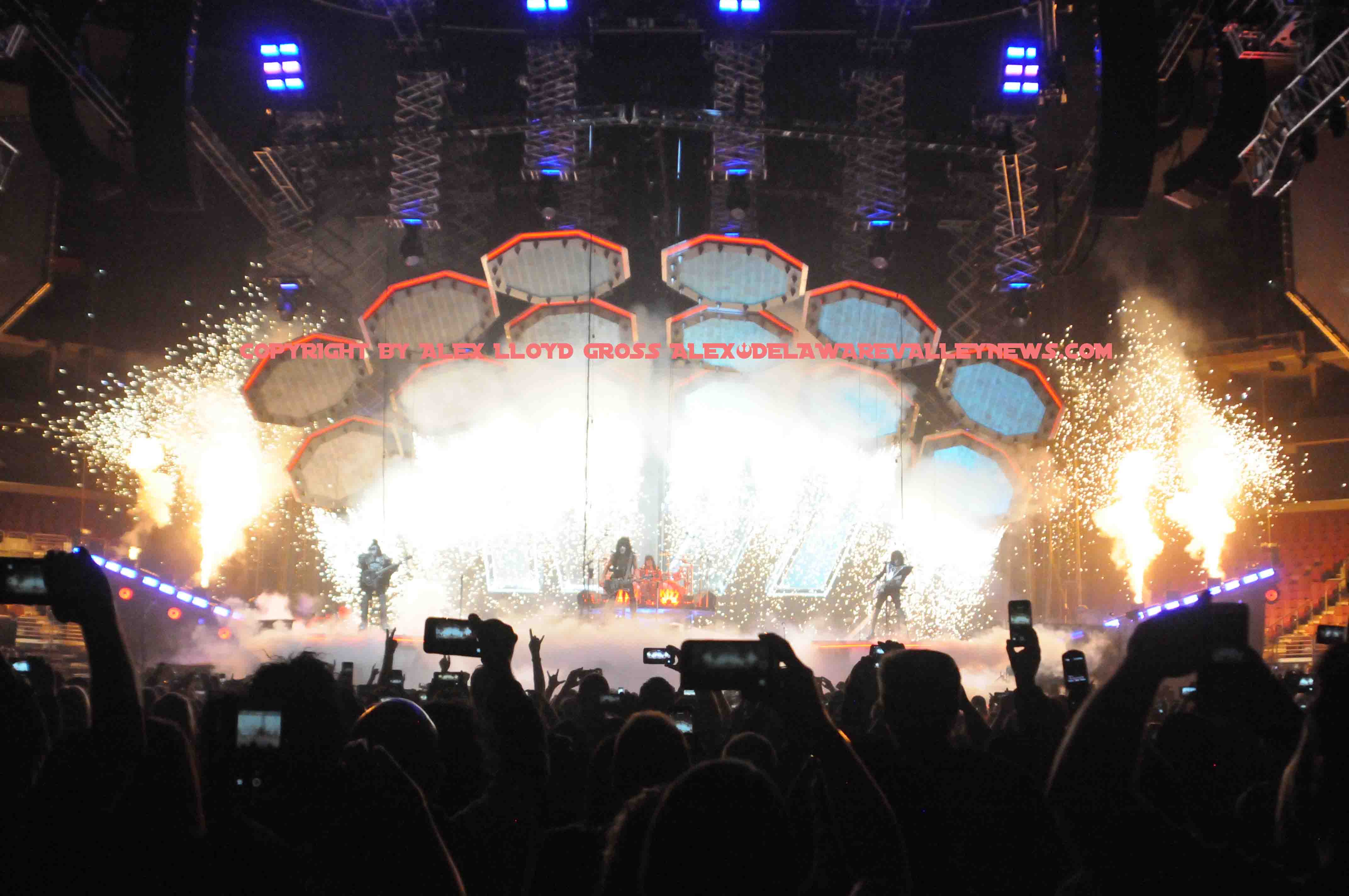 Thank You KISS for an amazing rock show in Philly!!!
---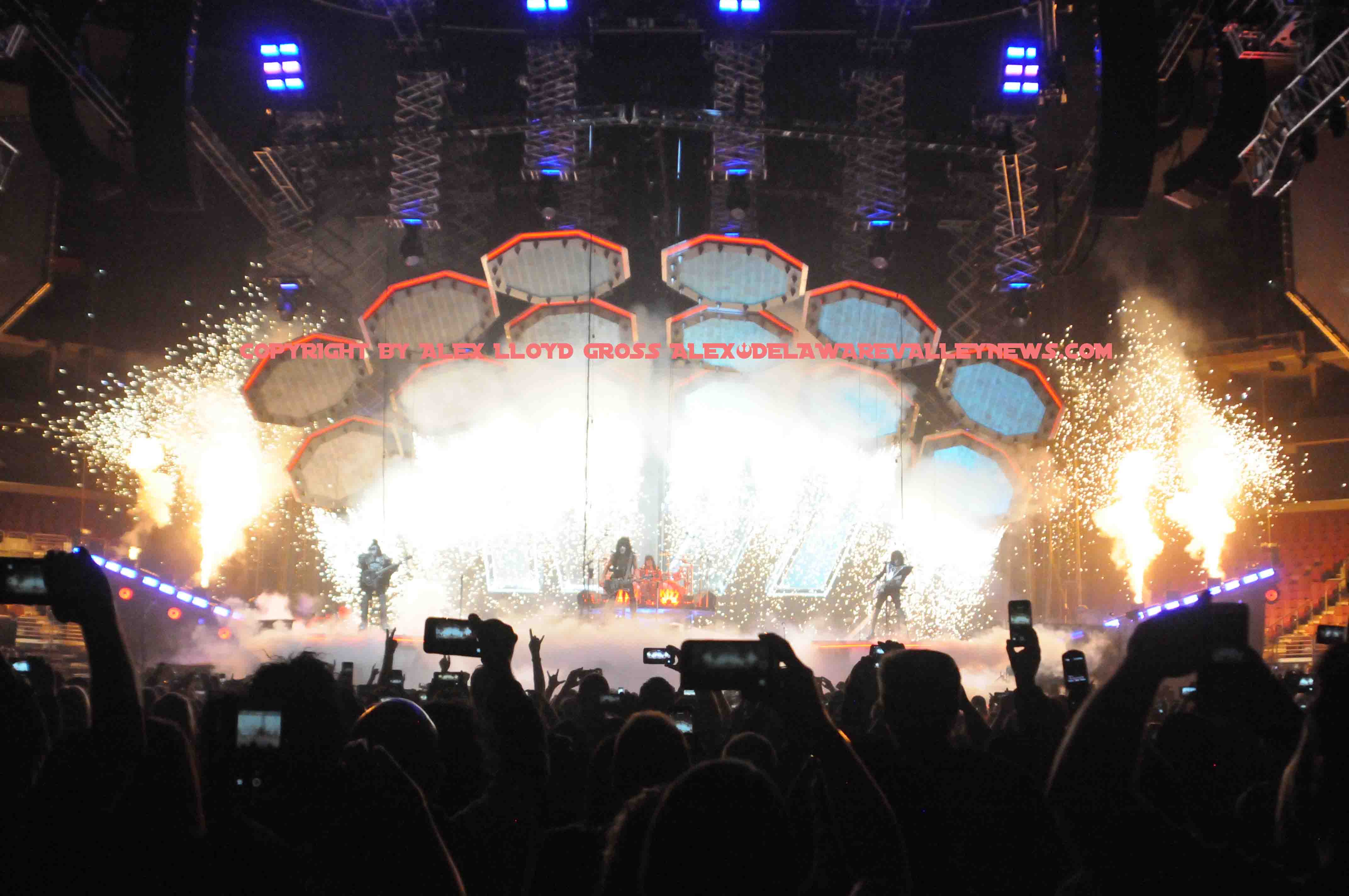 By Alex Lloyd Gross
KISS, the iconic band from the 1970's is  allegedly hanging up their platform boots,and locking away their road cases. They are on their final tour ever, (or so they say), and that tour brought them to Philadelphia March 29, at the center in South Philly.  KISS took care of business in Philly, both on stage and off.  When it comes to KISS, people must come to realize that almost everything involving this band is expensive.  From $75.00 tee shirts to the opportunity to get a stage played guitar and strap for about $20 grand. Heck KISS even sold space in the photo pit to a few fans that have too much money. It;s a great way to watch the show,up close and personal but at $6500,00 it's also the most expensive seat in the house.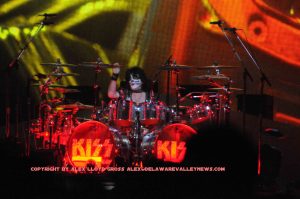 Tickets on the floor went for as much as $1000.00 each.  to be up front. What you got was a close up view of a rock and roll spectacle that will not be beat anytime soon. As KISS came down on hydraulic lifts, explosions and fireworks engulfed the stage. The opening song, "Detroit Rock City" is a staple at KISS shows.  It's a perfect opener, that lends itself to multiple opportunities for explosions and special effects  and KISS used 'em all.
This is a band that  critics love to hate. In 1979, after a blistering sold out concert  at New York's Madison Square Garden, Rolling Stone likened their music to "buffalo farts". The review was written by an overpaid hack that had no clue what he was seeing. If any one of those 16 year olds in the crowd could have the opportunity to write that review, they would have called the show nothing less than  amazing.    KISS has survived, for the most part for almost 50 years by word of mouth of their fans. KISS fans are smart enough to know that some idiot that got a job at a newspaper  that does not want to  be at their show is going to not have a good time. They will then tell their readers how bad the show was. KISS fans have stuck by the band  even when mainstream radio tried to ignore them.They got some airplay  locally on WYSP but not much else.,  The band stuck with it and  toured. Their concerts in this area were full houses or close to it. Now they are played regularly on  radio stations across the country.  Even Rolling Stone came on board, not that they are even relevant anymore.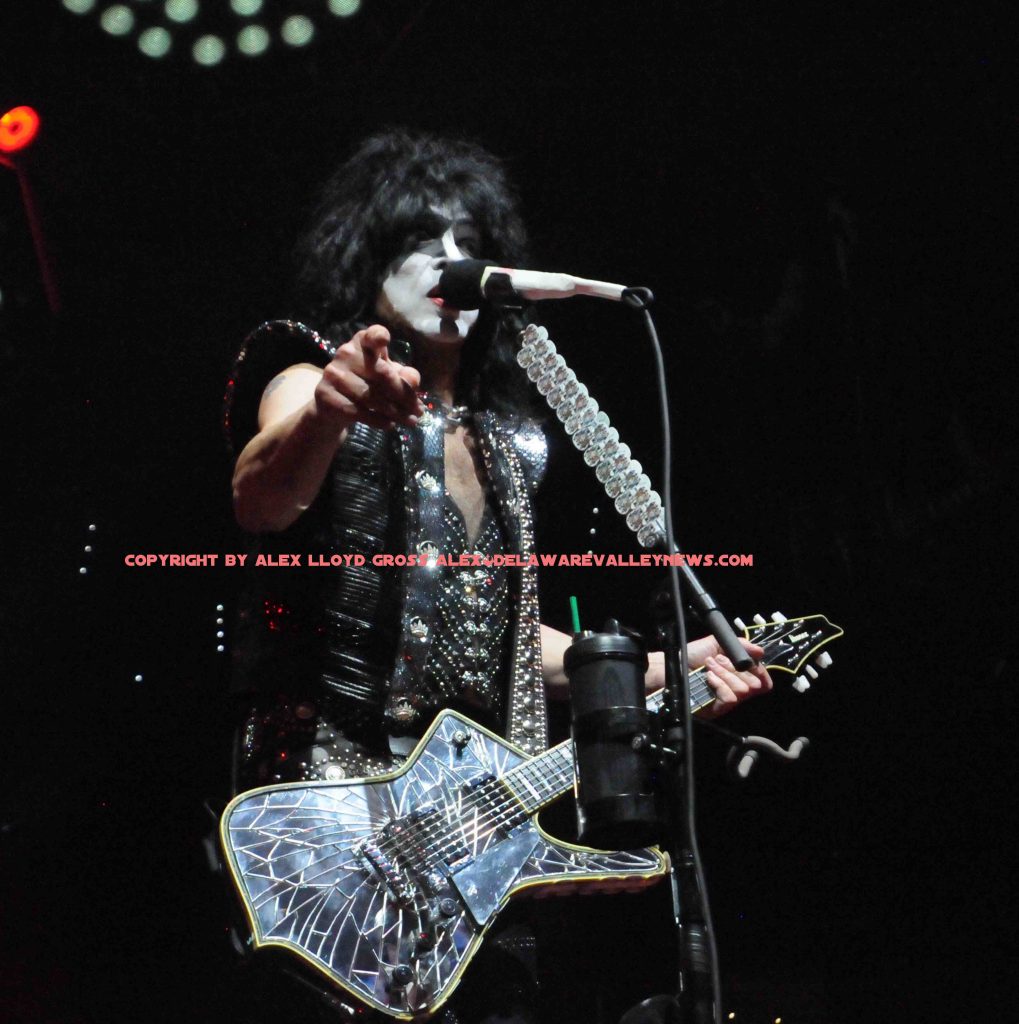 At the Center, fans in attendance learned why KISS shows are near sellouts. The show is just that damn good.  From Paul Stanley flying through the air to a small stage in the rear, where he sings "Love Gun"and "I Was Made For Lovin' You".  As God Of Thunder was played, Gene Simmons spat blood and got on a levitating platform above the crowd. He breathed fire during "War Machine".
Ace Frehley and Peter Criss are not in the band anymore.  Tommy Thayer is on lead guitar and Eric Singer takes care of the drums. Singer played with them on the  Revenge album. Thayer's band, Black and Blue opened for KISS in 1985 on the Asylum tour. After that, he was the tour manager during the 1996 through 2000 reunion.  Both musicians have their own stage effects, which include levitating drum sets and rockets that shoot out of a guitar.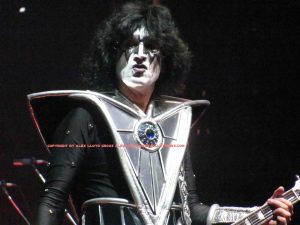 If you are thinking there has to be more than KISS than just stage shows, you would be correct. They play hard rock music. The songs are fantastic and put together well. Unfortunately, only a few get to be played live.  This is billed as the last KISS tour. There is still plenty of gas in the KISS engine for additional projects.  Perhaps they should hit the road again , and play smaller venues but only play songs that never made it past a B side. "All the Way",  "Silver Spoon",  and "Good Girl Gone Bad", for example. KISS claims 10 percent of their fans are diehards and those songs will not go over well.  Perhaps if they did a limited tour, they would see how wrong they were, when those shows sell out as well. There is still a lot for KISS to do. Perhaps the members will do solo tours. Anything is possible.
The show ended pretty much the same way it  started, with band members on cranes that came into the crowd., While bombs blew up the stage and the entire arena was awash in a confetti storm that left almost a foot of it in some places.  KISS say it's their last tour. I kind of believe them this time. However, August 21, 2019 fans can see them one last time in Hershey, at an open air stadium.  One can just imagine the fireworks that will accompany this band when they play with no roof overhead.  They might out do this show.  You can go here to buy tickets, or even a meet and greet package.