Breaking: Unconfirmed Reports of Shooting in Levittown
---
Digital Reporter -Jeff Bohen & Alex Gross
Updated: 8:41 pm
Police on scene but nothing of import to report, as DelewareValleyNews.com Reporter Alex Gross, is on location.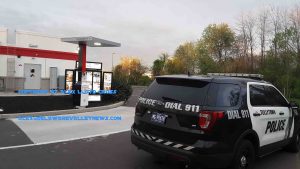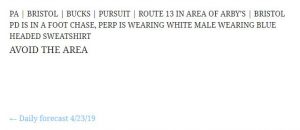 Bohen
Unconfirmed reports of a "shooting" in the area of Rt 13 and near the Levittown Town Center have been reported 2 two separate sources on social media .
Additionally, an alert sent out by Greater Philadelphia Severe Weather contained a general warning to the public to stay away from the area.
Numerous police from the surrounding area including K-9 Officers were tracking a male, that some reported to be in his underwear ran behinds the wooded area near the Arbys and the Home Depot. There was no crime scene detected.  Tullytown Police , along with other surrounding agencies had a significant presence  in the area and searched the area thoroughly. They found nothing. Multiple  social media alert notification systems sent out warnings to avoid the area. People reported to those networks that there was a shooting.  Tullytown Police confirmed in a Facebook post that the male was wanted for fleeing a traffic stop and did not fire any shots.
Story to be updated as information becomes available.