Two Vehicle Accident, One Flipped On Side in Northampton Township
---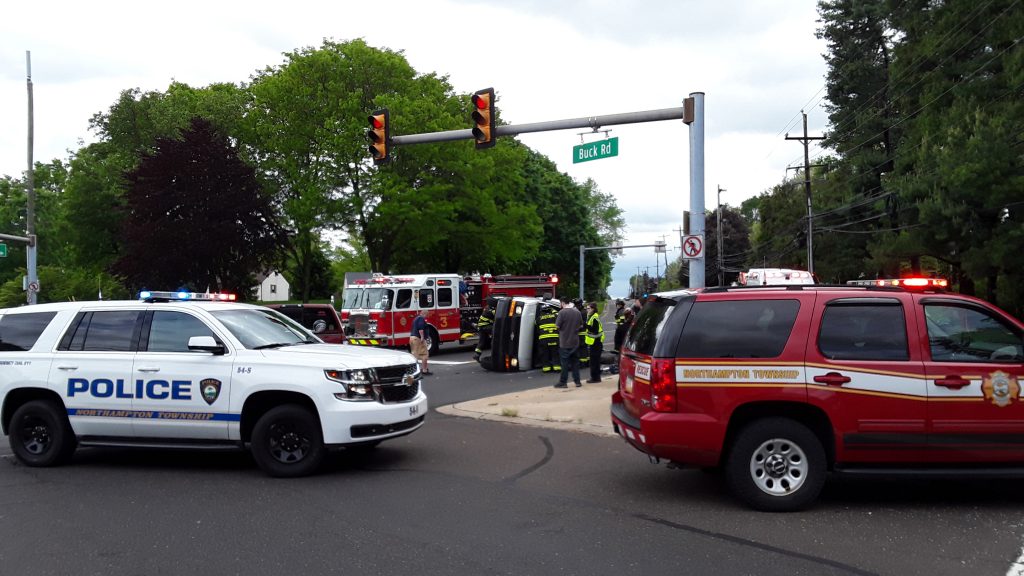 Digital Reporter – Jeff Bohen
A two -vehicle accident at the corner of Route 532 (Buck Rd) and Middleholland Rd brought out fire and rescue crews Tuesday afternoon as an SUV was turned over in a  accident.
The crash, occurring around 3 p.m. appears to be of a head on nature, stopped traffic momentarily as first responders arrived on scene.
One individual appeared to still be in the turned over SUV as crews were trying to free him/her.
Northampton Township Police partially blocked off Rt 532, controlling traffic flow as additional rescue crews arrived to assist first responders.
Bystanders, and one young white male could be seen gesturing excitedly as fire crews worked on the overturned vehicle.
The second  vehicle, what appears to be a mini-pickup truck had front end damage.
Calls to officials at press time have yet to be returned as crews were still on scene for what apparently is a accident investigation.
The Northampton Township Fire Marshal, Fire Rescue and Northampton Township Fire Company Engine No 3 were on scene.
Story to be updated when details become available.