Galaxy Dance Instructor to hold Beyoncé Slay Shop Saturday
---
When a young woman dancer says yes to playing lead guitar in your make believe Black Sabbath cover band without pause, you come to the realization you're in front of someone truly unique.
Sydney Barkley, 23, of Fairless Hills, is just that. And she's hoping the public agrees as she's offering special event this Saturday with a 'Beyoncé Slay Shop,' at the Galaxy Dance & Fitness Complex in Levittown. 
She came to dancing "late in life" joining the ranks of expressive's at the age 15 when she started to dance "seriously."" Barkley can play guitar and with her free time is trying to master the accordion, she shares with a matter of fact telling.
The Rider University student, majoring in dance and philosophy  and minoring in political communications is thoughtful about how she "cuts the rug," saying the slay event is something she's been considering about some time now.
"I am a huge fan of Beyonce. She's one of the women I admire most. She is the human embodiment of artistry, hard work, faith and passion. And where it can take you, she said of her inspiration for Saturday's event.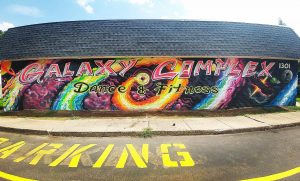 Last June she responded to a Social Media post by Danielle Repoley, operator of Galaxy Dance & Fitness Complex  who was looking for dance school instructors with little to no experience, Barkley says.
"She got right back to me and its been a learning experience ever since," she said.
"Sydney was the missing piece to our dance family puzzle. She brings structure, creativity, responsibility, terminology, history, teamwork, and fun to the dance classroom. Sydney is more than just a "dance teacher" for us. She's an important and special person to our Galaxy," said Repoley of her instructor.
Now at Galaxy Dance & Fitness Complex, for about a year, her thoughts about teaching have evolved saying she used to think those who are teach didn't succeed at the craft.
"Sydney's dedication to dance, her students, and the studio, all while attending college full time, doesn't go unnoticed. She's overall an amazing person all around and a great role model for every young girl she teaches," Repoley said about Barkley's process and dedication to her students.
The event is open to the public, begins at 6 pm and costs $15 for the 1.5 hour workshop.
For additional information about Galaxy Dance & Fitness Complex click here