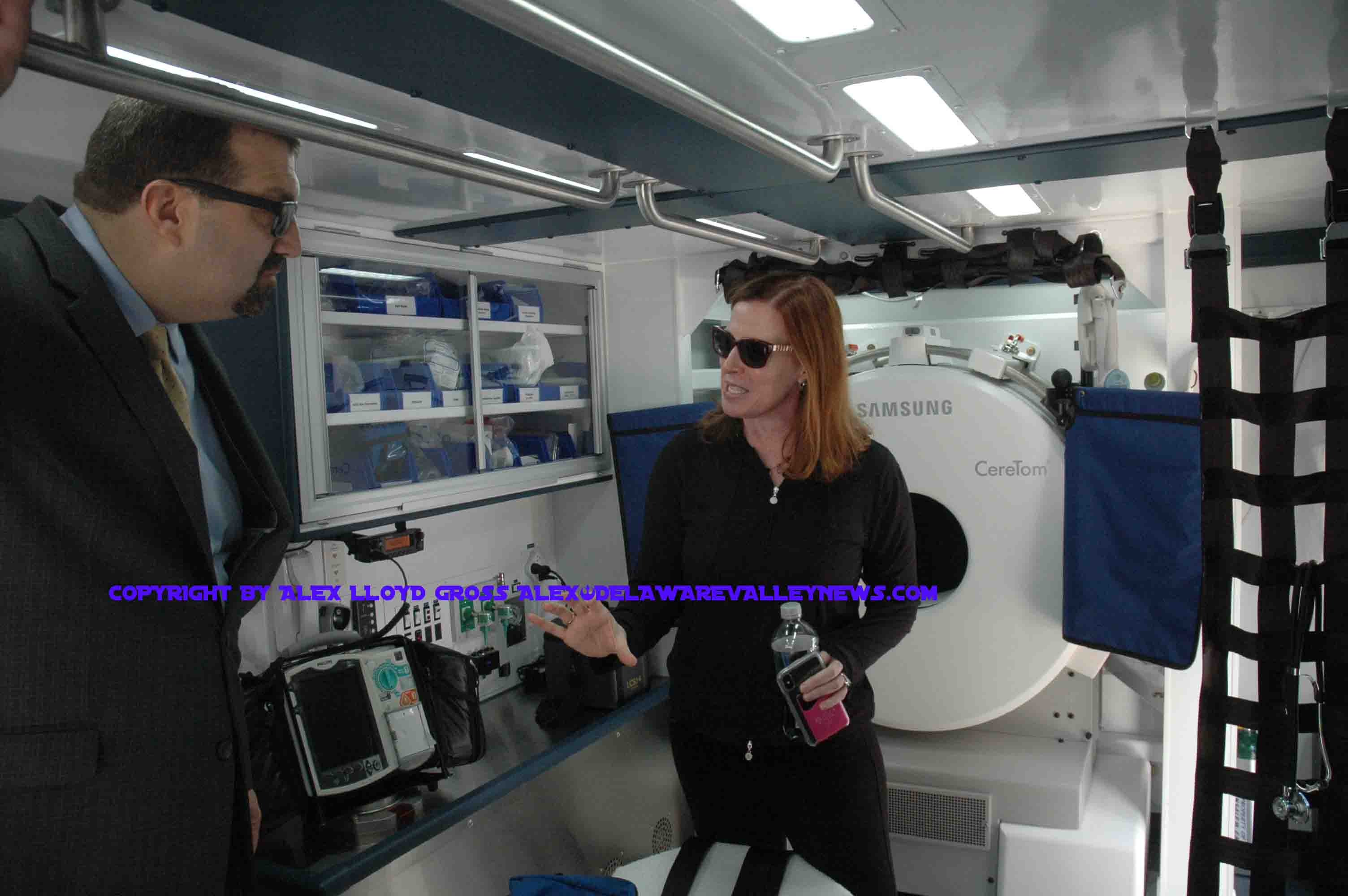 Mobile Stroke Care Now Available In Bensalem
---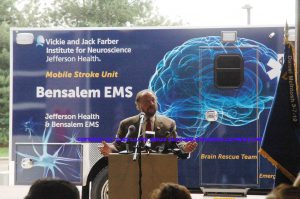 By Alex Lloyd Gross
May 16 2019
When a person is having a stroke,  seconds count. Currently, a patient is taken by ambulance to a local hospital,where they are given medical care, including a CT Scan and administered special medicine to alleviate the stroke.  hopefully, the person will be okay. Now, in Bensalem, there is a better way. A special ambulance with specifically trained medical personnel has been put into service .
It is much larger than regular ambulances.  It sits on an over the road chassis, which is the same thing that large trucks are built on. It cost $1.2 million and took about three months to build according to Laura Griffin, CEO of the Frazier Company, who built the unit.  "This is the second unit in the state of Pennsylvania, said John Roussis, the Director of Neuroscience for Jefferson Health. He is in charge of overseeing this program.  The other unit is in Lehigh County. A media tour of the unit was given at the headquarters of the rescue squad, before it was placed into service.
According to Director of Public Safety for Bensalem Twp. Fred Harran, "Not one penny of taxpayer money paid for this. Still, this is just another time that Bensalem is first for something in this region." This unit will roll on cardiac calls and calls that could be life threatening and have stroke implications.  It will be in service 12 hours per day, from 8:00 AM until 8:00 PM. It will be dispatched to mutual aid calls in Lower Bucks County area.
It has an operating budget of $1 million per year, Harran said.
Inside, a patient can be diagnosed remotely and while in transit to medical facilities, Roussis said. This ambulance will not respond on routine calls for falls or simple car accidents. "However, if it is close by, it  its quite possible  the new vehicle could stop and render aid until a regular ambulance could arrive and transport.the patient," said Bensalem Rescue Squad Chief Tom Topley.
There are only 20 such mobile stroke care ambulances in the United States.  According to Griffin, "Some places take over two years to spec out their truck or get it built. Bensalem was very quick, and it was "instrumental in getting this done quickly", she said.
"The truck will not be dispatched to calls in Philadelphia", Topley said. It could be taken to major emergencies and the dedicated team assigned for this vehicle  has different uniforms than standard rescue squad uniforms.