Joe Biden Comes Out Swinging In Philadelphia Campaign Stop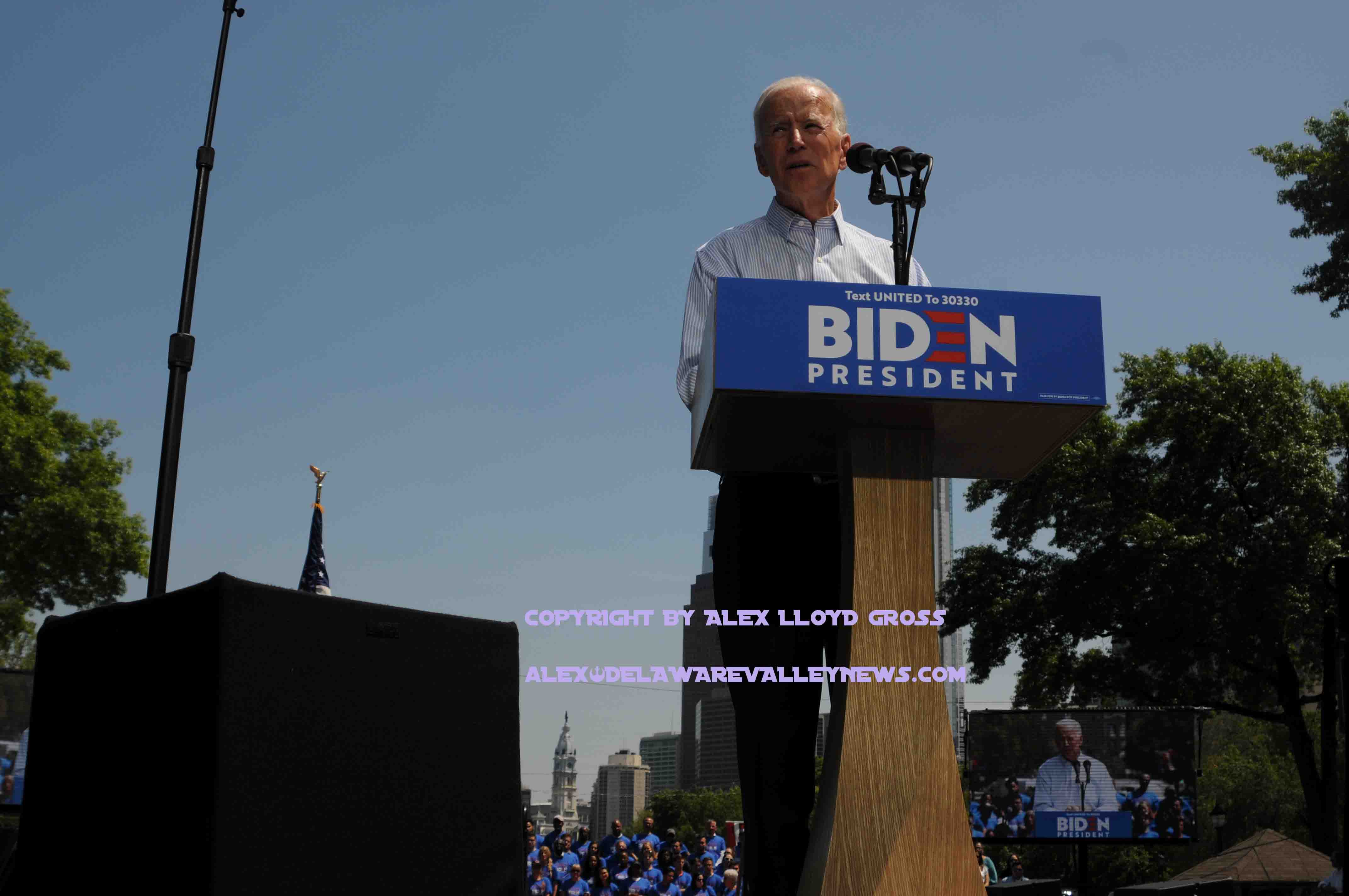 Joe Biden Comes Out Swinging In Philadelphia Campaign Stop
---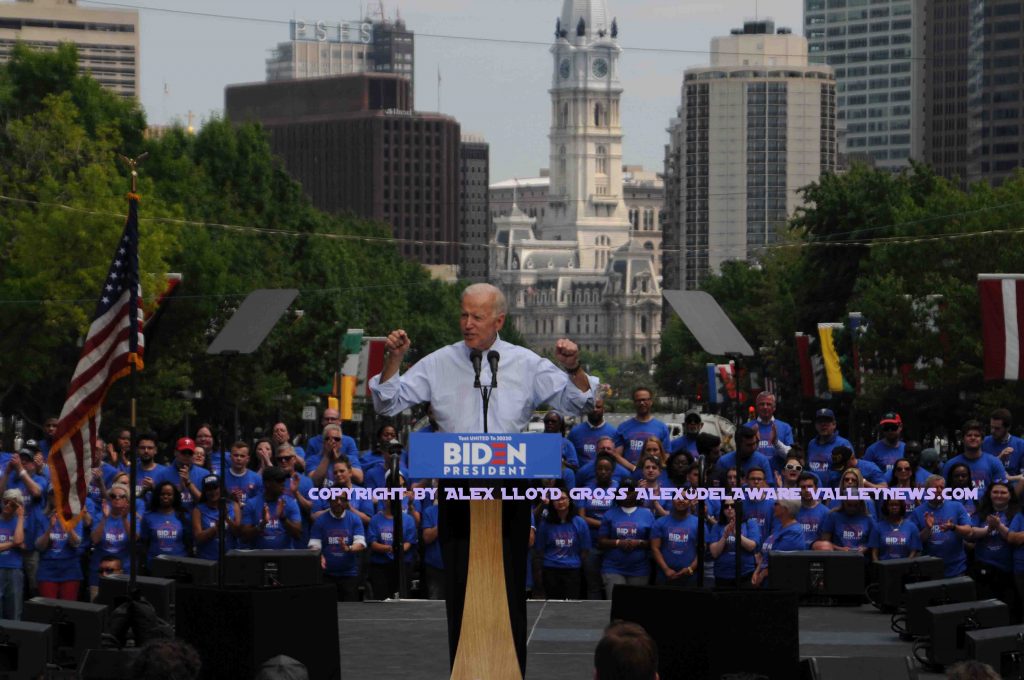 By Alex Lloyd Gross
Joe Biden , the former Vice President and US Senator made his first campaign stop in Philadelphia recently, to ask for money. His first public rally was held in the city as well and that was yesterday, May 18, 2019.  It was a medium sized rally compared to others. Held at the foot of the Art Museum, the program  was scheduled from 1 to 4. Luckily, it did not do that long. It was over by 3:00 PM  People have things to do. They have work, school or other obligations and most cannot spend all day waiting for a politician to speak.  There was a pre program that consisted of a choir and the Pledge of Allegiance. There were not a lot of speakers introducing Biden. Delaware Senators Chris Coons and Tom Carper were there but  did not speak.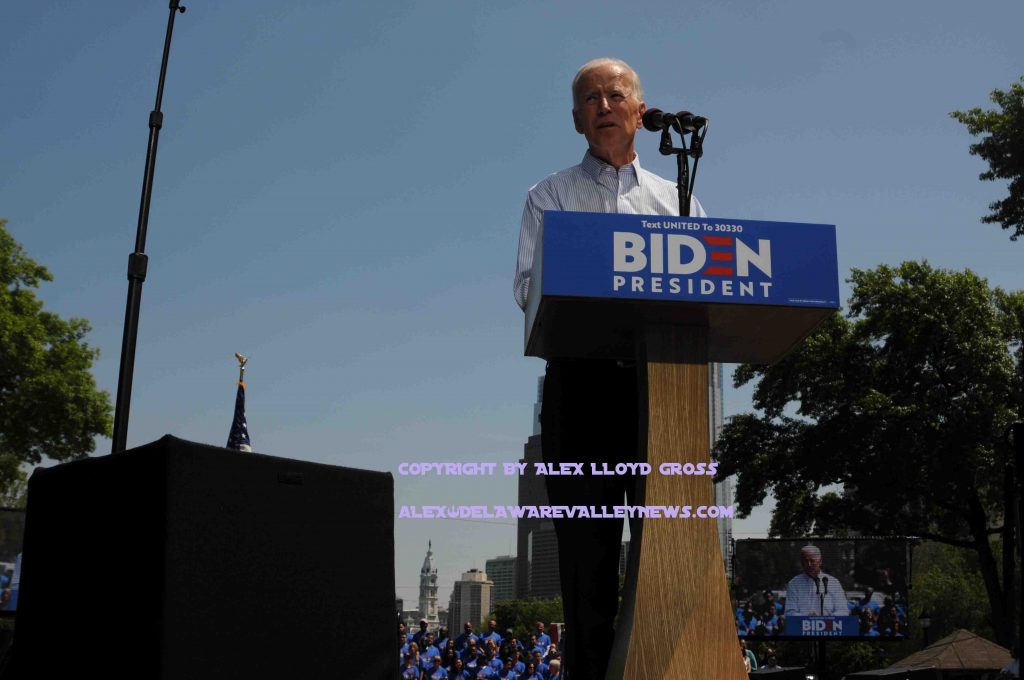 Dr. Jill Biden kept her remarks short as well as she knew that the few thousand people there wanted to hear from her husband.  When he took the stage, immediately he took off his jacket, sunglasses. He wore a shirt with no tie.  Biden was at a small stage which faced the Art Museum. A sea of people who watched him got a view of him with city hall in the background.
This is well before any state primary. There are over 20 contenders who are democrats. There are hundreds more that registered as independents or with different, smaller parties. Maybe even write-in candidates.  Biden did not mention any of this. He set his sights on Trump and kept his remarks directed towards the 45th President of the United States. "When Donald Trump took office, he inherited the Obama Biden economy and like everything else in his life, he inherited it and he squandered it.,"  Biden said.
He took aim an Trump not paying his contractors when he built his casinos.  Not just one or two , but multiple businesses were not paid in full.  Trump never complained about the work or asked people to correct any of it, but on the campaign trail, when he was called on it, he called it "shoddy and substandard". He also took aim at how Trump is dividing the nation and preaching fear.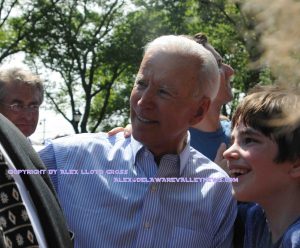 Biden claims he alone has the most international experience. He did not lay out any of his platform.  Joe Biden spoke for about 40 minutes.  Then 95 percent of the crowd left. Those that stayed were up front and either hoped or knew that Biden would walk through the crowd , shaking hands and posing for selfies. Both Joe and his wife made the rounds. It was there that Joe could be asked the pressing questions that were on the minds of voters. Multiple times he was asked about the economy and he said "The minimum wage must go up, I am in favor of it being $15.00. Most of his democratic contenders feel the same way. Trump does not. Trump, a republican  businessman knows that payroll is an expensive part of business. If you can limit payroll, you can boost profits. Trump took that mindset to the White House with him and left the minimum wage in the cellar.
Biden also got an earful from at least a dozen first responders wondering about the Public Safety Benefit Bill  that passed unanimously in the Senate Judiciary Committee.   Should it reach the desk of the president, would Biden sign it? "Yes,  that's why the firefighters endorsed me," Biden said.  Anything benefiting first responders is a no brainer , still many important bills that benefit them never get brought up for a vote. Politicians are quick to tell you they endorse something but their actions or in actions could mean something else.
Those that showed up wandered around the rally grounds and towards the back, there was a store that sold Biden merchandise. Tee shirts were the same price at a concert, which is $35.00. People lined up for a half hour to  buy one.