Newtown Twp Police Blotter: Trees down, Fireworks, 'Criminal Mischief' & More
---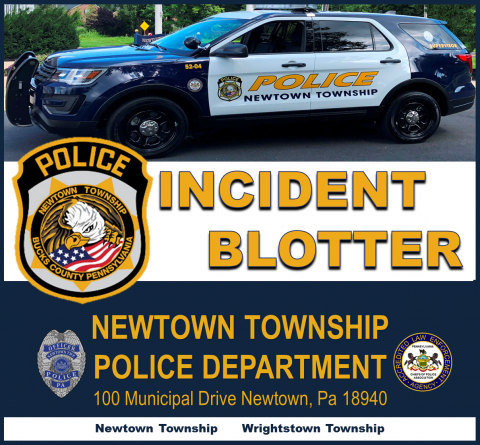 Staff-
The following has been provided by the Newtown Township Police Department 
May 26, 2019
At 9:00 pm police were advised of fireworks in the area of Wrightstown Road and Jane Chapman Drive. Police checked the area and did observe the fireworks being set off. Police were unable to locate the exact location the fireworks were coming from, and the fireworks stopped as the area was patrolled.
May 28, 2019
Just before 11:30 am a Meridian Circle resident contacted police to report a suspicious incident. The complainant reported that she'd ordered items online from Kohl's and had the order delivered to her home by the US Postal Service. She later received a notification that the delivery was made, but her packages were not there. The next day, the complainant received her two packages and found that both were sliced open by a razor or box cutter.  The contents, baby clothing, were all there, and the clear plastic wrapping of each item was not disturbed. The complainant believes that someone stole the packages from outside her front door, opened them, and then returned them when they decided they could not use or sell the products.
At 2:45 pm the Newtown Grant property manager reported criminal mischief and damage to the softball fields on Eagle Road. The damage was caused by the negligent use of fireworks over the Memorial Day weekend. A trash can, lawn, and tree were damaged, and the damage was estimated to be over $100.00.
May 29, 2019
In the evening, as a result of the severe storms in the area, Brownsburg Road between Matthews Lane and Sara Drive was closed due to a tree that fell and pulled wires down on the road. In addition, a tree that fell on Windy Bush Road near Pineville Road in Upper Makefield Township caused a power outage in the area, and traffic signals were temporarily down at the Second Street Pike and Durham Road intersection and the Township Line Road and Durham Road intersection in Wrightstown Township.
May 30, 2019
Shortly after midnight police were dispatched to Swamp Road for a tree that was down and blocking both lanes of travel. Officers were able to remove several large limbs, and PennDOT was notified to help clear the roadway.