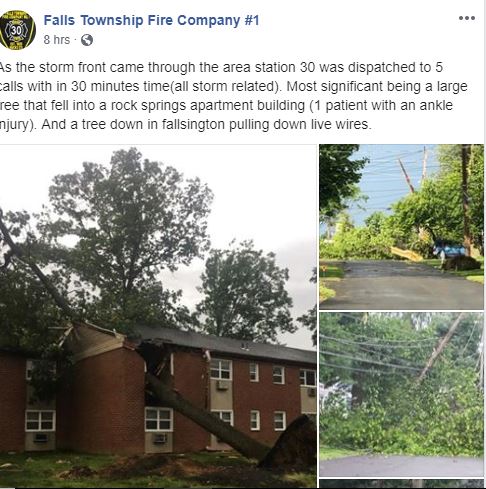 Thunder Storm Rips Through Lower Bucks Downing Trees, Causing Power Outages
---
Digital Reporter- Jeff Bohen
A powerful thunderstorm ripped through Lower Bucks County late Saturday afternoon wreaking havoc for residents in throughout area.
At approximately 4:30 p.m. the National Weather Service issued a sever thunderstorm warning  forecasting 70 M.P.H gusts with quarter sized hail to fail on the area also.  The alert was to last for about 45 minutes and those on social media could follow the storm as it rolled through the region with warnings coming almost 10-15 minutes prior to hitting a given area via the NWS- Mt Holly Twitter Account.
Locally, soon after the "booms" and "triple thunder bursts" reports and images of damage caused by the storm started to pour in from Bensalem and Bristol Township's with power outages also noted  in Morrisville, and Tullytown Borough's.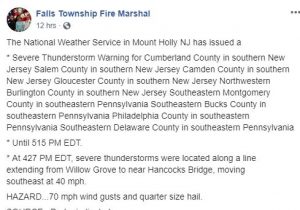 As of 5 a.m. Sunday morning power remains out in pockets of Lower Bucks County with PECO saying it expected to have power restored by 12 p.m. Sunday.
According to the PECO outage map a little more than 270 outages with
about 5800 customers affected in the region.
In response to the power outage The Tullytown Police Department welcomed residents to the municipal building to cool off and or charge cell phones.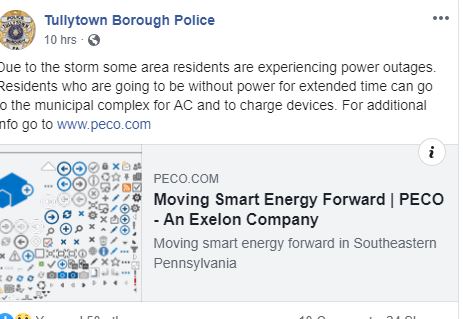 In Falls Township, Fairless Hills and Fallsington were hit especially hard with trees taking out power lines and crashing into an apartment building. No injuries reported as of press time.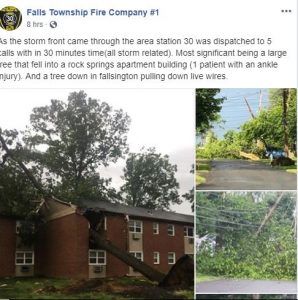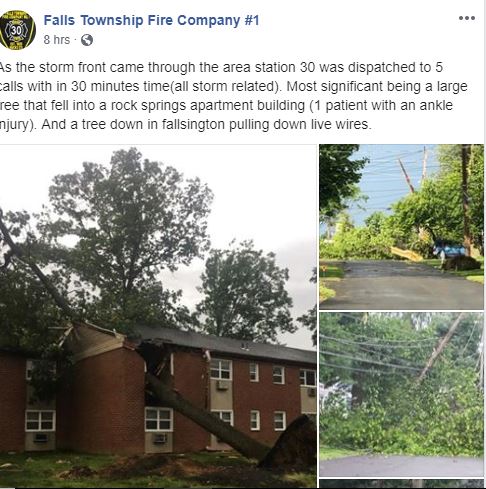 Reports of a trees being downed in Croydon section of  Bristol Township were also posted on social media pages.
And In Bensalem and Morrisville some levity in response to the storms was managed.
In the Bensalem Proud resident social media page a photo a motorist driving his convertible, with top down, in the pouring rain.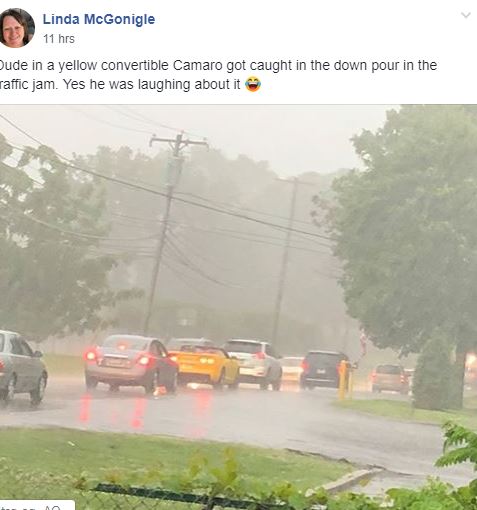 And the storm apparently made Frank, who's posting in the Morrisville Town Watch page,  real hungry.

Updates to this story are expected as power is restored to throughout Sunday. The National Weather Service is forecasting, so far, a stable say of weather with highs in the mid 80's and a 20 percent chance of rain Sunday.