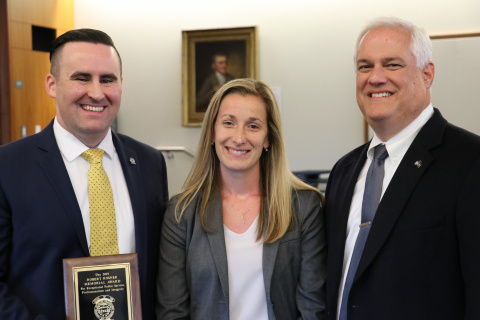 Bucks DA's Office Honors Prosecutors
---
Digital Staff-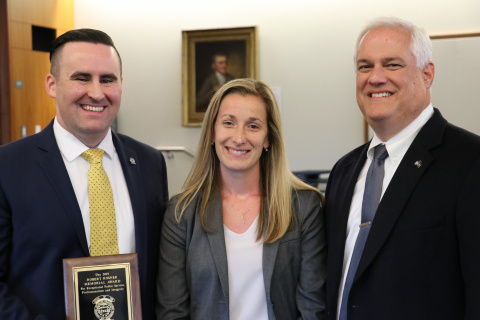 The Bucks County District Attorney's Office last month recognized prosecutors for outstanding work and public service.
Deputy District Attorney Thomas C. Gannon and Assistant District Attorney Megan A. Hunsicker were recognized by their peers with awards for their work prosecutors.
During a brief ceremony July 25, District Attorney Matthew D. Weintraub presented the awards named for his former colleagues and late friends Robert Rosner and Danny E. Khalouf.
It's the third year of the annual presentation of the awards,  in which prosecutors were chosen by a vote of the attorneys in the office.


The Robert Rosner Memorial Award for Exceptional Public Service, Professionalism and Integrity this year went to Gannon, while the Danny E. Khalouf Memorial Award for Outstanding Performance was given to Hunsicker.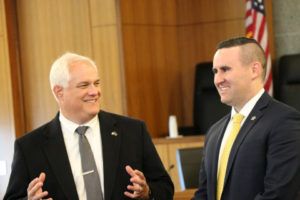 In selecting Gannon, his colleagues praised his tireless commitment and preparedness in the face of a seemingly never-ending workload, including far-reaching straw purchase gun cases and back-to-back homicide trials earlier this year.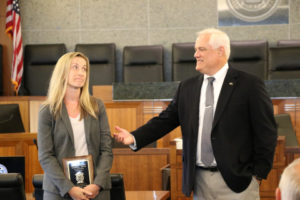 The attorneys lauded Hunsicker, whose last year has seen its own homicide litigation and and hard-fought victories, for her willingness to set aside nearly any task in order to assist a coworker, her marathon work ethic and her zeal in the courtroom.
First presented in 2017, Weintraub created the awards to honor the legacies of Rosner and Khalouf, with whom he served as prosecutors at the Lehigh County District Attorney's Office. Tragically, both men's lives were cut short in traffic crashes. Rosner, who died at age 52 in 2014, served his country and community all his life, first as a Marine, then as a Warwick Township Police Officer and later as an assistant district attorney and deputy attorney general.
Rosner is remembered as a fearless prosecutor with an unparalleled sense of right and wrong. Khalouf was just 27 when a drunk driver killed him and three close friends in 2004. Before his death, he spent two years as an assistant district attorney in Lehigh County and worked with the community through the Weed and Seed program. He also mentored teenagers through his church. He is remembered for his courage, passion and teamwork. Family members of both men attended the ceremony.