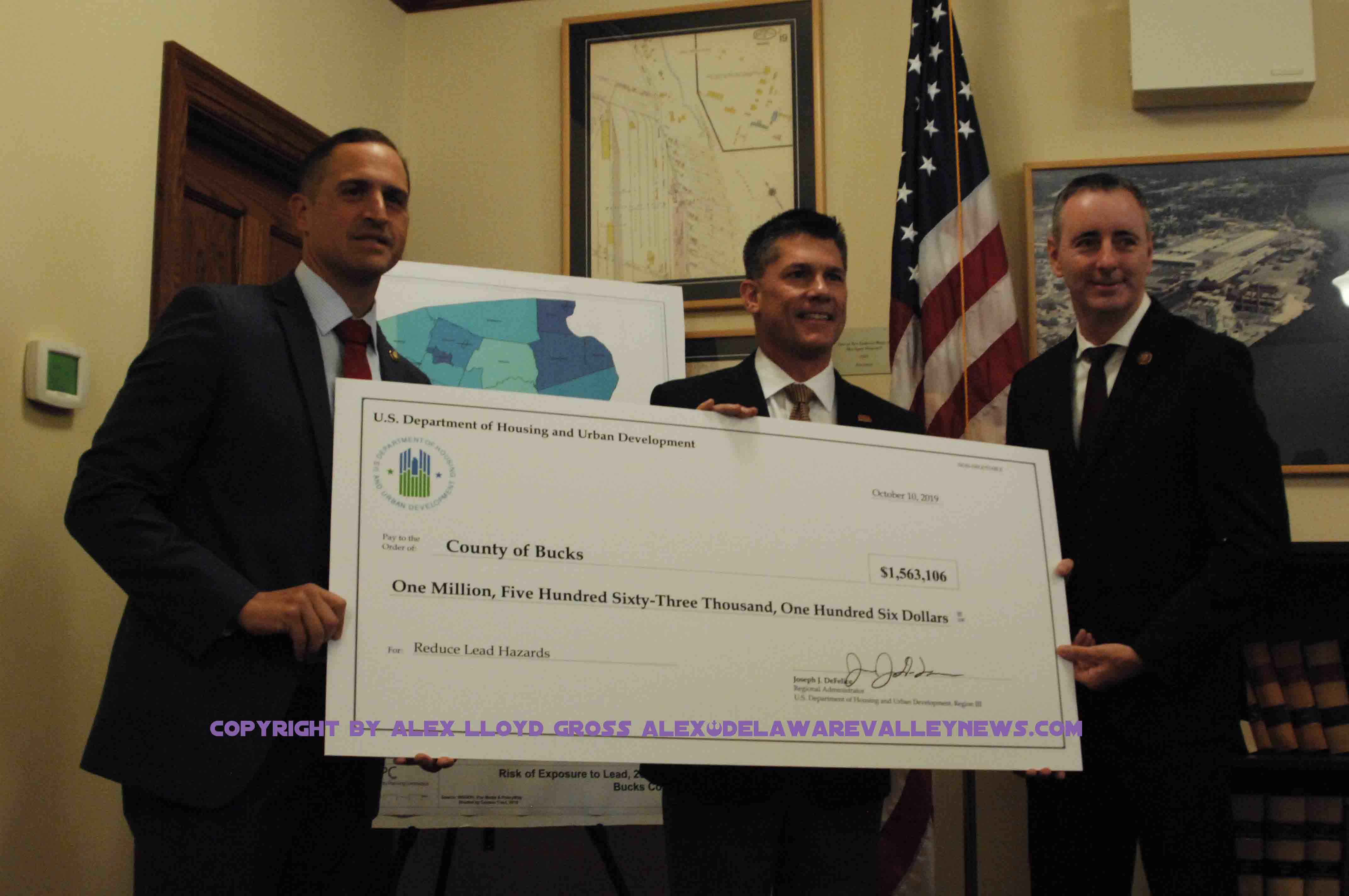 Bucks Gets 1.5 Million Grant to Get the Lead Out of Homes
---
 Digital Reporter – Jeff Bohen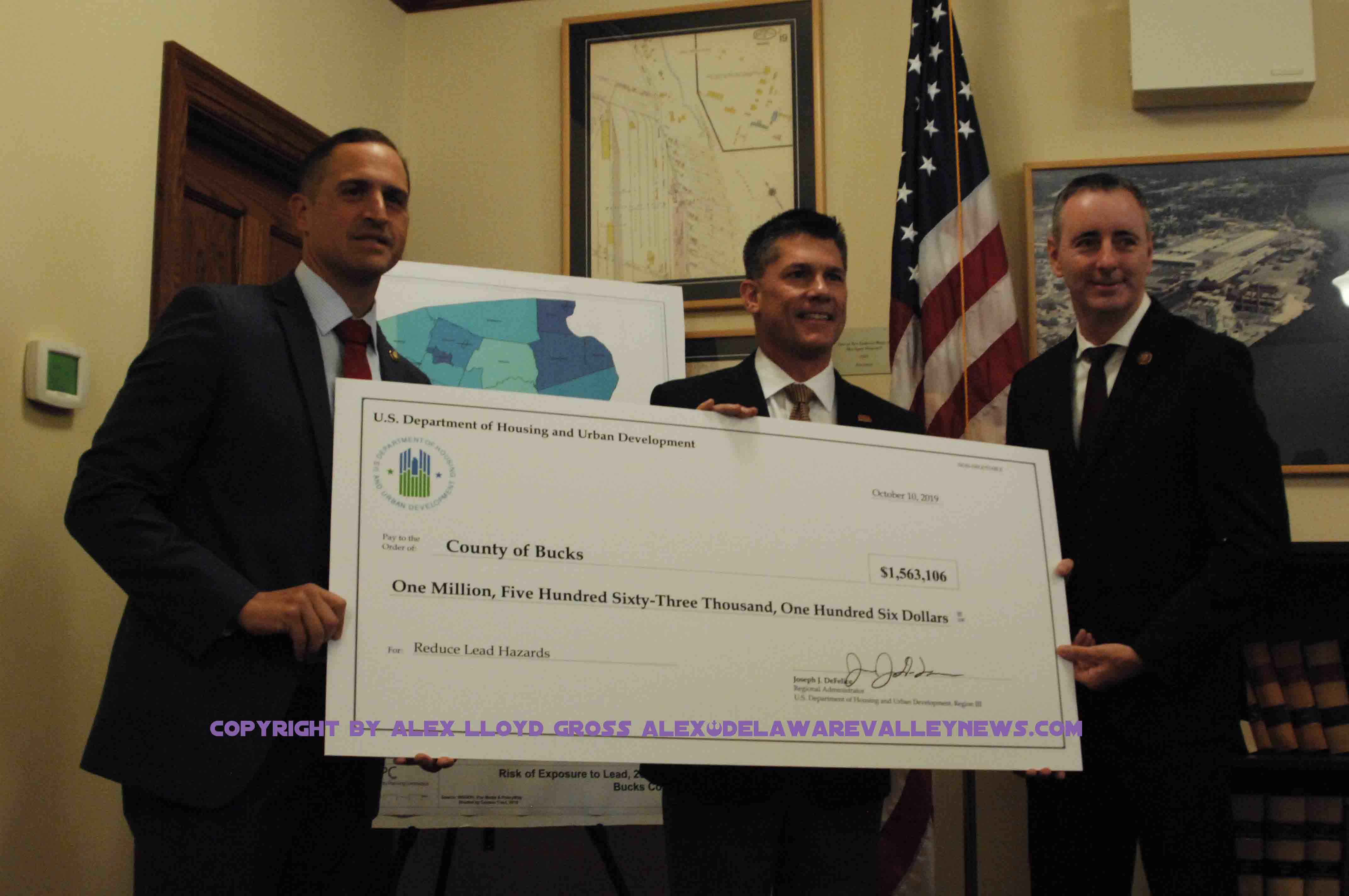 The U.S Department of Housing and Urban Development (HUD) on Friday announced  Bucks County will get a 1.5 million dollar grant to launch a county wide effort to rid low income homes of lead risks.
The press conference to announce the federal grant was held at the Bristol Borough Municipal building with officials from county and federal offices attending.
According to officials 110,000  homes in Bucks County were built before the Federal Lead Paint Ban in 1978 went into effect.  About 40,000 of those residences  were constructed before 1940. The majority of homes are in the Lower Bucks area.
Exposure to lead based products can lead to a number of health related issues for children as discovered by Philadelphia Children's Hospital  Dr. Herbert L Needleman in the early 70's. His research and advocacy eventually led to development federal laws banning lead.
"I have seen firsthand the older housing stock in Bucks County and know this funding will significantly support ongoing work to clean up housing health hazards like dangerous lead. I applaud the county's efforts to improve the lives of low-income families by creating safer and healthier homes,"  said Mid-Atlantic Regional Administrator Joe DeFelice said.
Robert G. Loughery, chair of the Bucks County Board of Commissioners said The County of Bucks is interested in supporting initiatives that ensure the safety, enhance the health, and improve the quality of life for all Bucks County residents."
"This important initiative aligns with that priority, and we are pleased to invest in lead-remediation activities to further ensure the availability of safe housing," he said Friday.
Congressman Brian Fitzpatrick (PA-1) said the grant would provide safe housing for the families of Bucks County.
"We just want to try to get into as many of these homes as we can, mitigate the risk, and to the extent that people are being exposed to lead, obviously mitigate it, but also let them know they have been exposed to this so that they can monitor their health," he said.
The grant request total of $1,563,106 caught the attention of federal officials which brought a chuckle to those attending the presser because of its "attention to detail and specificity."
It was obvious to us Bucks County knew exactly how much to the penny they needed for their remediation project, officials said when discussing the grant application, Defelice said.
"I'm thrilled we have the opportunity to do this Loughery said.  Adding the county applied for the same grant prior year and was turned down.
"We want people to live in Bucks County, we want people to work in Bucks County, and being able to afford a home is a challenge sometimes. So this gives us an opportunity to help a lot of families and provide safe housing for them," he said.

The program will be administered by the Bucks County Office of Community and Economic Development, in coordination with the county's Housing Services and Health Departments.
Margaret McKevitt, director of the county's Department of Community and Economic Development said official eligibility requirements have yet to be developed but said the grant would target low income homes built before 1978.
Owner occupied and rental residences will be eligible to apply for a remediation work, McKevitt said with as yet selected contractors hired to perform the lead removal work.
The funds are a part of HUD's Lead -Based Paint Hazard Reduction Program. 
This year  HUD is awarding a record $46 million in grants throughout the mid-atlantic region.