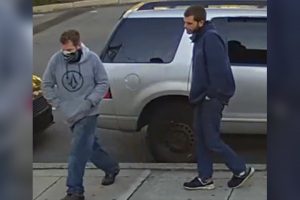 Great Security Footage of Unmasked Burglars In City
---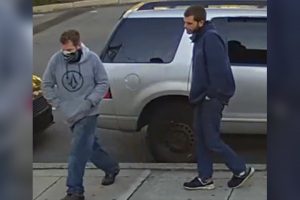 by Alex Lloyd Gross
Some people have no common sense.  Take the two males in the above photo. They go out to a business on the 200 block of North Christopher Columbus Boulevard. No only do they not wear masks, but they park right in front of a security camera and take their masks off. The one wearing a mask, (before he takes it off) can be recognized easily.  So can their vehicle, a Ford Explorer. This theft happened on May 2 2020.

These two allegedly broke into a business and then stole a jigsaw and a power washer.Suspect Description: Suspect #1: White male, 30 years-of-age, beard, brown hair, wearing a gray sweatshirt and blue jeans. Suspect #2: White male, beard, tattoo on his neck, wearing a blue sweatshirt with "PTE" on the back and blue jeans.
If you see these suspects do not approach, contact 911 immediately.
To submit a tip via telephone, dial 215.686.TIPS (8477) or text a tip to PPD TIP or 773847.
All tips will be confidential.