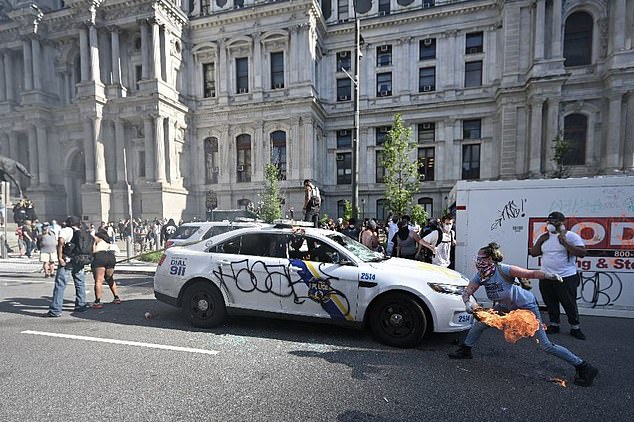 Woman Faces Federal Charges For Setting Two Police Cars on Fire
---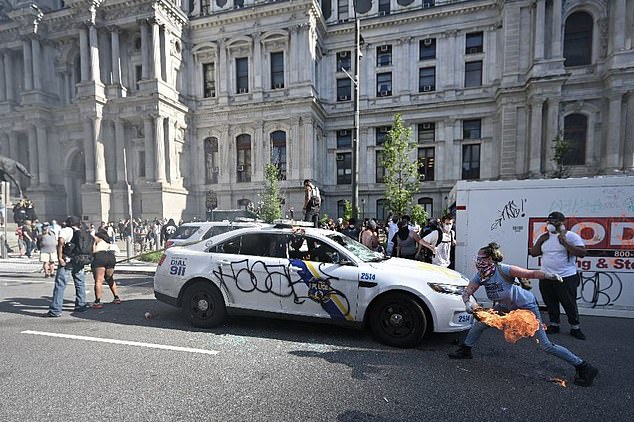 by Alex Lloyd Gross
Criminals that looted and set fires during the riots, are hoping for a deal from Philadelphia  DA Larry Krasner. Unfortunately, for Lore Elizabeth Blumental,  of Philadelphia, she is being charged federally through US Attorney William McSwain. She is accused of setting two fully marked Philadelphia Police cars on fire. on May 30, 2020. She is in federal custody and will most likely stay in jail until her trial.
Her acts were caught on tape.  According to the complaint, on that day, two vehicles, one PPD sedan (number 2514) and one PPD sport utility vehicle (number 1612), were parked on the north side of City Hall in Philadelphia. During the violent episodes that began around City Hall that afternoon, Blumenthal allegedly set fire to both vehicles. According to the complaint, various videos taken at the scene captured the defendant wearing protective goggles and gloves, taking a flaming piece of wooden police barricade from the rear window of the PPD sedan that was already on fire, and then shoving the flaming wood into the PPD SUV that was not on fire. Within minutes, the PPD SUV was also completely engulfed in flames. As result of the fires, both PPD vehicles were destroyed.
Due to civil unrest, fire department vehicles were not able to respond and both vehicles and the equipment inside were destroyed.  The cost to replace will easily exceed $100,000 according to prices published on websites.  The more equipment inside, the more expensive.

Masses of people took to the streets of Philadelphia on May 30, exercising their right to peacefully protest," said Michael J. Driscoll, Special Agent in Charge of the FBI's Philadelphia Division. "They were there to send a message in which they truly believed. Sprinkled among the crowd, though, were agitators, whose sole purpose was to commit crimes and cause chaos. As alleged, Blumenthal came prepared for just that, carrying out these arsons that destroyed property and put many lives at risk. Sadly, such acts also hijacked the message of the day's demonstrators, whose calls for change were obscured for a time by the smoke from all those fires. Working with our law enforcement partners, the FBI is committed to bringing to justice those responsible for violent acts during the otherwise peaceful protests in Philadelphia."
If convicted, Blumenthal will spend 10 years in prison.