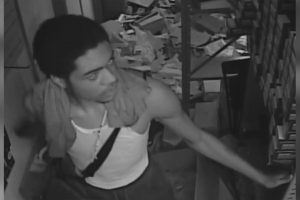 Watch Unmasked Arsonist Set Store On Fire During Riots
June 25, 2020
---
by Alex Lloyd Gross
On the night of May 30, 2020, many people were arrested for looting and rioting in Philadelphia. Police want to add this male to that list. Maybe you can help.  It is one thing to break into a store and steal merchandise.  This male did that but also set the store on fire.
The Philadelphia Runner store, located on the1600 block of Sansom Street sustained substantial damage after this male set items on fire.  He is caught on video unmasked.  Watch the video. He stumbles to get inside and then sets things on fire.  The blaze was extinguished by the sprinkler system.  The ATF Arson Task Force is working with Philadelphia authorities to find out who this male is.
You can remain anonymous
All tips will be confidential.
If you have any information about this crime or this suspect, please call police.