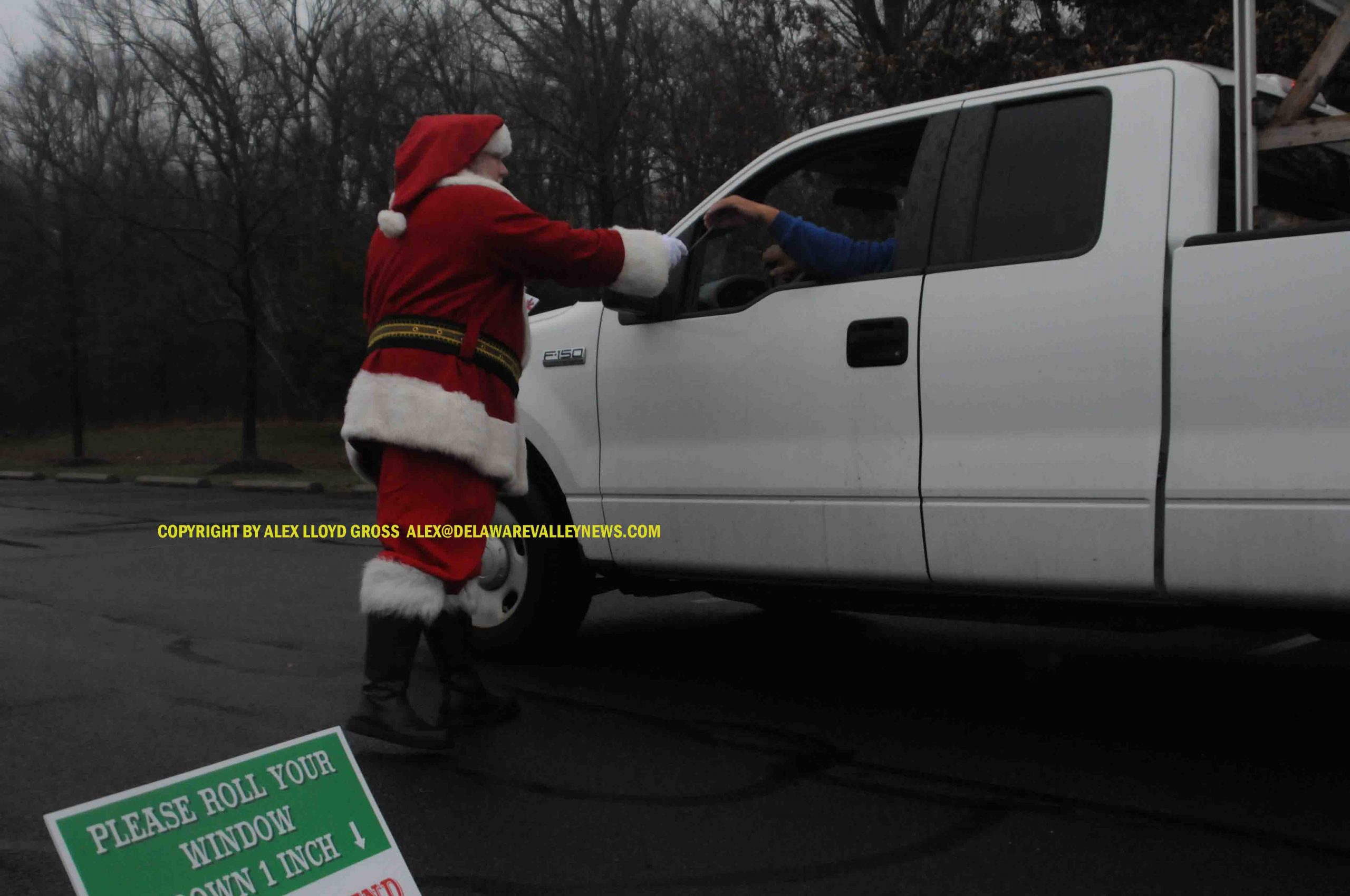 "Santa" Gives out $100.00 Bills At Levittown Food Drive
---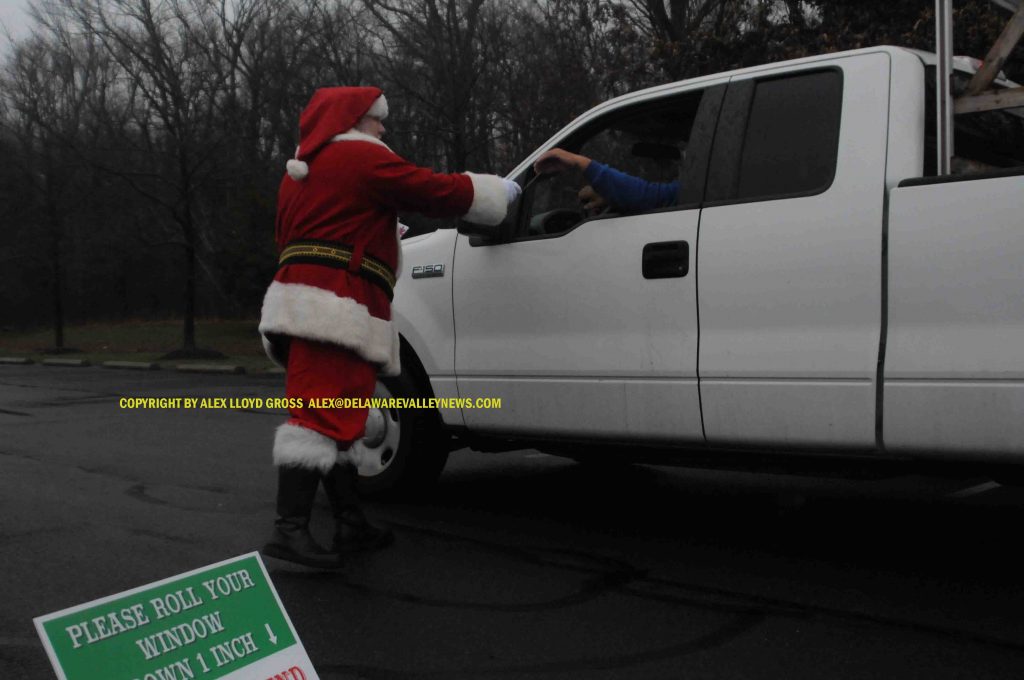 by Alex Lloyd Gross
This year has been horrible for so many people. We are in the middle of a pandemic and many people have lost their jobs. They line up every week at the site of the Bristol Campus  at Bucks County Community College,  Epstein campus which is on Veterans Highway. Every Friday, people line up to get food.  Today they got food and something extra.  $100.00 in cash.

That was not part of the Opportunity Council or Rolling Harvest, or Philabundance. They take care of the food. The cash was courtesy of Gene Epstein.The same Epstein that donated money to the college. He was back with about $50,000 in cash  ready to hand it away.  Each vehicle, after they got food, was given an envelope by Santa. Inside was a $100.00 bill. Some people cried. Others were in shock. This money makes sure people have a good holiday. Without it some would have no holiday.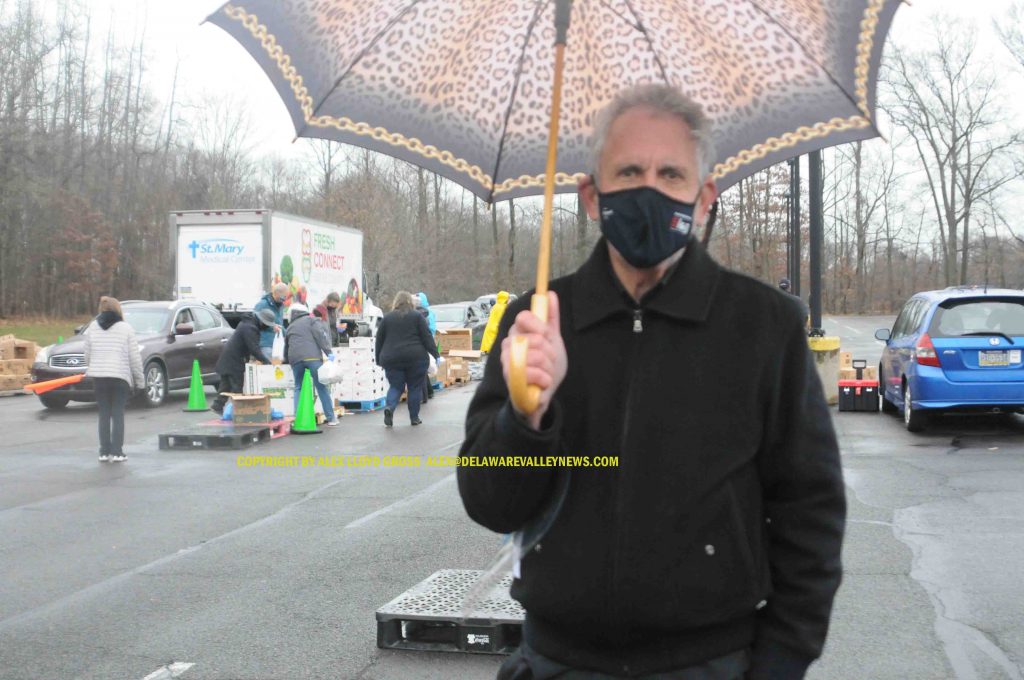 "I could not , not do this, this had to be done," Epstein said.  Giving away money to complete strangers during the pandemic is ultimate example of a humanitarian gesture. As about 175 cars rolled through,  word was spreading about the free cash. Via telephone calls, text or social media. Soon, cars started to overflow the area.after the main rush. People were asked to to register beforehand and the food drive is limited to Bucks County residents only.  People could pick up food for different families. but they were entitled to only one gift from Santa.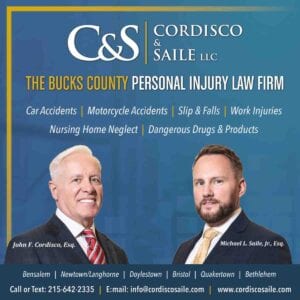 "We have to give back, we have to,  Washington is not doing the job, something needs to be done, this is ridiculous, people are hurting," Epstein said. Currently congress is playing around with a stimulus and Senate Majority Leader Mitch McConnell is playing politics with the money.  Nothing is approved, but both sides blame the other. This is the first time that Epstein has done this. He is no stranger to donating money and helping people. He has given out turkeys for Thanksgiving in the past.
Gene Epstein strolled nearby, watching as his money was given away. A huge smile on his face. He would soon replenish Santa with more money, as he was running low.  Surprisingly, not everyone accepted the money. Some just waved, others said "No Thank You", to Santa, as he would attempt to give them cash.  Possibly the people had enough and wanted to help others and did not take. This was kept secret and no one except a select few knew what was going on. The other possibility is that those people thought it was a flyer or coupon. They are kicking themselves right about now.