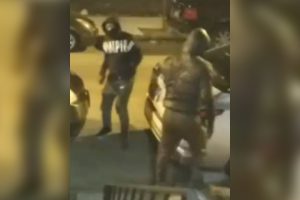 Catalytic Converters Stolen In Philly
---
by Alex Lloyd Gross
Police in Philadelphia are looking for a couple of thieves that hit a parked vehicle for a catalytic converter.   You guessed it, it was caught on video.  which appears below.  It happened on the 1500 block of N 21st St. on January 19, 2021 about 6:00 PM.. In the video, you can watch a late model Nissan Altima arrive and two males get out.
They jack up the car behind them. One male stays as a lookout, while the other goes under the car to cut the converter off.  No one was hurt. The thieves were not noticed or confronted, even through they were engaged in their theft for a few minutes. Police want you to look at the video and give them a call if you can recognize the males.
If you see these suspects do not approach, contact 911 immediately.
To submit a tip via telephone, dial 215.686.TIPS (8477) or text a tip to 215.686.TIPS (8477).
All tips will be confidential.