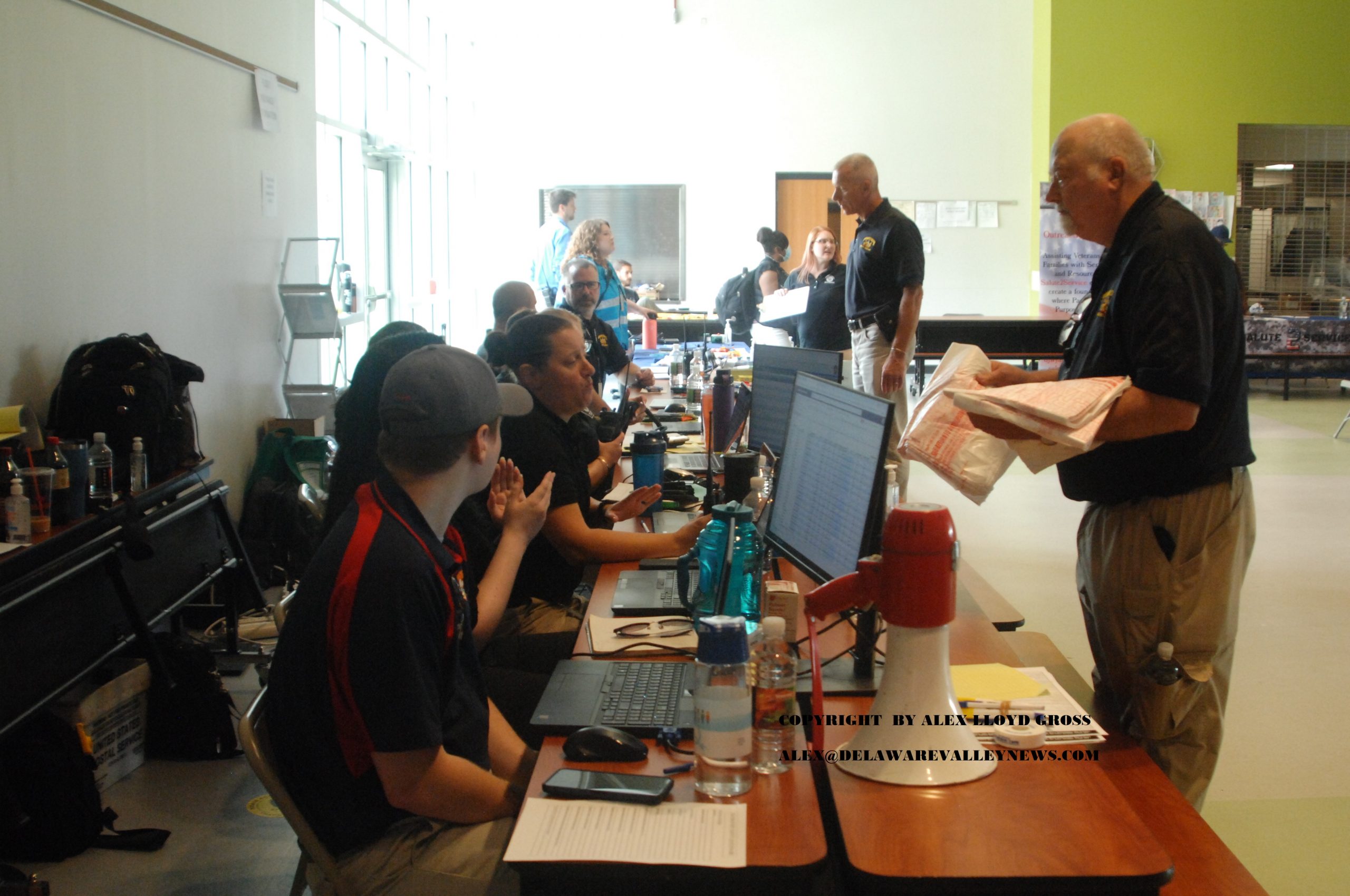 Storm Resource Center Now Happening In Croydon
---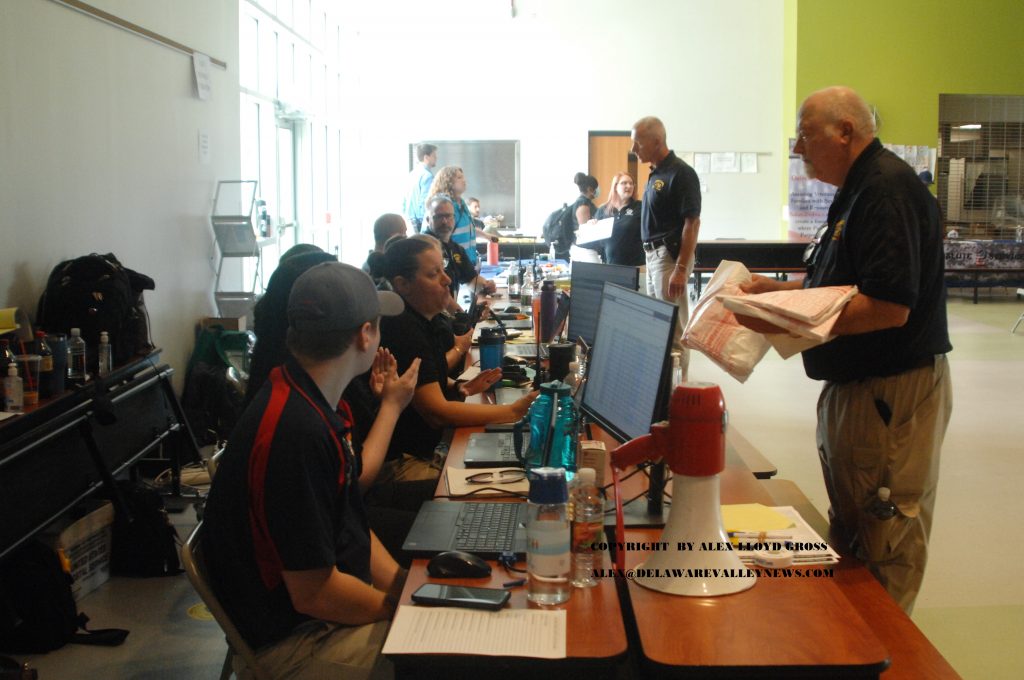 by Alex Lloyd Gross
Bucks County 911 systems got over 1100 calls for help in a few hours, according to Audrey Kenney, EMA Coordinator  for Bucks County.  That means a lot of people were impacted and need help.  County resources were pooled together, they reached out to Philadelphia , who sent EMA representatives and they all came to the Keystone Elementary School  in Coydon on July 20, 2021. They will be there July 21 as well. Many storm victims were in Philadelphia . HOURS FROM 2 TO 7 pm
Inside the cafeteria , dozens of tables were set up and representatives from different agencies were on hand to help people.  At this point, federal resources are not coming red tape is holding up a PEMA declaration of disaster so  help is only from the agencies at this event and any volunteers that step up.  The line is long  for help so bring patience..
Mental health professionals are there in you get overwhelmed. Small children have small attention spans, that's why they brought coloring books, crayons and toys to keep children occupied with while parents talk to people who can help them.  The Attorney General's Office is there to guide victims though anyone that may try to take advantage of flood victims.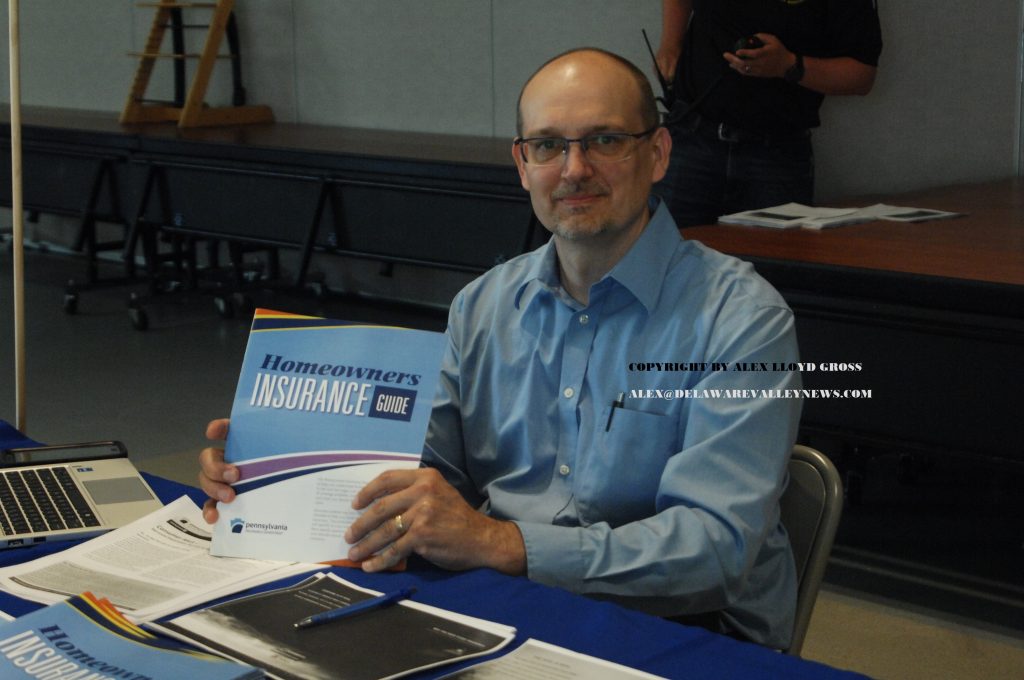 The Insurance Commissioner is there to talk about flood insurance, what is and what is not covered. According to  Jeff Rohaly, from that agency,  flood policies are purchased through  https://www.floodsmart.gov. Rates vary. If you are prone to flooding, you'll pay more.  Some private companies will sell flood insurance, it's best to check with the website first.  "Rain water that hits the ground and pools is called surface water" Rohaly said. It's different than if a shower leaks and floods the house or a toilet backs up.  His advice is to purchase it, even if you don't feel you need it. A neighbor can do some excavations and cause flood water to pool in your house when it never did  before. That's a situation that could be covered.
Environmental Protection reps were there as well. If you live near a creek or river,  wildlife could be disturbed  during a flood and could bring you in contact with animals you might not want, such as bats or skunks. If you are bit by a wild animal, seek medical attention immediately. Rabies is deadly . According to the CDCP there is a small window of time between an animal bite and when to get a rabies shot. Failure to get a shot because the bite healed or was small will result in death if the animal was rabid.
Local politicians such as State Rep Tina Davis, John Galloway,  KC Tomlinson and State Senator Tomlinson all had reps there, along with Congressman Brian Fitzpatrick.