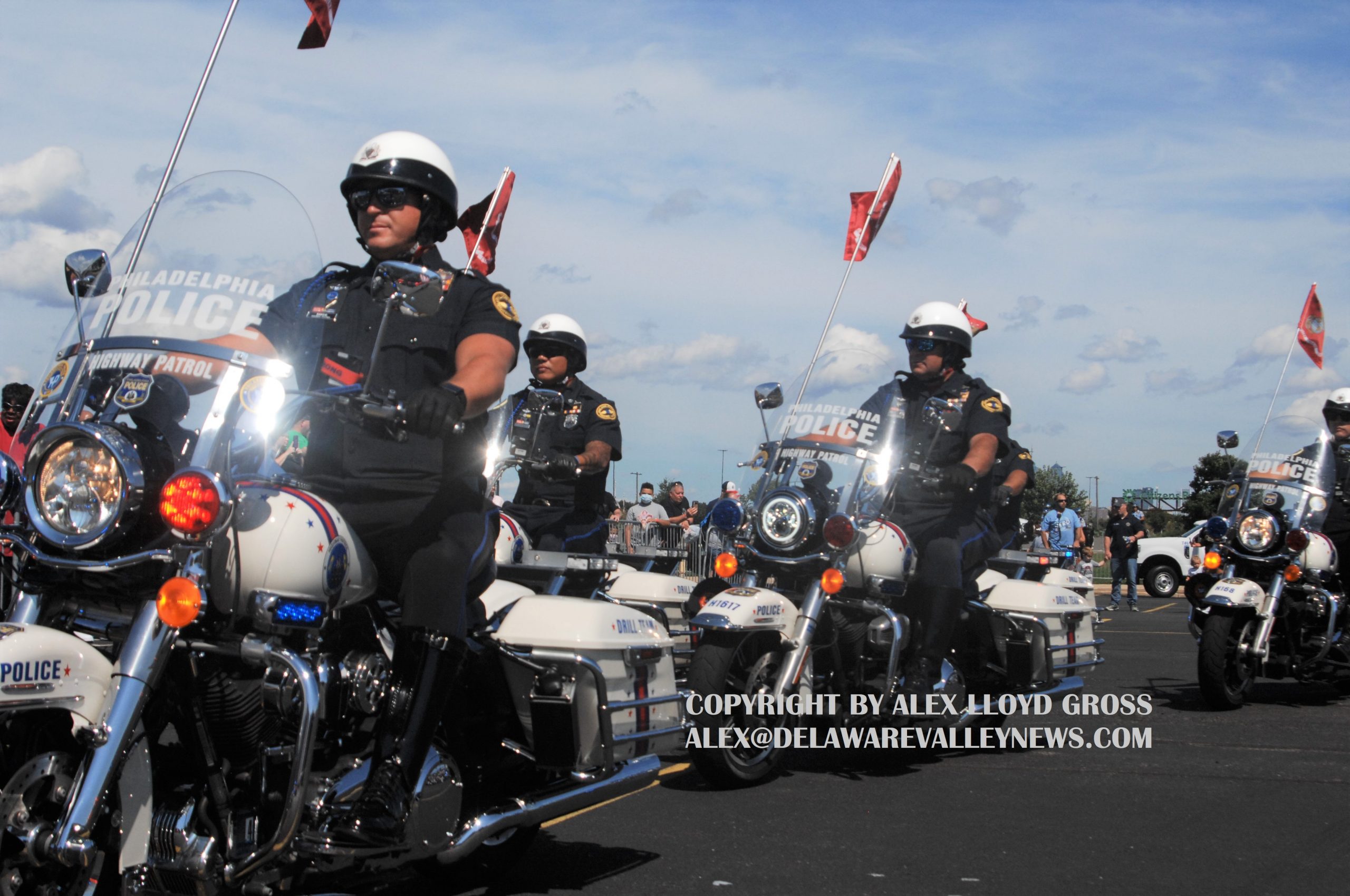 Hero Thrill Show Held Today, Sept 11 2021
September 11, 2021
---
by Alex Lloyd Gross
On the 20th anniversary of the 9/11 terrorist attacks,  South Philadelphia was the place to be, after attending ceremonies. It was the annual Hero Thrill Show.  It was held in the stadium parking lot and parking was free. Once insi9de the parking lot, people could see tricks done by the Philadelphia Highway Patrol Drill Team, or watch K-9 demonstrations.  Within 10 feet, you could also ride in a fire truck or watch firefighters show tactics .
The admission was $15.00 and the money raised was used to pay for the education for children of slain police and firefighters..  The show seemed smaller than in years past.  Sure the drill team was there, as were specialty units,  however there were units within the police department that were not there, like  Community Relations and Homeland Security. 
What was there were K-9 units from New Jersey, and Bucks County that train with the Philadelphia units.  They were going to show off  the skills of the dogs by grabbing bad guys and finding drugs and explosives. Souvenir shirts and hats were sold, to further benefit the organization.  This is the first time that it was held since 2020. Last year, due to COVID-19 this was not held and many were upset. However most people were understanding.
The show started in 1954, after eight firefighters were killed while working at a fire. It has evolved. In the earlier days of the show, it was held at JFK Stadium and featured car stunts by Joie Chitwood.  When the stadium was closed  down, it was moved to Veterans Stadium. Once year it featured Natalie Cole.  Since 2006 it has been held at the parking lot of the sports complex.  The complex does not charge rent or parking for this event, which is held during the afternoon, usually in a Saturday in September or October.
The beauty of this show is that people can come and go when they want, there is no headliner.  If you want to see K-9 or get a ride on a fire truck, that could be done and you would know when that is going to happen with a few simple clicks on their website.
The show is impressive as it starts with the Motorcycle Drill Team  entering the staging area , followed by introductory remarks by dignitaries.