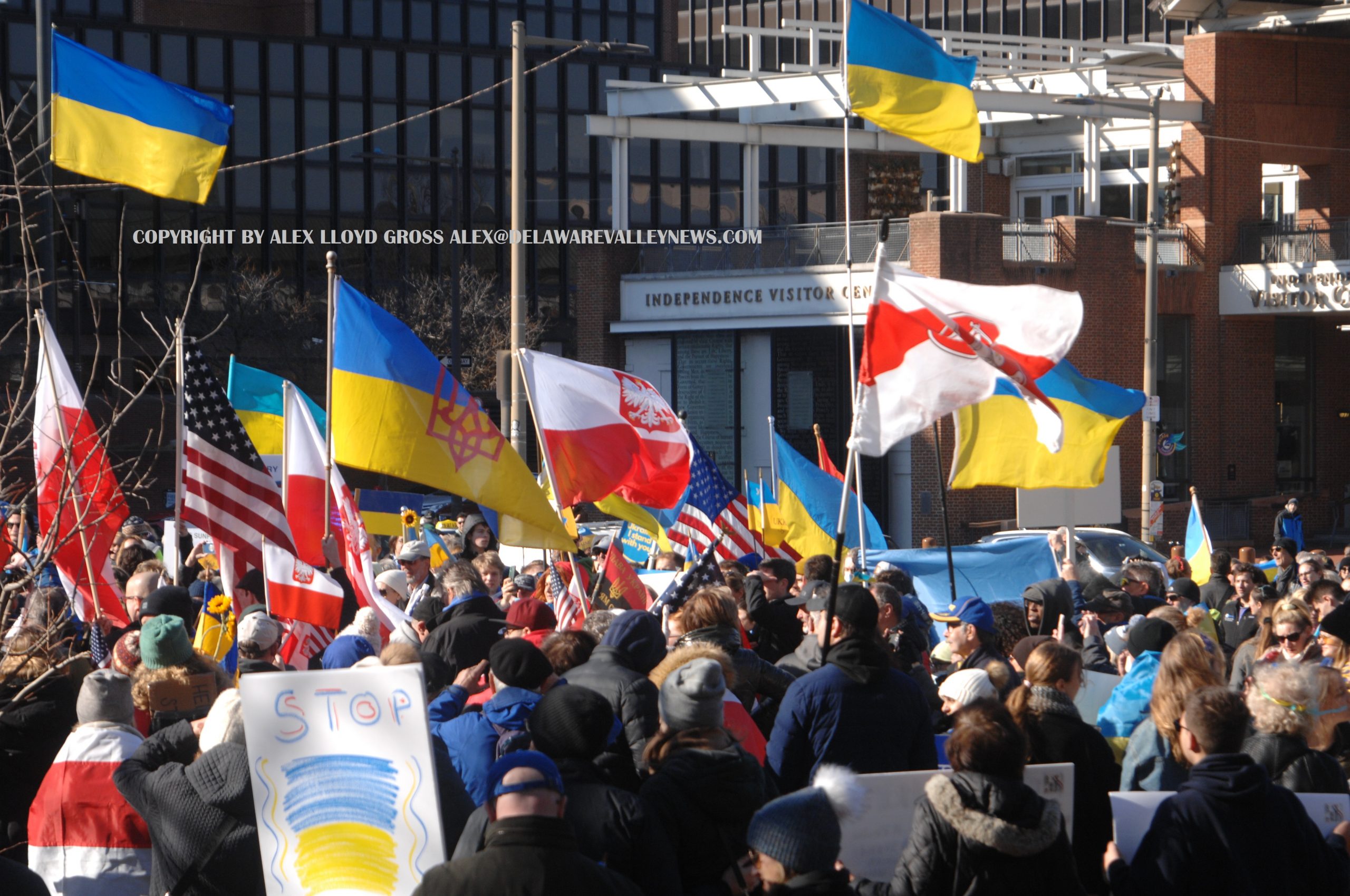 Over 1000 People Demonstrate In Support Of Ukraine In Philadelphia
---
by Alex Lloyd Gross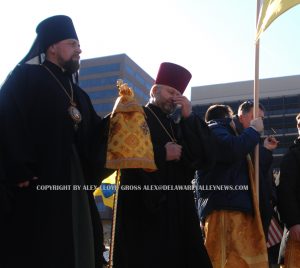 Well over 1000 people showed up at Independence Hall today, February 27,2022 .They were there to show their support of Ukraine. Some had no connection to the country but were appalled at  Vladimir Putin's invasion of the sovereign nation. Others had family there and are not only appalled,they are terrified. People like Svitlana Pnivchuck who resides in Northeast Philadelphia with her infant son.  Her extended family is still in Ukraine. "Both my parents, sister are there, my entire family. We communicate by internet. Right now,they are safe. They want to stay to protect their house and each other," she said while at the rally. She has been in the United States for several years.  She will not go back until it is safe.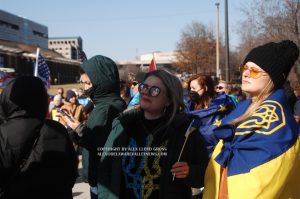 Archbishop Borys Gudziak, of the Ukrainian Catholic Church in America spoke during the rally. "We need bullets and we need bullet proof vests. I am calling on the legislature of this state to find the funds to pay for 10,000 helmets and vests and get them shipped over," he said at the rally.  Many are glad that President Biden has imposed sanctions but they want more help. "Our guns are empty, Gudziak said.The EU just closed their airspace to Russia and promised funds to Ukraine.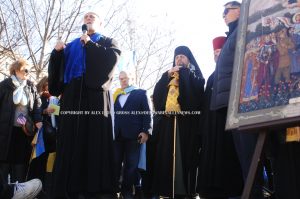 Many people from neighboring countries such as Poland and England showed up to lend their support for the people at the rally.  David Godfrey-Thomas, who is an British citizen but lives in Philadelphia was there to lend his support. "I am happy that the European Nations are standing with Ukraine," he said.
At demonstrations, you can usually find someone there with an opposing point of view. Today, there were none.  Ivan Khyshov and his family are here in the United States. However, not all of his family is here. Some members were still trapped in Ukraine. There were many at the rally in the same predicament.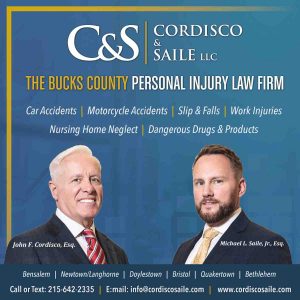 Russian President Vladimir Putin has invaded because he wants peace. He claims that he wants to unite and re form the Russian union again. Those at the rally think he is nuts. Most carried flags from Ukraine or neighboring countries . Others had signs. Some of the signs were giving Putin advice on having sex with himself.
The rally lasted a bit more than an hour. City Council members Allan Domb and David Oh spoke briefly.  They were there in support of the Ukraine. Not everyone is supporting the Ukraine.  North Korea,s Kim Jong Un, China and former US President praised Putin. Trump called him a "genius".