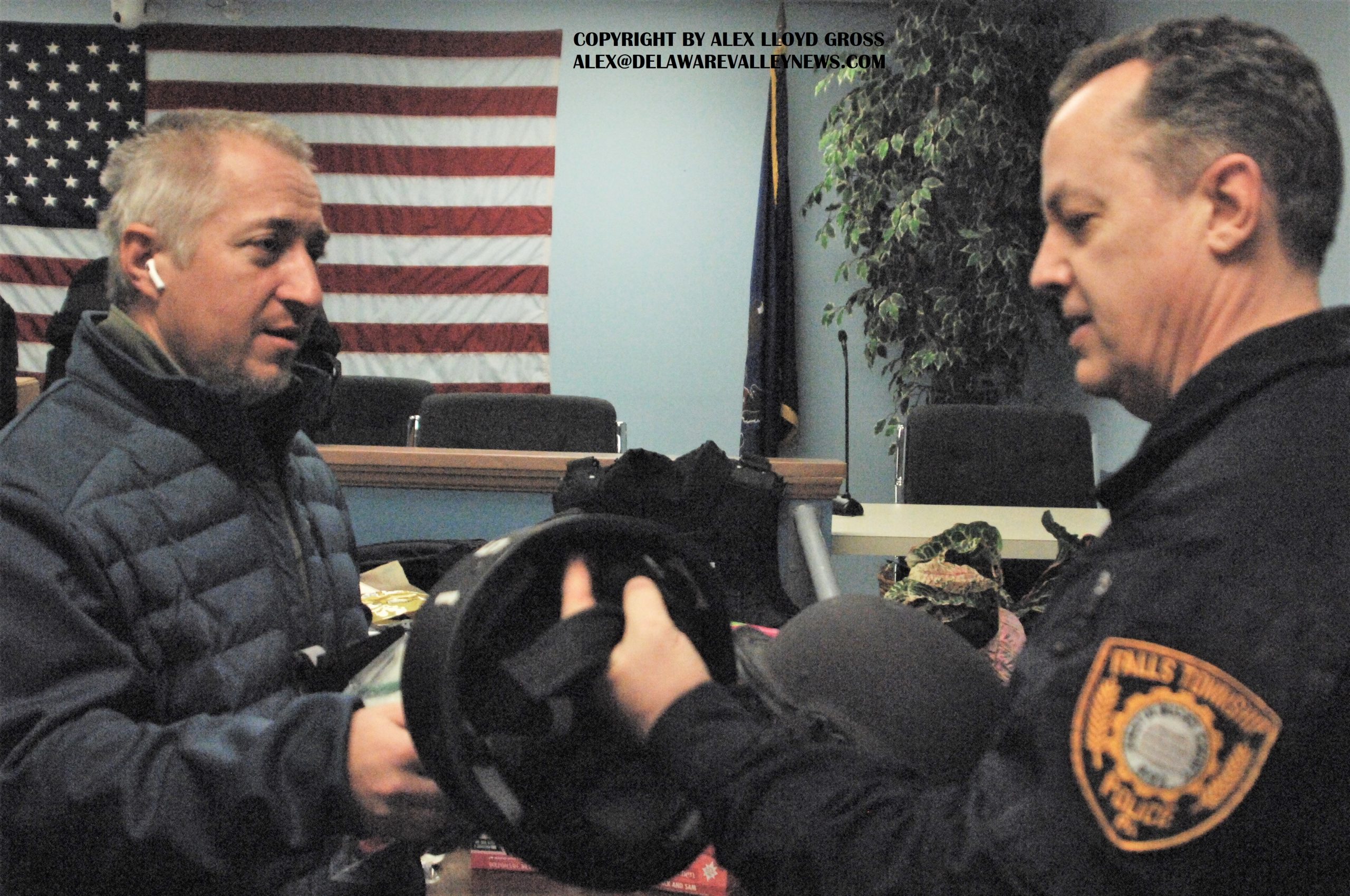 Falls Township Police Collect Supplies For Ukrainian Fighters
---
by Alex Lloyd Gross
The conference room at the Falls Township ( Bucks County Pa)  Municipal Complex was packed with Ukrainian Citizens and supporters. They were there to thank Falls Twp. Police, and Chief Nelson Whitney for organizing a collection point for much needed supplies to be shipped to the Ukraine.  Most of the items collected were for the soldiers and citizens in the Ukraine that are fighting the Russian takeover.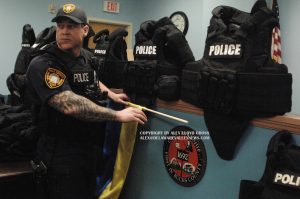 The people of the Ukraine are unable to just walk into a supermarket and get things.  So people all over the world have started donation points to help  people in the Ukraine get what they need. The police department got older bullet resistant vests that were no longer being used, They stripped the POLICE patches from them and made them part of the shipment. "We replace our vests every five years, they are still good, these were sitting in our storage area, and we thought they could help.", Whitney said.   Also included were boots in different sizes, medical supplies and tourniquets . Tourniquets are desperately needed, Whitney said.
Police Officer Dear Stecklair has family that are still in the Ukraine and he is worried about them.  "This is going to help save a life and if you can save someones life, then your life means something," he said.  His wife came from Kyiv  to America  in 1989 and she still has family over there. Stecklair was grateful to Chief Whitney for allowing him to organize this and to use the township building as a collection point. "Pet food, diapers and hygiene products are needed too," Stecklair said.
About 100 supporters were in the room. The ceremony was about to start when Igor Klymenko came into the room. He was an organizer and he expressed his thanks and gratitude to everyone in the room, in Ukrainian and Russian. "It means so much to the people to do this to see this being done," he said.  In a rally held this past weekend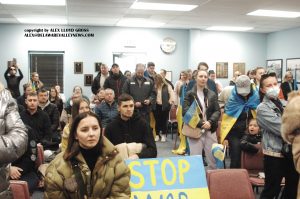 in Philadelphia Archbishop of the Ukrainian Catholic Church Of America Broys Gudziak  pleaded for 10,000 vests and helmets to be donated from the citizens of Pennsylvania.  This donation is a small part of that and it's not limited to one day, Chief Whitney said. "We are going to use the Falls Township  Building as a collection point. First responders can donate items that are needed. Those items are shipped out by a private company, to Poland and they are trucked into the Ukraine on land. We will keep collecting them until we are told that items cannot be taken over there," the chief said. Info on how to donate will but put on their Facebook or Twitter pages.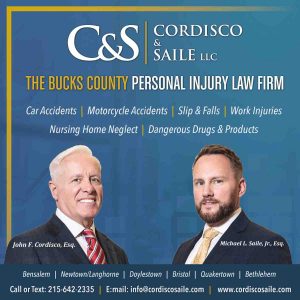 In the crowd of people to see what was going on was Andriy Penchak and Valentin Drobadca who are leaving tonight to go to Poland. They leave behind their families in America and will take up arms in the Ukraine and fight Putin's army. "The second day of the invasion, that is when I decided to go." said Penchak. He is a citizen of the Ukraine and is leaving behind a wife and three children.  "I have no battlefield experience but I have experience with guns. I can handle guns," he said.