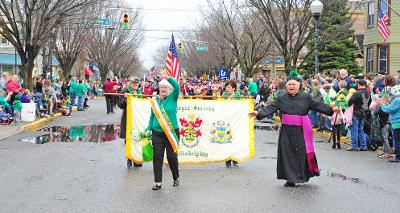 St Patty's Parade in Gloucester City Features Philly String Bands
---
by Alex Lloyd Gross
On March 6 2022   The annual St. Patty's Day parade was held in Gloucester City NJ.  About 1500 people showed up for the parade, which featured eight string bands, including the winner, South Philadelphia String Band.
Featured performers included: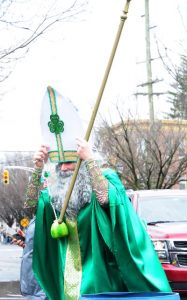 Gloucester City Old Timers, Aqua, Avalon, Duffy, Durning, Ferko, Fralinger, Quaker City, South Philly, Uptown, Woodland
Bagpipes & Drums Bands
Gloucester City Irish Society Pipes and Drums, Camden County Emerald Society Pipes and Drums, Trenton AOH Pipes and Drums, Atlantic City Sandpipers, Brian Boru Pipes and Drums
Irish Dancers
Jordan-Hunt School of Irish Dance
Irish Music
The Broken Shilellaghs, Misty Dewr's, Irish Singer Timmy Kelly
2 Street Stompers New Year Brigade Featuring the WhoaPhat Brass Band.
The parade was coordinated by St.Mary's Catholic Parish of Gloucester City NJ.