Jeff Scott Soto Is Set To Release a New Solo Record This Week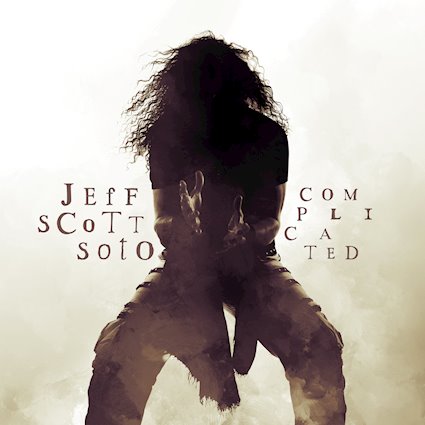 Jeff Scott Soto Is Set To Release a New Solo Record This Week
---
by Alex Lloyd Gross
May 2,2022
Jeff Scott Soto is ready to release his eighth solo  album May 6 2022 and he can't wait for you to hear it.  Best known as a vocalist for Trans Siberian Orchestra, Soto  is the type of singer that can sing any type of music. The record is called Complicated. "a lot of people were wondering what the context was behind in calling the album "Complicated", believe me it's a lot simply than what people think. When I was finishing an interview for the last album, (Duets) , I was asked how would I explain myself to someone that has never heard of Jeff Scott Soto, I told them it's complicated," Soto said.
Soto is a singer. not a rock singer, but a singer. He just specialized in rock. The record has 11 tracks on it that do just that.  Right out of the gate, the first song, " Last To Know" sets the pace for the record. Up tempo,   It is produced by Alessandro Del Vecchio , who also plays bass, keyboards and back up singing.Alessandro Del Vecchio  also produced  his previous work Wide Awake ( In my Dreamland).
"With this album, There is not one song that stands out any more or less than others,  even when you are sequencing the album, you try to choose the right balance to keep the ebb and flow. of the album.   Choosing a favorite  track  from this is so hard for me it's like choosing your favorite child out of a house full of children," Soto laughed.
The title track rocks, as does every song.   It's worth picking up,  especially if you are a fan of his work with Trans-Siberian Orchestra.  Most artists will tour behind a new release. This will not be the case with Soto. He may do a few smaller shows here and there but for right now he has no plans to embark on a tour. If you want to see him live, a TSO show is your best bet.
"We are not going to be playing anything from my solo records,," he said.  When asked about TSO, he said something surprising.  "Front row is not the place to see us. The ideal seat is in the back, there is so much going on, you would not intentionally buy a front row ticket to an IMAX movie". he said  TSO is a huge production.  They were back touring after no preforming due to he pandemic.
That meant the shows did not have any meet and greet or band members in the crowd. . "Hopefully that will change," Soto said. The record comes out on May 6 2022. It is called Complicated. When you get it, it will stay in your CD player for a while.