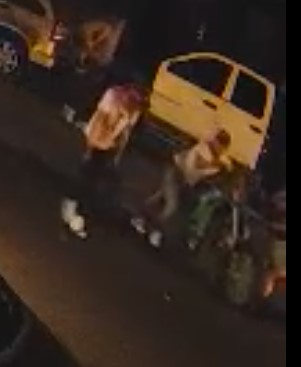 Police Look For Reckless Dirt Bike Rider In Fatal Crash
---
by Alex Lloyd Gross
The phrase 'driving like an idiot" applies to the male  in the above photo and below video. He is directly responsible for the death of 17 year old Jesus Gomez Rosario on May 17,2022. police said that is was about 10:30 PM when a dirt bike was being driven on a city street.in an illegal manner.  Specifically, Allegheny Ave.  The driver of the dirt bike was speeding and doing wheelies while riding.
This is reckless and illegal. When the driver got to Allegheny and Front Street, police said  he hit Rosario who was on a skateboard. The driver then stopped his bike. As more people showed up he got lost in the confusion and left the scene.
The rider of the dirt bike is described as a male, light complexion, wearing a black helmet, red bandana or scarf around his neck, white t shirt, black pants and white sneakers. He left the scene with the dirt bike east on Allegheny Avenue. He appears to have minor injuries.
The dirt bike has green wheels and green body that was damaged on the left side.
f you see this suspect do not approach, contact 911 immediately.
To submit a tip via telephone, dial 215.686.TIPS (8477) or text a tip to 215.686.TIPS (8477).
All tips will be confidential.
If you have any information about this crime or this suspect please contact:
Accident Investigation Division:
215-685-3184
DC 22-25-026547