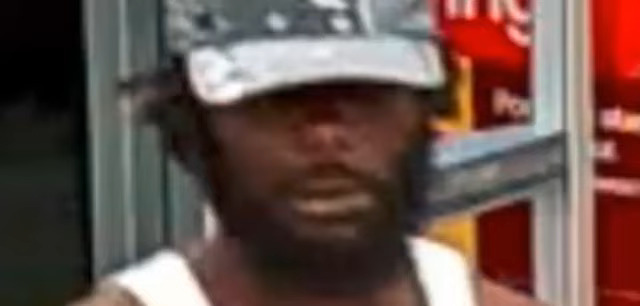 Idiot Points Toy Gun At Cop, Turns Retail Theft Into A Felony
---
by Alex Lloyd Gross
June 27, 2022
Hopefully someone knows the male in the above photo. He is lucky to be alive. on June 20, 2022 at 9:22 PM, he was inside the Target store at 1128 Chestnut Street . He was walking around the store , putting things into a Target basket.
He then failed to pay for the items, police said, and walked out of the store. When he was confronted by police, he pointed a gun at police. That gun turned out to be a toy. The suspect dropped the toy gun and the stolen items on the ground and ran away.  He did not get away empty handed. He caught a felony robbery and other charges as well.
Police want to insure that he gets those charges and you can help insure that happens. If you know this male or see him, you are urged to contact police.
Suspect Description: Black male, 5'9″ tall, thin build, beard and mustache, dreadlocks or braids in his hair, wearing a gray hat, white tank top and blue jeans.
f you see this suspect, do not approach, contact 911 immediately.
To submit a tip via telephone, dial 215.686.TIPS (8477) or text a tip to 215.686.TIPS (8477).
All tips will be confidential.
If you have any information about this crime or this suspect, please contact:
Central Detective Division:
215-686-3093/3094
Det. Cangelosi
DC 22-06-026061