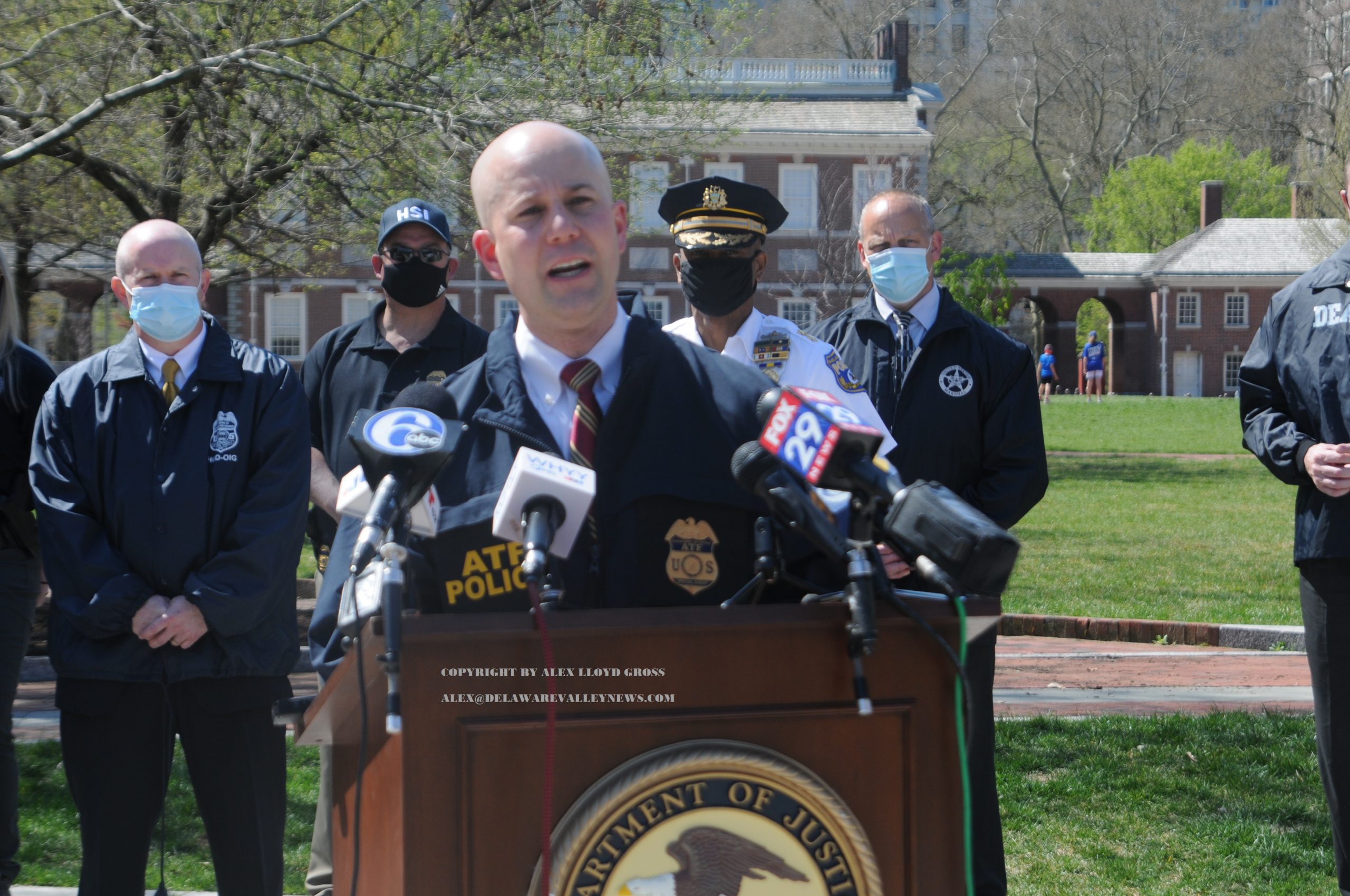 Carjacking Suspect In NE Philly Faces Federal Charges
---
Alex Lloyd Gross  File Photo-Delaware Valley News.com Matt Varisco . Special Agent In Charge of the ATF branch In Philadelphia  speaks at a media event in April 2021.
by Alex Lloyd Gross
Oct 3, 2022
A male who acted impulsively and allegedly stole a vehicle at gunpoint September 19, 2022 from Maxwell Place. is now facing federal charges after he was arrested, Amir Harvey will face state charges as well.
The incident, which was caught on camera horrified the city, as a shining example of how rampant violent crime has become in the city. This happened at 6:15 AM  in the Northeast. New details emerged with the arrest of Harvey.  The victim was going to take her daughter to school. She started her car with a phone app on her phone.

Police said Harvey rolled up on a bicycle and pointed a gun at the two women. He then drove the car away, unaware he was being tracked by a different cell phone app. Harvey then parked the stolen car on Griffith Street.  detectives swarmed the scene and found security cameras that tracked Harvey to a nearby apartment complex, where he was arrested.
The swift action to investigate and federally charge these defendants is the result of the newly formed Philadelphia Carjacking Task Force, which is comprised of members of the U.S. Attorney's Office Violent Crime Unit; the Federal Bureau of Investigation; the Bureau of Alcohol, Tobacco, Firearms and Explosives; and the Philadelphia Police Department. The goal of the Taskforce is to stem the wave of armed carjackings and violent crimes through investigative and enforcement techniques meant to identify and refer for federal prosecution all who terrorize innocent victims through commission of these offenses within Philadelphia and surrounding areas.
"When the Carjacking Task Force was established several months ago, this is exactly the type of crime we set out to investigate," said Matthew Varisco, Special Agent in charge of ATF's Philadelphia Field Division.  "As the Indictment alleges, this is a seriously violent crime with the lives of innocent victims being threatened. ATF and our local, state, and federal partners will continue to collaborate and seek justice for the victims of violent gun crimes like this."   The ATF was the lead federal agency on the investigation.  If convicted, Harvey could spend life in prison.