John Fetterman and Josh Shapiro Hold Bucks County Rally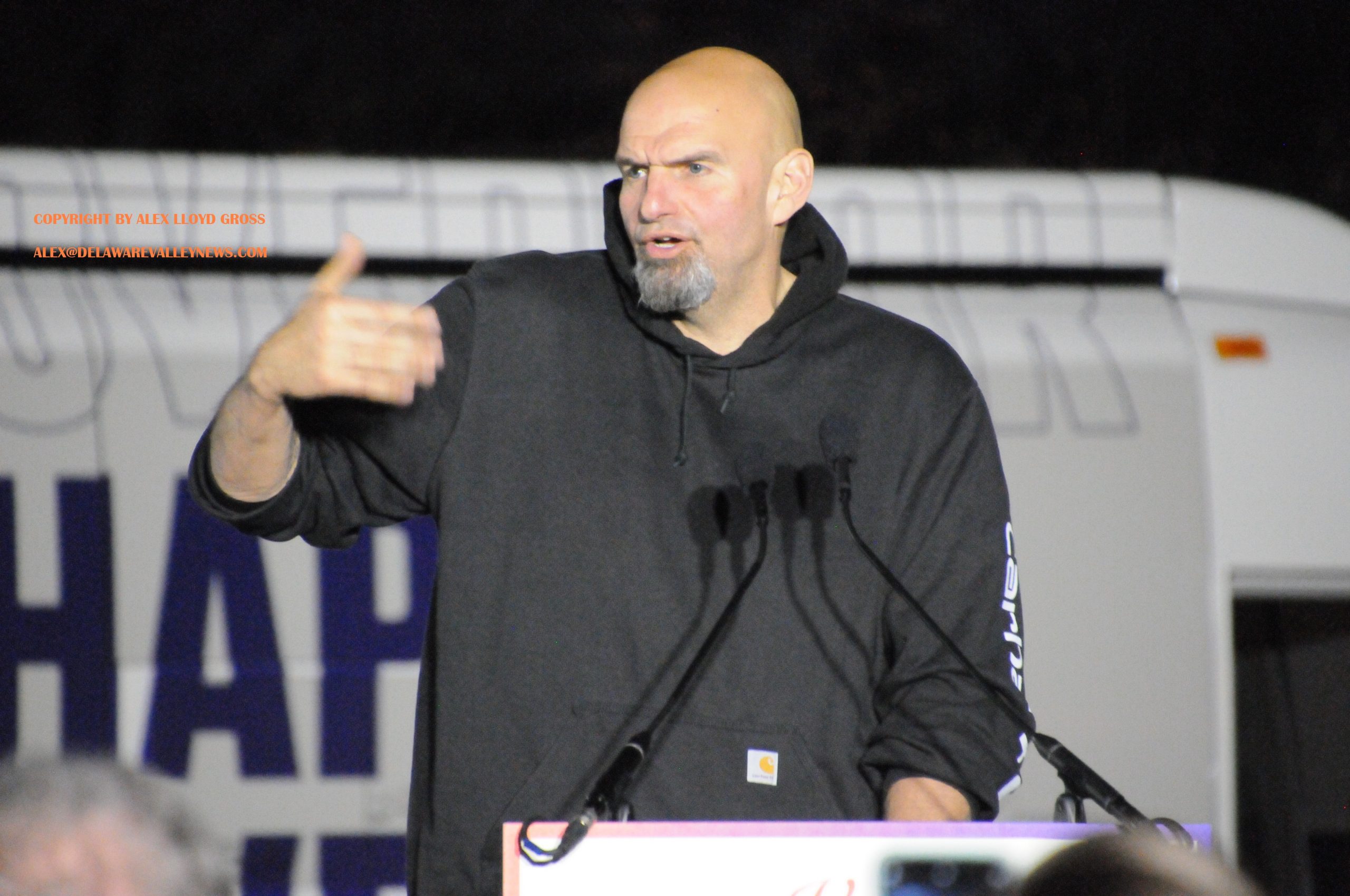 John Fetterman and Josh Shapiro Hold Bucks County Rally
---
ALEX LLOYD GROSS PHOTO- John Fetterman  wears his hoodie during the rally. He was selling them from a merch truck just outside the rally.
by Alex Lloyd Gross
Nov 6, 2022
With less than two days to go before Election Day, Josh Shapiro and John Fetterman made a last ditch effort to convince voters to put them in office on Tuesday.  Shapiro is favored to be the Governor of Pennsylvania, over Doug Mastriano.  As for the US Senate, Memhet Oz and John Fetterman are polling about equal. Lots can happen before Tuesday.
A rally was held at the Newtown Campus of the Bucks County Community College. It drew about 700 people. It was open to the public and pre registration was not required. It started just after 4:00 PM with local politicians talking up the democratic ticket. Commissioners Diane Marseglia and Bob Harvie were there. State Rep Perry Warren spoke for about 10 minutes. He remembers the election that he won it by 75 votes, he told the crowd. He also told them to go vote.
Ashley Eheaz, a Bensalem resident running for congress, hoping to unseat incumbent Brian Fitzpatrick for a congress took the stage to to address the crowd. "Brian Fitzpatrick does not support a woman's right to choose", she said. When confronted about his record of reaching across the aisle, she reiterated the fact that "he is not bipartisan because he does not care about the issues that matter, like abortion," she said.  Fitzpatrick did vote for raising the minimum wage, and not with his party. That bill was trashed by then Senate Republican Majority Leader Mitch McConnell, who refused to bring it to the floor for a vote in the senate.
The minimum wage and abortion were the two topics hammered home by Fetterman and Shapiro. If Fetterman gets in, he will vote to raise it. .He will also fight for the right for a woman to have an abortion and he is for gay marriage.  He is fresh off the debate with Mehmet Oz. Fetterman looked and sounded 100 percent better than he did at the debate. Oz is a very rich doctor and a polished speaker. However when asked about the minimum wage during the debate, Oz  did not give a straight answer., Instead he started on a soliloquy about market driven wages in the energy industry. Fetterman wore a black hoodie to this rally, as opposed to a suit and tie.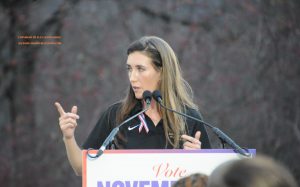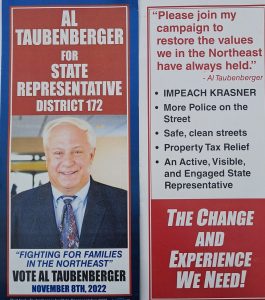 Traditional politicians have blasted him for the way he dresses and behaves. His base could not care less.  "They spent over $100 million to discredit me. Do you have any idea how many people that money could have helped,? Fetterman said. Fetterman says he stands with law enforcement.  John Fetterman does not conform to the ideology that republicans do.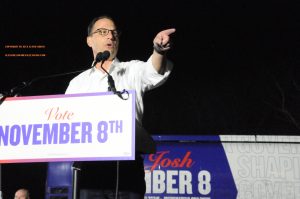 Josh Shapiro was the keynote speaker.  He is running for governor and brought his potential Lt. Governor, Austin Davis with him.  "People are not getting paid what they should, and we stand with unions" was the message reiterated by both candidates.  The sky looked threatening for rain but cleared up in time for the out door rally.

A handful of protesters showed up but left the event before it's conclusion. They did not disrupt the rally.  After all of the speaking was done,  Davis, Fetterman and Shapiro worked a rope line.  They signed autographs and posed for photos. One misguided volunteer, a black male in his early 20'sor late teens tried to interfere with the media covering this part of the rally. When cameras were put on him, to ask why he would do this, he scurried away and tried to hide.