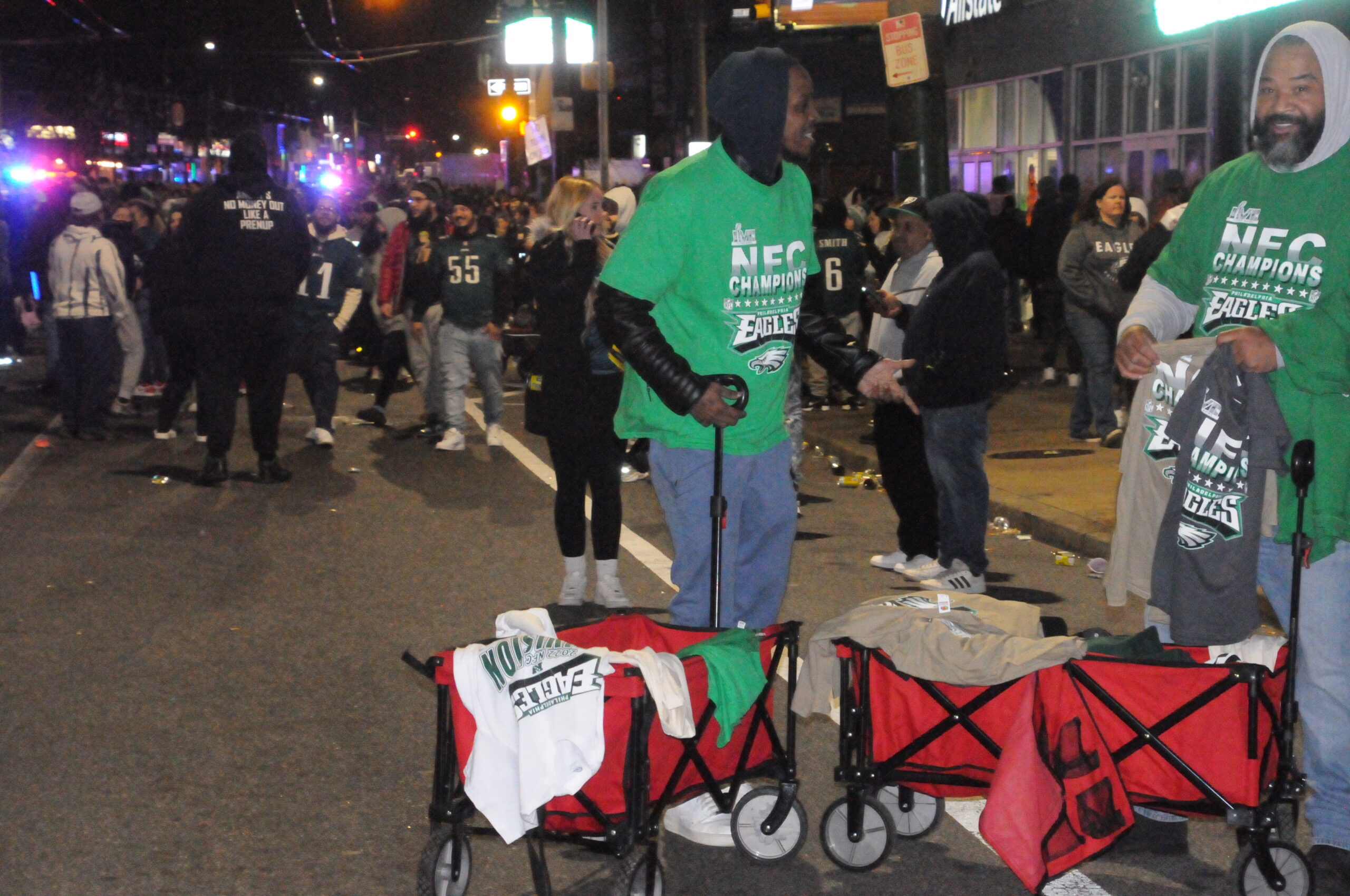 For Sale: Cheap Super Bowl Tickets and Eagles Gear
---
ALEX LLOYD GROSS Photo-Delaware Valley news.com  Vendors move bootleg gear  during the celebration for the Championship win.
by Alex Lloyd Gross
Feb, 9 , 2023
People that are going to the Superbowl are spending a kings ransom to get there. Fans Already in Arizona are spending a bit less but it's still pricey. Ticket packages from Philly are about $8,000 to $15,000 per person depending on variables of how long, and accommodations.
Just about every year, there are stories about people that got scammed. You should know if it's too good to be true, it usually is. When fans search the internet for tickets and they get suckered in by a scammer. Should you answer an ad and the person on the other end has tickets and hotel for say $3500.00, airfare included. That should raise all kinds of red flags.
Maybe a nice man answers the phone or calls you. He tells you his name is Mr. Kimball and he had a death in the family, or other sob story. He tells you the tickets were a gift and he is not a sports fan. Everything is paid for. Paying him $3500.00 is a win-win. He gets money and you see the game. He does not take credit cards, so meet him with cash. You do. He gives you some papers, which include airline tickets, hotel confirmations  and game tickets.
You are all set. You drive to the airport, pay inflated prices for parking, go to board your flight and find the airline the tickets are fake.  Mr. Kimball is not answering the phone.  Two red flags. You should walk away right there and call the police. However, you don't. You want to go to the Superbowl and you figure this is a mix up. So you buy your airline tickets.
You land in Arizona and no hotel reservations. Everything is fake. Before the game, you have a sinking feeling in your stomach that you were scammed, so you get to the stadium and they verify the tickets are bogus.
If you are going to buy anything from a pleasant sounding voice on the phone for cash, hire an attorney and have the lawyer hold the money.  Sign a contract. Nothing gets disbursed until after the game. A legit seller will have no issue with this. A scammer will balk and claim he is insulted.
When looking at legit tickets online do not click any links that may appear in ads ,Superbowl tickets. is a sure bet. They partnered with the Eagles and it is totally legit.
It seems everyone wants Eagles gear.  If you want to wear a shirt five times or less, it does not matter where you buy it. The cheap bootleg shirts will shrink after multiple washes. Your 2x  will be about a large.  They are more subject to tears and rips as well.
It may cost a bit more but go into a store. you are keeping legitimate businesses in operation and your clothes will last longer and will not shrink as much.  The pop up stands may not be selling official Eagles or Super Bowl  gear. A Green shirt with an Eagle and a football with the words CHAMPIONS is not official Eagles gear. People may not notice that the team logo is nowhere to be found. That is because that has to be licensed. That logo can be for a Pee Wee team. It is not Eagles gear.
Acting Attorney General Michele Henry gave these tips to help keep you from being a  victim.
Watch the websites you visit. As a consumer, you should not click on banner ads or pop-ups on a legitimate website (like StubHub or Ticketmaster) that may take you to a different website. You lose all protections and guarantees once you leave a legitimate website in favor of discounted tickets or other promises somewhere else.
Review your cart before checking out when purchasing tickets through a website. Many online ticket resale platforms will charge fees at checkout.  Review your purchase prior to hitting the final checkout button for any additional charges and fees added to the final purchase price.
Be cautious of using search engines to find potential ticket sellers. Less reputable websites offering ticket sales will ramp up advertising before events like the Super Bowl, increasing their website traffic. Stick to websites you are familiar with, and read the URL of the website you visit. Scam artists often make minor changes to an actual website's URL to bring a false sense of legitimacy to the website – a practice known as spoofing. Look for spelling or grammatical mistakes – a tip-off to fake websites.
Avoid buying tickets from someone you have not met. Don't buy tickets from a seller you don't know. Always try to conduct any ticket purchase in a safe, well lit area. Consumers can also search for "Safe Transaction Locations" online. Police stations provide an environment for safe transactions.
Be wary of sellers asking for payment in gift cards, money orders, cryptocurrency or wire transfers, especially over the phone. Consumers should use their credit cards when possible to protect themselves from scammers and fraud.
The Bureau of Consumer Protection also advises that if you have made an unfulfilled purchase with your credit card, to contact the credit card company and dispute the charge immediately.
Pennsylvanians who believe they have been victims of a Super Bowl ticket, travel service or merchandise scam can file a complaint with the Office of Attorney General's Bureau of Consumer Protection by visiting www.attorneygeneral.gov or by emailing sc***@at*************.gov or calling 800-441-2555.