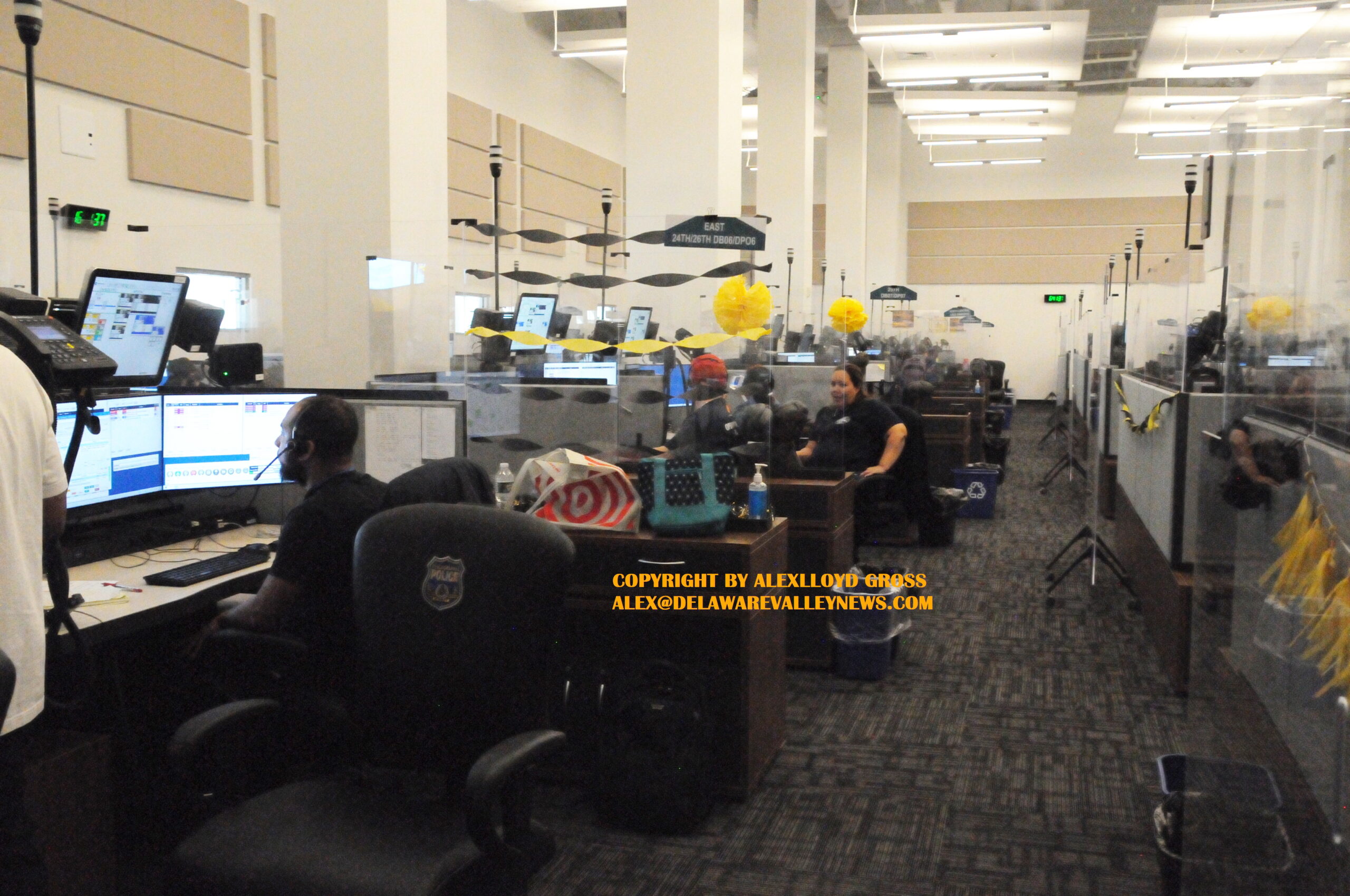 Phila Police Show Off New 911 Radio Room For Telecommunicators Week
---
by Alex Lloyd Gross
April 16, 2023
The work of a 911 dispatcher is stressful. Sometimes, even more stressful than a cop or firefighter.  Last week was National Telecommunicators Week and the city  showed off it's new 911 call center.
Located on the second floor of the Public Safety Building at 400 North Broad Street,  this room is very different from the old dispatch center which was located at 8th and Race Streets.  That building does not house any more police units. Police radio was the last operation to switch over.  Large bulky computers in an antiquated room were replaced by sleek, a mainstreamed dispatch center. The equipment at 8th and Race was state of the art for the 1970's.
This is state of the art for 2023.  Dispatchers can sit or stand while they receive information on a computer screen.  There are maps at each terminal to guide officers into the scene. Each police radio has GPS equipped and the radio can be shut off making it useless, if it gets lost.  Little lights are above each radio band which will signal to a supervisor help may be be needed.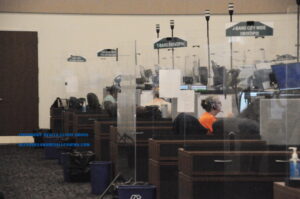 Call takers are in the same room. Everyone is wearing headsets and it's relatively quiet inside the room.  When someone calls in and is having a crisis, they can be transferred to mental health workers, police said. One thing is stressful and that is picking up the phone and there is a language barrier. You know the person on the other end of the phone needs help you just cannot understand what kind of help they need.
Translators are available if needed.  People will act like idiots and  make crank calls to 911. Police said they have a lot of them and a detective is assigned to the radio room to investigate them.
T band, or traffic band was the last to switch over to the new system, police said. In related news, the state and city are currently hiring dispatchers and call takers.  Telecommunicators were recognized the Pennsylvania Emergency Management Agency. Below is some of their information.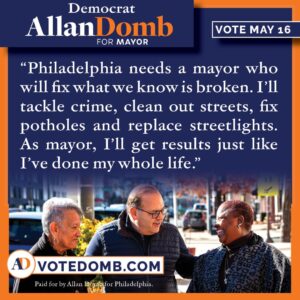 Harrisburg, PA – The Pennsylvania Emergency Management Agency (PEMA) is recognizing the vital work of 911 telecommunicators during National Public Safety Telecommunicators Week, April 9 – 15.
"Public safety telecommunicators carry out their tasks under very stressful conditions, and are the critical link between those who need emergency services and first responders," said PEMA 911 Deputy Jeff Boyle. "It is demanding but rewarding work and we're proud to recognize the diligence and compassion they bring to their profession every single day."
Like many emergency response and public safety organizations, county Public Safety Answering Points (PSAPs) are struggling to meet staffing needs. There are currently more than 500 vacant full-time positions available across the state.
"The increase in call volume adds to the operational strain facing many PSAPs, particularly when combined with a shortfall in staffing levels and it makes recruitment and retention a significant challenge in many counties," Boyle said.
After completing the basic training, a county PSAP can certify a telecommunicator as long as they meet the following additional criteria:
Be at least 18 years of age;
Possess a high school diploma or general equivalency diploma (GED);
Be free of a criminal history that would prohibit them from successfully fulfilling all duties of the position as defined by the employer; and
Meet any additional employer-specific qualifications to be hired as a telecommunicator (e.g., pre-employment testing).
Anyone interested in learning more can check the employment sections of county websites found in the PEMA PSAP Directory.
Governor Shapiro knows that first responders, local governments, and counties are the ones on the frontlines supporting Pennsylvania communities and families. His first budget proposal offers a set of commonsense solutions that make critical investments to create safer communities and support firefighters and first responders, including:
Over $50 million for 9-1-1 emergency communications systems – and ties that funding to the cost of living so it keeps up with rising costs.
A $36 million increase for EMS and fire services, including equipment, training, and salaries to support them and grow our ranks of first responders.
A $1.5 million investment – a 266 percent increase – in the Municipal Assistance Program to support local governments and help counties share resources to implement emergency support services and lead community revitalization efforts.
The creation of the Public Safety and Protection Fund, which will sustainably fund the Pennsylvania State Police to recruit and retain well-staffed, well-funded, and well-trained officers. Governor Shapiro's budget also proposes a tax credit of up to $2,500 for new officers to hire police officers at every level.