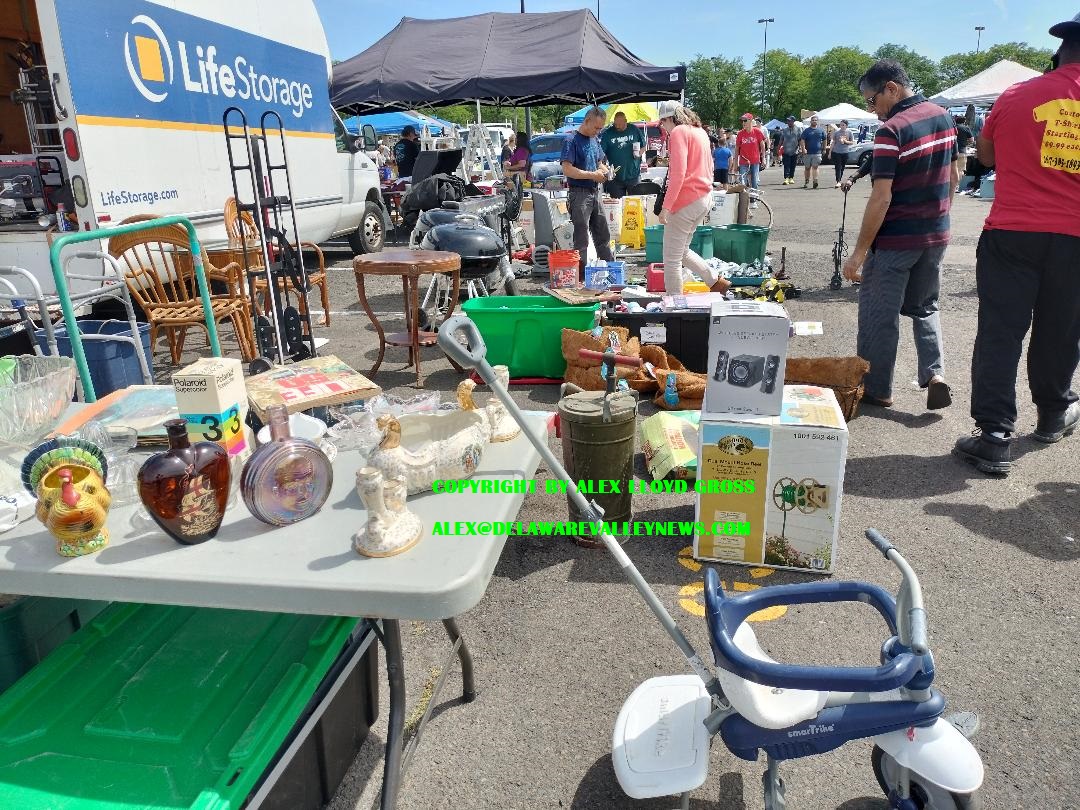 Flea Market Finds New Home At Philadelphia ( Franklin) Mills Mall
---
by Alex Lloyd Gross
May 28, 2023
Today was the first day of the new flea market which opened on the Liberty Square  section of the Philadelphia ( Franklin) Mills Mall.  The response was great,  according to Tony Soprano, owner of the flea market.  This is held outdoors and a good portion of the sellers have canopies to protect the goods and shield their customers from the elements.
This flea market consists of vendors that were at the Roosevelt Mall Flea Market and at the Bristol Flea Market  where the old Wal-Mart used to be.  Brix-Mor, the landlord for Roosevelt Mall is going to put small stores on the footprint where the the flea market used to set up, so they were permanently shut down from that location, even though tens of thousands of people  shopped there every Sunday.
With flea markets, it's like an open air Ebay.  Some sellers at this flea market were selling were selling used household items. Others had brand new things for sale, like toothpaste, soaps and cleaning supplies.  Parking is free and plentiful.
Some tips for buyers for this or any other flea market:
Bring small bills. If you have larger bills, $10.00 and over keep them separate. You don't want to negotiate with a seller and agree on the price of $7.00 for an item that originally cost $15.00  and pull a $20.00  bill out of your pocket that had about $100.00 more in it.
Prepare to walk,  bring comfortable shoes.
Don't just glance at a table,  look around and you might find something you were looking for or want.
Know what things cost. Sometimes an item can be gotten cheaper in a store, especially a dollar store. You don't want to overpay for an item only to find it substantially cheaper somewhere else.
If you are selling,
Try to make your tables look as appealing as possible.  Items arranged neat on a table will sell quicker than items just dumped onto a table. However, people like to look in boxes, so if you have a box of miscellaneous  items that box will make people curious and want to stay at your area longer.
Avoid selling the same items  as someone close to you.  If you are selling footwear and a spot down the aisle is selling the exact same thing, your sales will hurt.
You have to be comfortable.  But you must make your spot attractive to people. That means no loud music . If you are selling only hard rock CD's that is fine, you are attracting your base of customers.  Since most flea markets happen on Sunday, avoid listening to religious programming. you may enjoy it but  not all of your customers will,  (The caveat to this is if you are selling religious items geared towards that particular religion). Other wise, prospective customers will keep on walking. by your stand.
Know your merchandise. No one wants to ask a question and hear "Um, I'm not sure, I don't know". One thing is certain, you just lost a sale.  If you leave your stand, and have someone watch it,  invest in a small two way radio where they can reach you. It looks more professional and if they are not sure of something, they can reach you quickly.
At this flea market, there are vendors selling produce.  There is also a food truck selling hot dogs and other snacks. Vendors wishing to sell at this flea market should call (215) 625-3532.