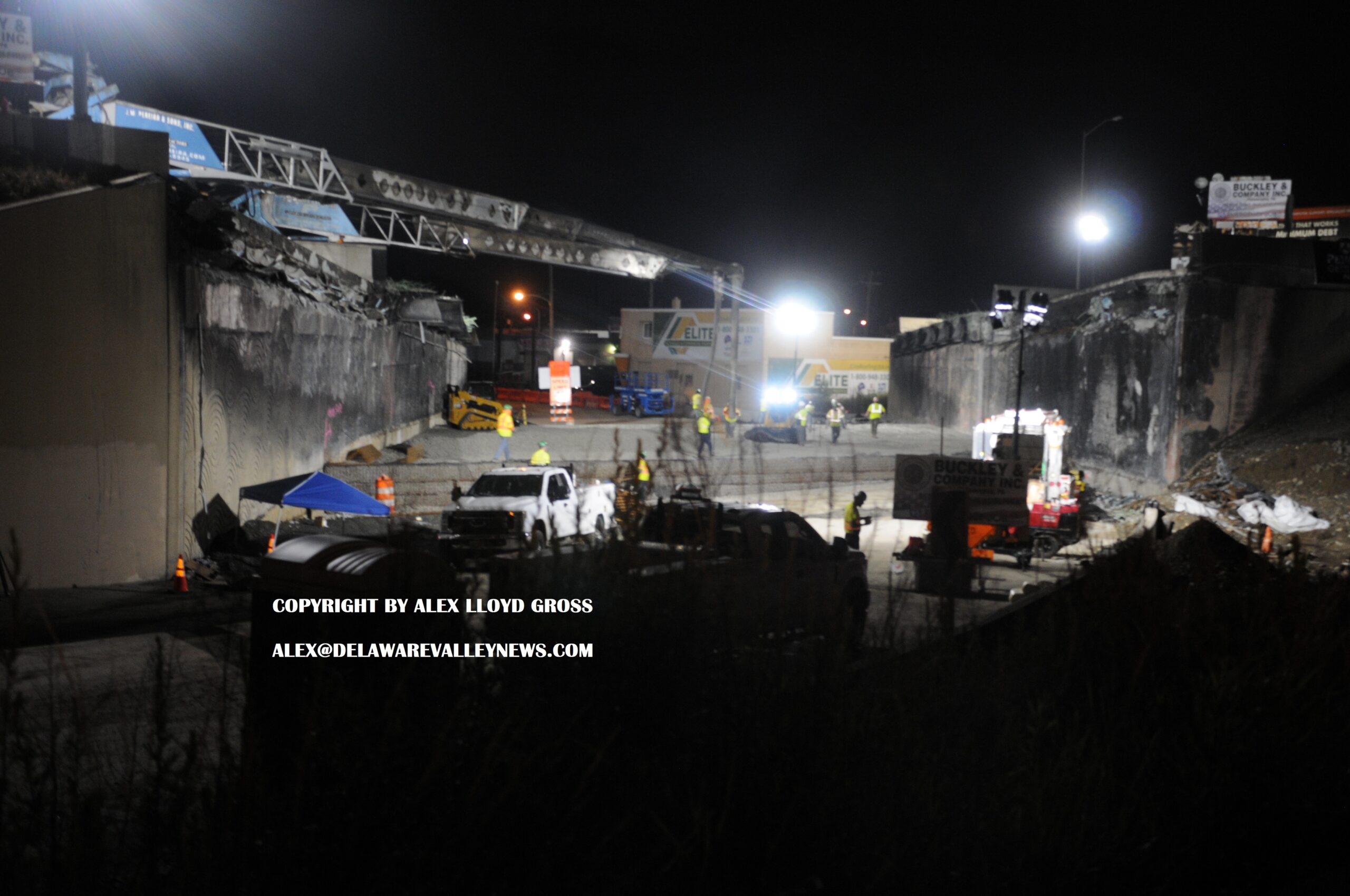 24/7 Work Could Get I-95 Re-Opened By July
---
Alex Lloyd Gross  Construction work at 2:00 AM
by Alex Lloyd Gross
June 18, 2023
Construction work is continuing around the clock, with no breaks.  The crews working at I-95 at Cottman Avenue have one directive: Get the road open as safely but as fat as possible.  With impacts on  commerce,  and the environment, the Shapiro Administration has made this a priority.  The governor was back in town yesterday with President Joe Biden. Together, they made the announcement that the road should be open by July.
This does not mean it's done and completed. It means that traffic will be able to go back and forth on the interstate without taking  any detours.  There still will be lane restrictions  as the road construction is far from finished.  The exit at Cottman Ave is not going to open by July.   The president took and aerial tour of the area .
"So, since Sunday morning, we've worked closely with Governor Shapiro, Senators Casey and Fetterman, and Representative Boyle — it's his district — and Mayor Kenney to provide the necessary federal assistance to support an all-hands-on-deck response to this crisis. And it is a crisis," Biden said.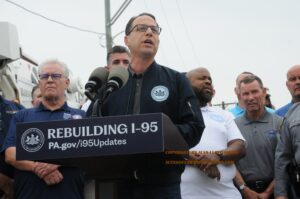 The live feed of the construction is up and running and you can monitor it . You can also see traffic delays in real time here to plan your route.  When a truck crash caused an explosion and collapse, no one predicted the road would be open by July.
For the time being, the following detours and closures remain in effect:
Castor Avenue on-ramp for I-95 northbound
Aramingo Avenue/I-95 on and off-ramps

On-ramp to I-95 northbound closed
Betsy Ross off-ramp to I-95 northbound closed

Bridge Street ramp

I-95 on-ramp at Bridge Street closed.
All traffic on Tacony Street will flow northbound only from Bridge Street to New State Road.

Tacony Street and Tacony-Palmyra Bridge

Tacony Palmyra Bridge traffic onto Tacony Street is closed. All traffic continues westbound onto Levick Street.

Cottman Avenue exit and State Road closures

State Road from Cottman Avenue to Longshore Avenue will be one-way, southbound travel only.

Southbound I-95 detour (local)

Exit I-95 southbound at Cottman Avenue.
At the end of the ramp, right on Bleigh Street.
Follow Bleigh to State Road, and make a left onto State.
Travel State Road South to Longshore Avenue.
Re-enter I-95 southbound at State Road and Longshore Avenue.

Northbound I-95 detour (local)

Exit I-95 at Aramingo Avenue.
At the end of the ramp, make a left onto Aramingo Avenue.
Follow Aramingo Avenue to Tacony Street. Turn right.
Take Tacony Street northbound around the Tacony-Palmyra Bridge loop to New State Road. Continue northbound.
Travel New State Road to Milnor Street and re-enter I-95 northbound.