Donald Trump Mugshot Released After His Arrest
---
by Alex Lloyd Gross
Aug, 24, 2023
Former President Donald J. Trump has been arrested for the fourth time. This time for alleged election interference and racketeering. This stems, in part from his telephone call with the Georgia  Secretary of State,  Brad Rafensperger, asking him to find 11780 votes, In this telephone call, which  Trump's former Chief of Staff facilitated, was out of line and illegal, according to Fulton County Georgia District Attorney Fani Willis. Trump said it was not.
Trump had been in court three times previously, for different charges, ranging from  election fraud, to  possible illegal payments to Stormy Daniels, a porn star to keep quiet about an alleged affair. None of those proceedings resulted in a mug shot. Until today.  Trump, through his legal team was able to convince people that he was too famous and recognizable to get a mugshot  taken.
He quickly created his own fake mug shot after his New York arrest and is selling it for $36.00 on his website. Reports are that he tried to avoid a mug shot in Georgia.  It is quickly becoming the most famous photo in the world.  It is unknown if Trump or an independent outlet will try to mass produce these on clothing. There is a legal gray area should that happen.
Some pundits have weighed that Trump should never have paid his bond, rather he should have forced the judge to put him in jail. That would have been a disaster, as Trump would have to have secret service protection. He would not be allowed to be near other prisoners, which would mean those prisoners would be moved and locked down for an extended period of time.  Trump would not have the ability to make speeches,  or put out social media posts.
He was in and out of the Fulton County Jail in about 20 minutes. Much faster than other defendants charged with him and others.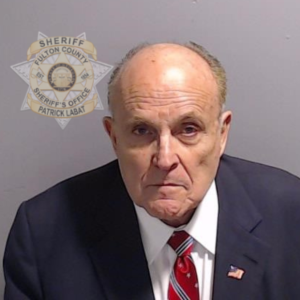 Trump is charged with Rudy Giuliani who also has a mug shot. The two will be at his Bedminster  Golf Club September 7, where a $100,000 plate fundraiser will he held for his former lawyer, and co defendant.