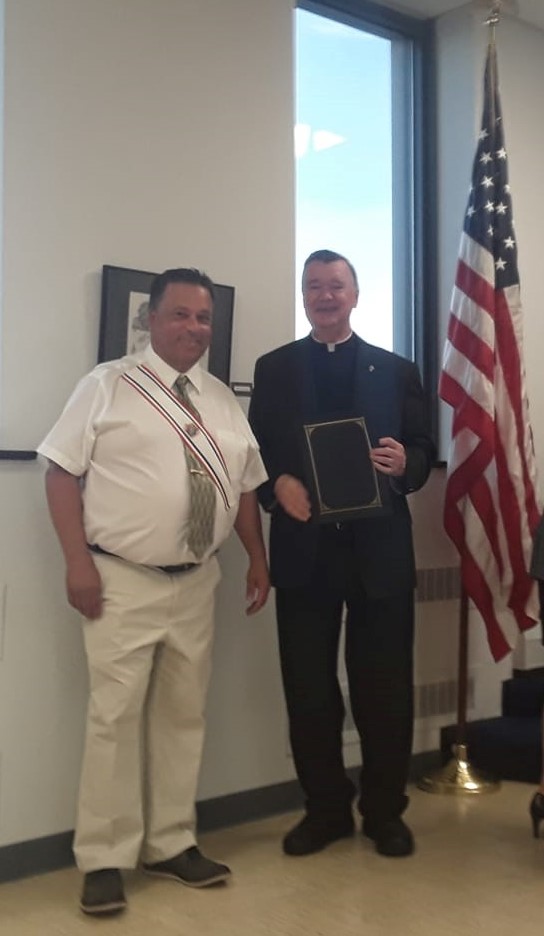 Morrisville Council Honors Monsignor Eckert for 25 Years of Community Service
---
Digital Reporter- Jeff Bohen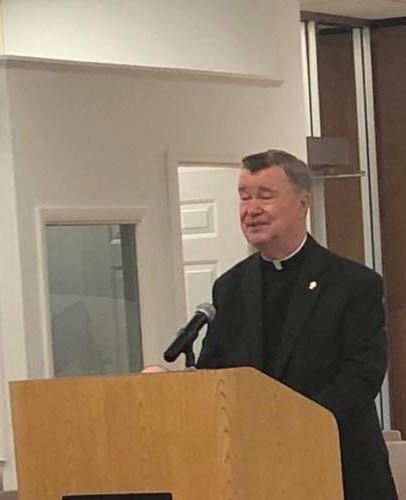 At Monday's Morrisville Council Meeting, officials honored the 25-years of service given to the community by Monsignor John C. Eckert of Holy Trinity R.C. Church.
A resolution, numbered 1035,  was read aloud by Council President Debbie Smith, but a humorous exchange did take place prior the the reading of the document, as Eckert, stepped to the podium and started to speak, respectfully stopped by Smith.  When the council president completed reading the resolution,. Eckert took his  place at the podium and asked sheepishly if he could speak, which brought light- hearted laughs to all in the council chambers.
Eckert, thanked council for the recognition of his service to Morrisville and Holy Trinity R.C. Church, saying he's close to retirement and thought about going to the Monsignor retirement farm but "Morrisville is his home," and he can't see leaving the area.
The monsignor retires next month but is remaining at Holy Trinity, as per his request of the Diocese.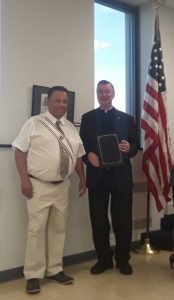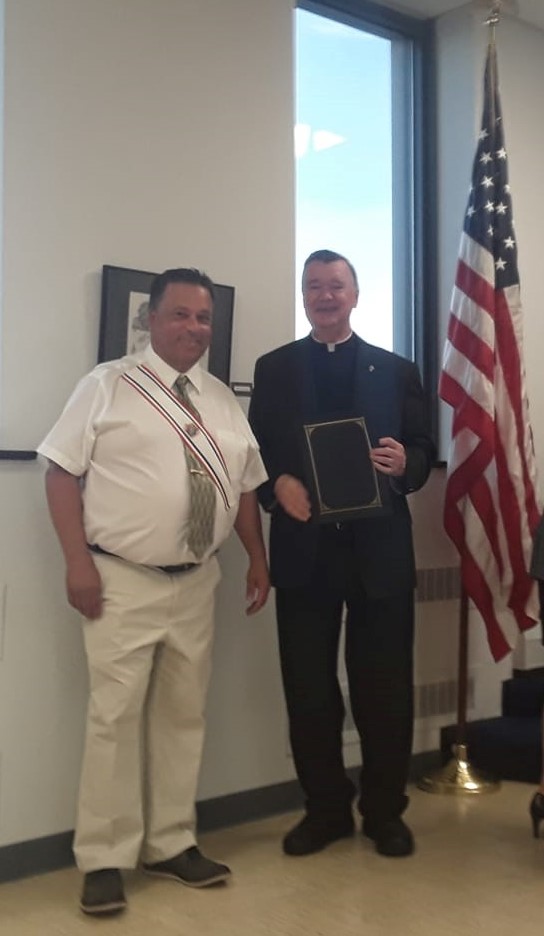 After the commemorative service ended, officials and members of the public took pictures with the monsignor.
The resolution highlighted the monsignor's contributions to the Morrisville Borough community including his participation in:
-Helping to save the Holy Trinity School from closing
-Participation in the Memorial Day Parade
– Opening Day Prayer for the Morrisville Little League
– Participation in the Annual Drug Awareness Walk
---
Agenda Items Voted 
In additional council news, Georgia Cinq-Mars Tashjian was named to the library board in 8-0 vote,  Councilmen Mike Yager nominated her for the position.
The motion to amend the bylaws for the public library- item 9C on the agenda-was removed and ill be voted on at the August council meeting.
Agenda Item 9 H had additional information added to it – at the request of Councilmen Justin Bowers- he was concerned about the potential for the senior center sign bothering those living close by. Added to the motion is the lighting times of the sign to be under the discretion of the borough. The ordinance moves on to the zoning board.
All other agenda items passed unanimously except agenda item 9.I -amending the fee schedule for short term lodging facilities ordinance -Councilwoman Corryn Kronnagel voted no.
---
Events Announced
During the public comment part of the meeting Kurt Holthenrichs announced Whiskey Logic has agreed to perform at the Night Out in Morrisville Event  on August at Williamson Park.
Councilmen Bowers announced a Pool Party to be held at the Morrisville Dog Park on Saturday July 27, from 1 p.m. to 3 p.m.
-Councilwoman Kronnagel announced events happening on back to back days in August.
Morrisville United's 4th annual Addiction and Recovery Awareness March and Prayer Rally is scheduled for August 17 8:30 a.m. to 1:30 p.m. at Williamson Park.
And on Sunday August 18 the 17th Annual Jazz Fest also to be held at Williamson Park from 12 p.m. to 8 p.m.