Stages Academy Moves Saturday's Summer Fest to a Cooler Venue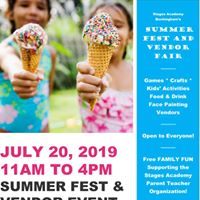 Stages Academy Moves Saturday's Summer Fest to a Cooler Venue
---
Digital Reporter- Jeff Bohen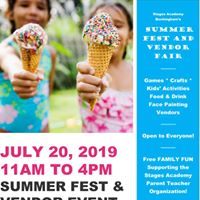 The Stages Academy Summer Fest and Vendor Fair is moving the event to a cooler venue Saturday; indoors
Executive Director Deena Fischer said in anticipation of the potential for a really hot day we're moving summer fest indoors to our spacious air conditioned facilities.
We  have over 40 vendor like the LulaRoe bus, Kona Ice truck, or Curly Tail Ice Cream truck to cool off before families hit up the indoor kids games, Fischer said.
Fischer's daughter, Morgan also possesses the same entrepreneurial spirit of her mom,  has a vendor's table at the event selling Molly Rose Jewelry also.
The event is free to everyone and kicks off at 11 and runs til 4 p.m located on spacious grounds located at 2401 Heritage Center Drive, Buckingham.
The full vendor list for Saturday's event is below
Scentsy by Gary Rhodes
D&D Crafters
Paparazzi by Traci Fisher
Cottage Candle
Canned Fresh
Sarah's Cre8tive Creations
Usborne Books by Shayna Cooke
Pure Romance by Sue Hess
Young Living Essential Oils by Monica DiLaurenzo
Crafts From the Heart
Henna Tattoos by Shweta
LulaRoe by Melissa Murdock
Molly Rose Jewelry
Tupperware by Anita Dwork
Elen and Tuka
TysonCBD
Smilecraft
Stages Academy
Laurel Creates Co.
Chuck's BBQ Food Truck
JJ's Candle Company
Perfectly Posh by Becky Kenzakowski
Color Street Nails by Becky Kenzakowski
Tutor Doctor
Isey's Ice
Sipology-Steep My Tea by Allison Bauer
Crafts By Susan
Designs by Ilan
Dignified Designs
Hermanns Toys
Damsel in Defense
Renewal by Andersen
Education Staffing Solutions
Awesome Little Cupcakes
LoveSoap
Kona Ice Doylestown
Action K