Philadelphia District Attorney indicted
---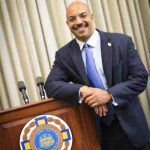 By Alex Lloyd Gross
Seth Williams, the Philadelphia District Attorney was indicted today, March 22, 2017 by Federal Authorities. He is alleged to have used his office to go easy on criminals, and help friends breeze past Airport Security when they return from trips in exchange for money or other  gifts..  He is also accused of not reporting those gifts as required by law. Those gifts include a designer tie and an iPad  in 2012. He is also accused of going to Punta Cana in exchange for recommending a lighter prison sentence. According to the indictment, he  used money meant for a relative going into a nursing facility.
The Board of Ethics fined Williams $62,000 which is the most they ever fined someone in the 10 year existence of the board. As for Criminal charges, there are 21 of them and it reads very badly for the once rising star of Philadelphia politics.. The FBI got a hold of his texts in which a friend asked him to intervene in a lighter sentence. "Next time you go to Vegas of Punta, drag me along", Williams wrote. Within months, Williams found himself overseas.  He is accused of accepting furniture and other gifts. He even gave a friend a badge and ID  from the District Attorney's office.
Williams said that his financial troubles  started in 2011 when he divorced his wife.  He also said he was trying to  put his daughter through private school.  Some of the gifts Williams is accused of accepting include multiple cash and personal check payments.  He is expected to turn himself in tomorrow and plead not guilty.  At no time was any of the goings on of his office condoned. Even Mayor Kenney  joined with Philadelphia Bar Association to demand Williams step down.  He  has previously announced that he is not seeking reelection. If convicted, of all charges, he can be sentenced to decades in prison.
His office issued a statement asking for privacy, as he will not be in the office. He is spending the day at home,  with his family.