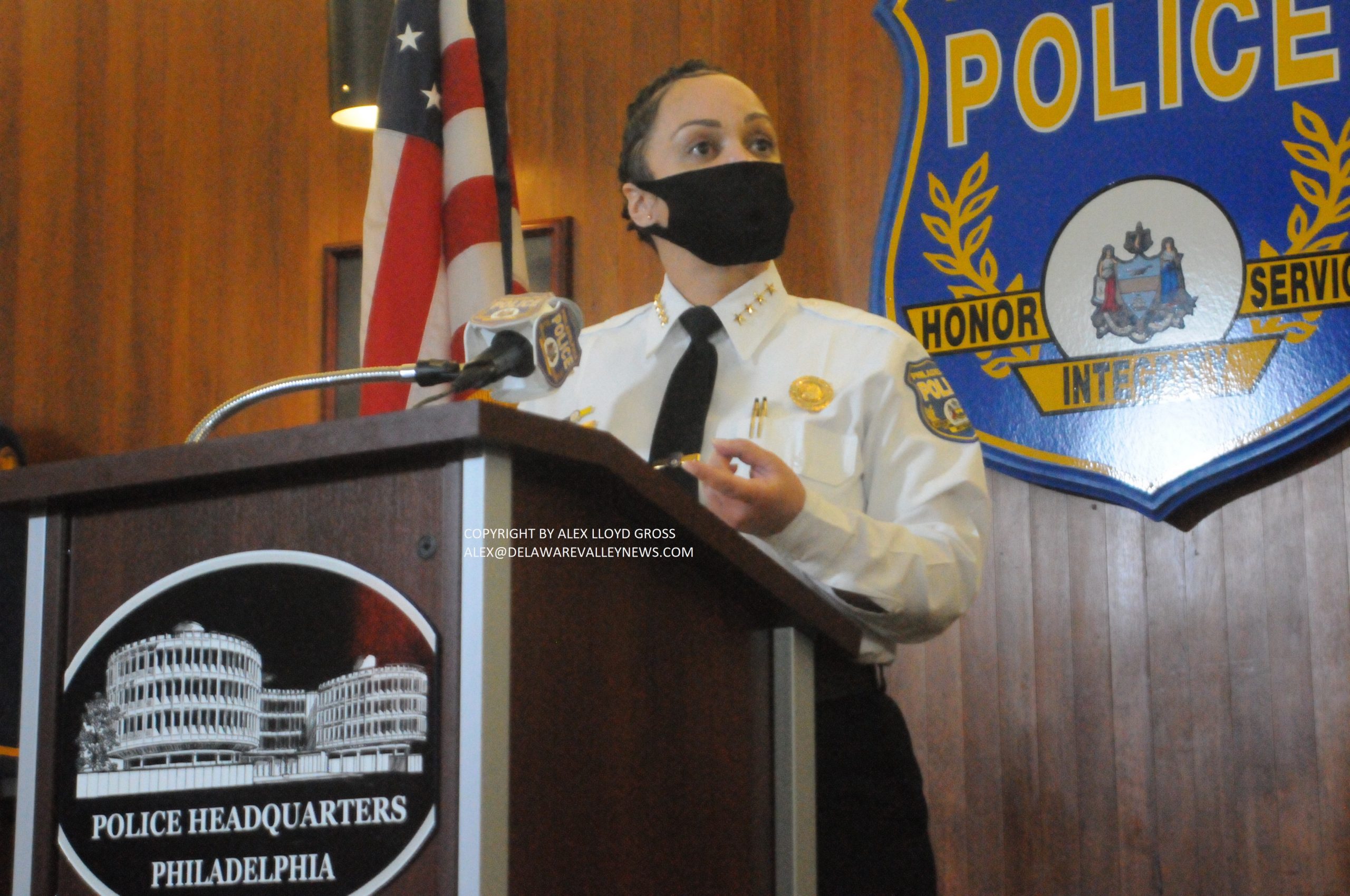 Philadelphia. Police Commissioner Outlaw "I Will Not Resign"
January 28, 2021
---
by Alex Lloyd Gross
Philadelphia Police Commissioner Danielle Outlaw called a hastily arranged press conference today, January 28, 2021, to address concerns raised by a finished report on the George Floyd riots. These riots effected all areas of the city including the Far Northeast and West Philly. The report is not kind to Outlaw. Or to MayorJames Kenney. Outlaw pleaded her case to the media, saying that "Nothing of this  magnitude had happened before, there were dozens of injuries to police.". She fought against anyone that would compare this to the MOVE standoffs of 1978 or 1985. These protests were to bring attention of the killing of an unarmed black male by a police department 1000 miles away. She refused to resign, stating she has the full backing of Mayor James Kenney.
The report stated that the city had a blue print and did not follow it. The report stated that city leaders saw civil unrest in other parts of the country, before May 30, 2020. However, they thought they could handle it and it would not turn violent. The city was complacent, the report said. The first protest happened on May 30 about noon. It was peaceful and several protest organizers were in communication with Civil Affairs Officers.  Later,  several of the protesters met up with another group at the Art Museum. There, no one was communicating with police. That should have been the first warning. Commissioner Outlaw admitted that her department was understaffed. It took too long to mobilize other officers.
The report stated CS gas was used to disburse rioters in West Philadelphia, who gathered to loot a shoe store.  The report states that some officers deployed that gas farther down 52nd Street , as far away as Spruce. Side streets also saw rubber bullets being fired down there, witnesses stated. There was no mention in the report that some of the rioters who had gathered , broke from the main group and ran down the smaller streets, or away from the main group, causing police to fire rubber bullets at them.
On June 1 2020, about 2000 people went from marching down the Ben Franklin Parkway.and then made their way down onto 676, which is a controlled access highway. Having watched  State Police Cars  set on fire, just two days prior, traveling motorists  were petrified when a mass of angry people charged onto the highway. Some of these people were simply walking. Others were banging on passing cars and spray painting on walls. Commissioner Outlaw said that she was not in charge at that incident. She arrived after former Deputy Police Commissioner Dennis Wilson ordered CS gas to be deployed. Once that gas was deployed, the rioters ran away and left the highway. There was concern that the gas was used in the first place and Outlaw stated she did not authorize it's deployment. Wilson was demoted to Chief Inspector.
There was a disparate police response to protesters. A group of males armed with bats and other weapons positioned themselves around the 26th  Police District. Most of these males were white. Some of them attacked journalists doing their jobs and counter protesters. None of them were arrested until weeks later, after intense media coverage called them to task, for allowing a journalist to get beaten in plain view of police. Mayor Kenney has ordered all curfew violations related to the riots be dismissed.  This has lead to multiple lawsuits by those who were detained.  There have been multiple calls on social media for Mayor Kenney, Danielle Outlaw and District Attorney Larry Krasner to resign.
You can read the full report here The report was prepared by Ballard Spahr and RISK International to conduct the report. it was released by the city controllers office.
.