House In Holmesburg Damaged By Quick Moving Fire
House In Holmesburg Damaged By Quick Moving Fire
---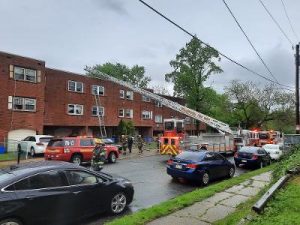 Dawn Altstatt Photo  Firefighters at the scene of the fire.
by Alex Lloyd Gross
Firefighters were called to a house fire on the 4400 block of Solly Avenue yesterday, May 7,2022.  It was just before dinnertime when crews got a report of a dwelling on fire. They arrived and found light smoke coming from the house.
Fire crews extinguished the fire with the crews from one engine and on ladder. There were no injuries. Solly Avenue was closed for about 30 minutes until the apparatus cleared the scene. A cause was not determined by press time.