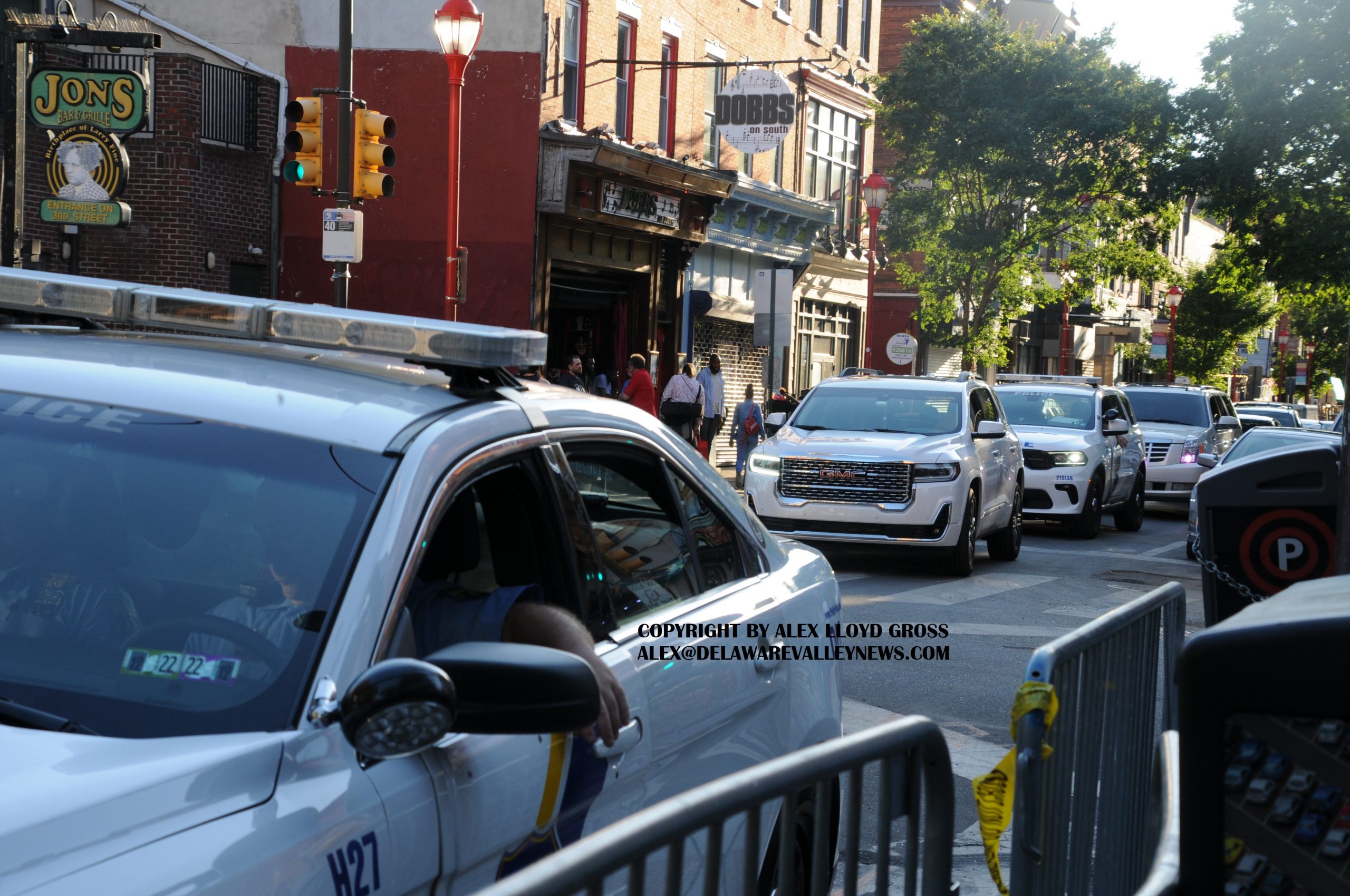 Mayor Sets South Street Area Curfew After Mass Shooting
---
by Alex Lloyd Gross
June 5 2022
Philadelphia police are reporting three dead and 11  wounded after a gunman started shooting wildly , after his friend accosted a male on South Street,, near 4th Street.  and started to fight him. Within second of the fight, the male started shooting wildly and without aiming. He shot 11 people, killing three. It is unknown if any of the dead are his intended target.  Police identified the dead as Gregory Jackson, 34/ Pronounced at 12:05 AM at Presbyterian Hospital.   Alexis Quinn, 27/ Pronounced at 11:49 PM at Jefferson Hospital.  Decedent #3: 22/B/M, Pronounced at 11:49 PM at Jefferson Hospital. Identity of the individual has not been released pending notifications.   11 other sustained gunshot wounds and one woman's injuries were from broken glass.
Here's video of the shooting on South Street in Philly last night. How much do you want to bet the guy in the white shirt has a lengthy criminal record? How about that he's out on bail? Or released from jail/prison? https://t.co/DbQbeQ7x5r

— Joe Has Dementia (@RokerGlasses) June 5, 2022
Police fired on the shooter, who ran down Ameri9can Street and got away. They did recover his weapon. The male did get away. It is unknown if he was struck. by police gunfire.
Less than 24 hours later, there was a increased police presence on South Street. People were lining up to get into clubs and get something to eat. Businesses were seeing customers. Then, Mayor Kenney issued a curfew
⚠️ By order of the Mayor: From 8 p.m. tonight until 6 a.m. tomorrow, to avoid congregation, and due to patterns of recent violence in the area and ongoing safety concerns, there will be no pedestrian or vehicular traffic between Front & 6th Streets from Bainbridge to Lombard. pic.twitter.com/H18WXuxeq1

— City of Philadelphia (@PhiladelphiaGov) June 5, 2022
The exceptions are news media, residents, medical personnel, owners of real property and employees of businesses.  Customers will not be permitted in to shop in those areas. It is unknown what will happen with concerts booked at venues.  At the TLA security was patting customers down for weapons.  The unarmed security are 20 year olds who professed to be nervous after the shooting last night.  None wanted to give their names.
The last time the city issued a  curfew was  a citywide curfew was during the BLM riots in the city, A short time later, Mayor Kenney let those arrested for curfew go without charges and the city was sued.