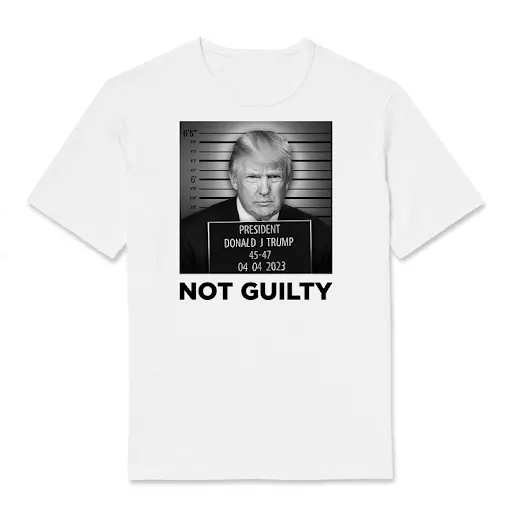 Donald Trump Indicted, Arrested And Now Selling FAKE Mugshot T Shirt
---
by Alex Lloyd Gross
April 5,2023
Yesterday, former President Donald J. Trump took a ride to the Manhattan District Attorney.  He was there to surrender for allegations that he illegally handled hush money from  a sexual encounter with porn star Stormy Daniels.  He, through his former lawyer Michael Cohen paid her $130,000 to keep her mouth shut.  This was before he was the president.
Trump was arrested as soon as he entered the building. He was fingerprinted and given a copy of the charges.  He was not put in a jail cell and he did not have a mug shot taken. In fact, through his lawyers, he requested that his mug shot not be taken.  He has previously  lashed out at Judge Juan Merchan saying he "hates me".
The judge allowed Trump to be released with no bail and  refused to put a gag order on him or District Attorney Alvin Bragg. That allowed Trump to fly down to Florida and hold a MAGA campaign rally. He has a new shirt he is selling. Since his mugshot was not taken and there is nothing to distribute, Trump had a fake one made and put onto a t shirt.  He is selling them at $36.00 each.
While he is out, awaiting his next court date,   he is free to campaign for the presidency. However, Judge  Merchan was concerned about Trump's tweets and his rhetoric. he  said  'I don't want to see this anymore.' I don't want to see, the next time that I see something like this, I might have a different idea about what I should do. He warned Trump against inciting violence and against making threats. Trump posted on Truth Social a meme about him having a baseball bat next to Alvin Bragg's head.  The judge saw it and was not amused.
George Santos blocks away from the courthouse: "This starts a precedent..what stops the next prosecutor in two years?" pic.twitter.com/cqs0TlkKq1

— Sophia Cai (@SophiaCai99) April 4, 2023
The internet was amused by a court officer not holding the door open for Trump and the former president having to open it himself, before it closed on his face.  One pretty blonde NYPD Officer found her 15 minutes of fame when cameras spotted her guarding the courthouse door.  The NYPD has been besieged with requests for information about her.
There were supporters and protesters both at Trump Tower and at the courthouse.  Some of his supporters, lie Rep. Marjorie Taylor Green were accosted by an angry mob of people and was quickly escorted from the area, according to news footage. Trump Protester Michael Rappaport, who is an actor and avid Trump hater got into a verbal altercation with a supporter that almost turned physical.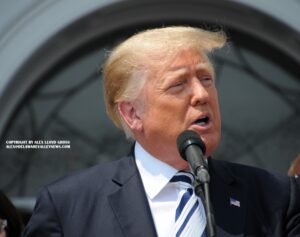 Had Trump's mugshot been taken and distributed,  it's no doubt that Trump's campaign would market it.